Elijah Wood Saw No Man Of God As More Than Just Another Ted Bundy Movie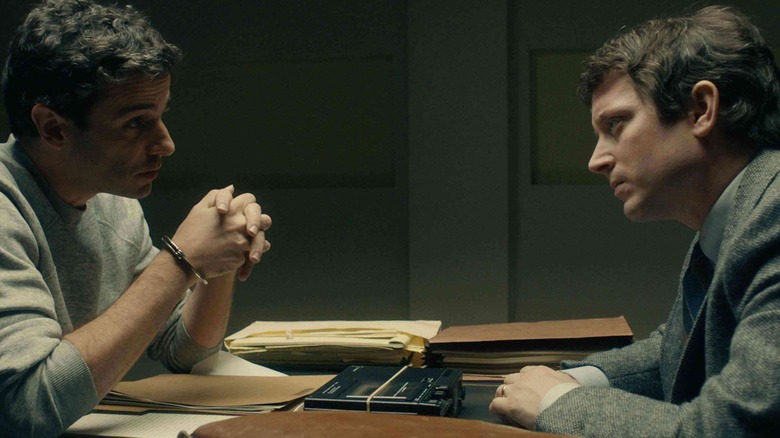 RLJE Films
In January of 2022, /Film published a list, ranking feature films about notorious serial killer Ted Bundy. On that list, compiled by author Bee Scott, were 10 films and TV specials about Bundy, revealing a deep and abiding fascination with the sociopath and his crimes. The TV miniseries "The Deliberate Stranger," starring Mark Harmon, depicted Bundy as a charming "face in the crowd" kind of character. Matthew Bright's 2002 feature "Ted Bundy" leaned in a more lascivious direction, depicting the man as a classic "crazed, sex-starved lunatic" archetype. 
The most recent Ted Bundy film was Amber Sealy's "No Man of God," a film about Bundy after his arrest and imprisonment. From 1985 up until his execution in 1989, Ted Bundy was visited regularly by an FBI profiler named Bill Hagmaier, who was tasked with something that was novel at the time: figuring out what makes a serial killer tick. It was the first earnest effort to delve into the psychology of a criminal. It would eventually be determined that Bundy could distinguish right from wrong, but that he had no sense of guilt. "Guilt doesn't solve anything, really," Bundy once said. "It hurts you. I guess I am in the enviable position of not having to deal with guilt."
"No Man of God" dramatizes the conversations between Bundy (Luke Kirby) and Hagmaier (Elijah Wood) and the uneasy intimacy that formed between the two of them. By the end of their sessions, Hagmaier found himself drawn further into Bundy's influence, and might have been tempted to use the word "friend." 
"No Man of God" stands out from other Bundy biopics, an assessment that Wood would agree with. In a 2021 interview with ComingSoon.net, Wood elucidates on its uniqueness.
Pure acting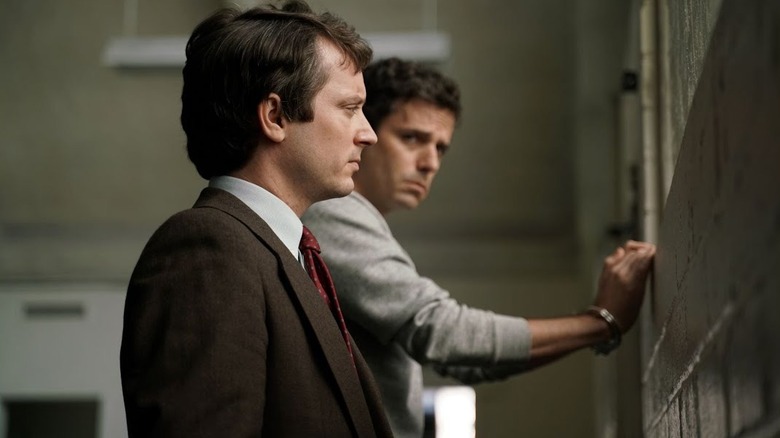 RLJE Films
"No Man of God" stands out, primarily, for its lack of mayhem. This is not a film that is pruriently interested in the details of Bundy's crimes or his actual body count. As Sealy's film is about Bundy's state of mind, it hovers almost entirely in conversation. It is a two-handed play, devoted to the characters. Wood found that analytical, conversational quality of the script to be its most appealing aspect. It was, he felt, going to be a challenge, but a challenge he wanted to face. In his words:
"I think that was one of the more enticing aspects of it from an acting standpoint is that it is very much a two-hander. It's so uniquely structured in that it is a series of these conversations that these two men have over the course of four years. That sort of pressure was exciting. The challenge was exciting to imbue those scenes with enough dynamics to be continually interesting, and also thought-provoking, and potentially disturbing and scary at times. It does hinge on us as actors to bring that to life." 
Wood also credited the talent of Kirby and the chemistry they had together. It can only help when one's co-star is as committed to the material as you. As the film progresses, the audience can see the interplay of willpower unfold. Bundy, in having no sense of guilt and a dark appetite he has no compunctions about feeding, emerges as a terrifyingly strong-willed person. Hagmaier, in being more curious, cerebral, and open-minded, finds himself being curiously dominated by Bundy, periodically terrified that Bundy's sense of nihilism may be infecting him. 
Closure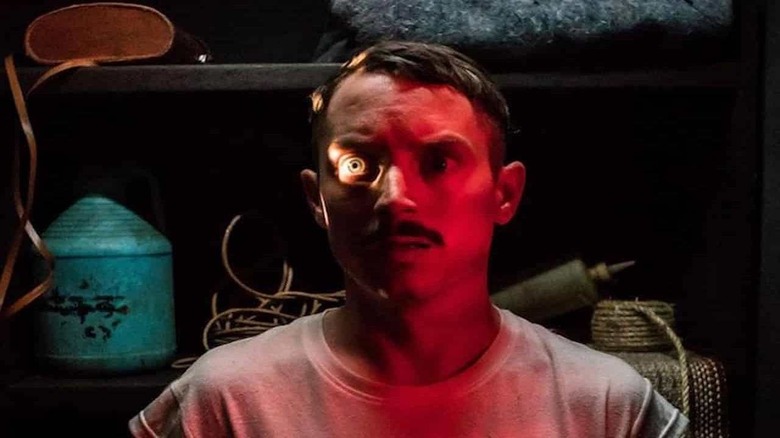 RLJE Films
Wood was also drawn to "No Man of God" in a more emotionally practical sense. Other renditions of the Bundy story, in focusing on Bundy's crimes, tend to ignore the impact his murders had on his victims' families; Bundy's aberrant behavior is the most fascinating part of the story. "No Man of God" is about analyzing Bundy, and, in so doing, perhaps gaining a confession of sorts. Part of Hagmaier's goal was to get Bundy to admit guilt, to see if Bundy was capable of acknowledging what he did. Wood seemingly felt that "No Man of God" was the more morally responsible Ted Bundy movie. 
Although Bundy was executed in 1989, Hagmaier — who served as an executive producer on "No Man of God" — is very much alive, and Wood had the resources to reach out. Communication was difficult due to COVID restrictions, but Wood spoke to Hagmaier over the phone, lending a great deal of authenticity to the movie. Wood felt that talking to Hagmaier was not only a privilege, but seemingly lend humanity to the Ted Bundy story:
"Well, it was incredible to speak with them. The unfortunate aspect of shooting our movie in September of last year is that it was shot fully COVID compliance. I wasn't able to meet him in person. I still haven't met him in person yet. We had fully planned on going back east and spending real time with him, which I would have loved to have done, but the phone would suffice. He was an incredible asset to myself, and to Luke as well, and so much to Amber."
Of the recent Bundy projects, "No Man of God" is certainly the most humane. It's currently available on Fubo.