Before House Of The Dragon And During Doctor Who, Matt Smith Played One Of His Most Fascinating Characters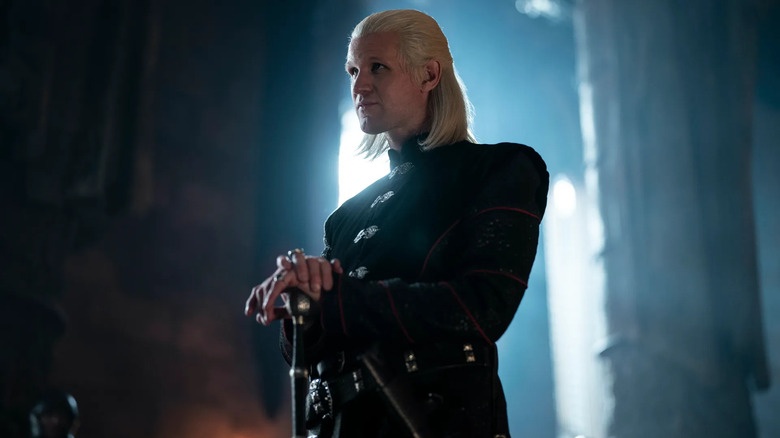 HBO
In the HBO series "House of the Dragon, actor Matt Smith plays Prince Daemon Targaryen, a character who will — should "Dragon" last long enough — no doubt commit multiple acts of murder, perhaps a few acts of torture, certainly several acts of incest, and, just for good measure, two separate acts of enthused cannibalism. Probably also tax evasion. This postulation is based merely on how lascivious and gnarly the show's predecessor, "Game of Thrones," was throughout its 2011 through 2019 run. 
Smith's screen acting career began in 2006 with his appearance on a TV adaptation of Philip Pullman's novel "Ruby in the Smoke" and its sequel "Shadow in the North." He was a regular character on the BBC Two series "Party Animals" before landing the plum gig of The Doctor in "Doctor Who" in 2010. The Doctor, for neophytes, is a near-immortal space alien who can, upon his death, choose to regenerate into a new body. Handily, this has allowed the character to be periodically recast every few years since the character's debut back in 1963. Smith played the eleventh version of the character. It was his stint on "Doctor Who" that made Smith a household name, and led to high-profile acting jobs on "Terminator Genisys," "Last Night in Soho," "Morbius," "The Crown," and now "House of the Dragon."
Concurrent with Smith's breakout, however, was a notable 2011 BBC film — released theatrically in the United States — wherein he played celebrated author and queer icon Christopher Isherwood. Isherwood was, briefly, a famed gay rights advocate and author of the works that inspired the Kander & Ebb musical "Cabaret." Isherwood also once wrote an autobiography called "Christopher and His Kind," which was adapted to film by screenwriter Kevin Elyot and director Geoffrey Sax. 
Christopher and His Kind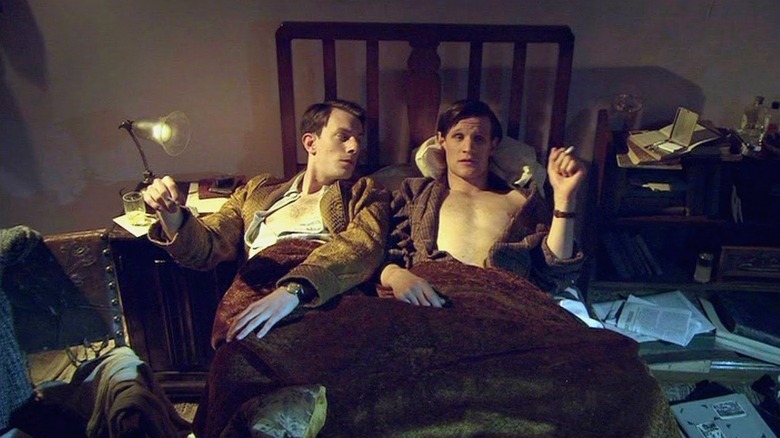 BBC
Christopher Isherwood, a gay man, traveled to Berlin in the days of the Weimar Republic, and discovered a glorious labyrinths of cabarets and nightclubs where the city's Bohemians could gather, smoke cigarettes, and exercise a glorious life of carefree hedonism. It was in Berlin that Isherwood would meet — and briefly share a flat with — a cabaret singer named Jean Ross. 
Ross, a passionate but not entirely talented performer, would serve as the inspiration for the character of Sally Bowles, the protagonist of Isherwood's 1937 eponymous novella. Bowles would also appear in Insherwood's 1939 novel "Goodbye to Berlin," and eventually appear in a 1951 play called "I Am a Camera." That play would, in turn, be adapted into a stage musical called "Cabaret," which would win Tony Awards in 1967, Oscars when it was adapted to film in 1972, and then Tonys again when it was revived on Broadway in 1998. Jill Haworth played Sally in 1967. Liza Minelli played her in 1972. Natasha Richardson played her in 1998. Going back to the BBC version of "Christopher and His Kind," Imogen Poots would play the original Jean Ross. 
It was also during his sojourn in Berlin that Isherwood would meet and fall in love with Heinz Neddermeyer, played by Douglas Booth in "Kind." In real life, Isherwood and Nedermeyer fled Berlin in 1933, and traveled all around Europe hoping to find a place where the couple wouldn't be targeted for their sexuality. Neddermeyer was eventually apprehended by the Gestapo for dodging the draft and for having gay sex. Isherwood's constant travels kept him nimbly away from the wrath of the Gestapo, but he was dangerously close to the dangers of WWII often. 
Matt and Don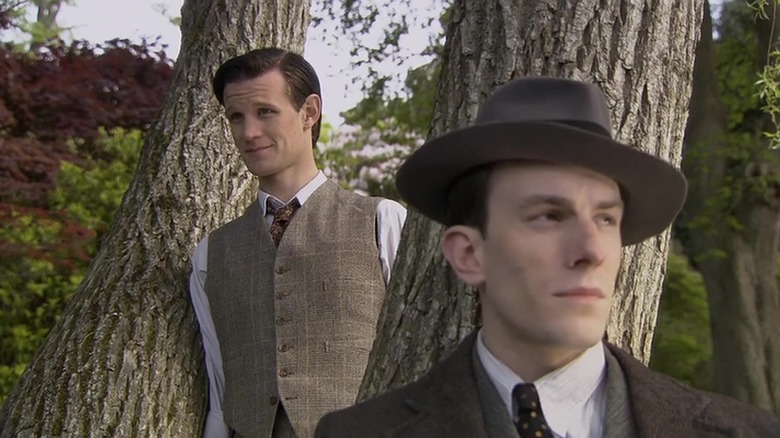 BBC
Isherwood died in 1986 at the age of 81, leaving behind an enormous bibliography of novels, screenplays, translations, and memoirs. Also based on his works was Tom Ford's 2009 feature film "A Single Man," taken from the 1964 novel. 
Smith, then, wasn't able to talk to Isherwood directly when preparing to play the man in 2010. Smith was, however, able to fly to the United States and talk with Don Bachardy, Isherwood's partner for multiple decades. Isherwood and Bachardy — whose relationship is detailed in the 2008 documentary film "Chris & Don" — was warm and committed and caused no small amount of scandal, largely because of the two men's age difference (Isherwood was 48, Bachardy, only 18), and because they were an open gay couple in 1950s Hollywood. Barchardy, now 88 and living in Santa Monica, CA, has spoken very openly about he and Isherwood's mutual art and their relationship. 
Smith, in a brief 2014 interview with the BBC, talked about traveling to the U.S. to talk to Bachardy to get insight into playing Isherwood. Later, in a 2016 interview with yours truly, Smith was only proud of his work on "Christopher and His Kind," saying: 
"It's a fascinating story. He's a fascinating man. I was really pleased to be part of that, and pleased to play that character. Because there was an eccentricity and extremity to him. And he was bold in his time. It's fun to get inside the heads of those people."
"Christopher and His Kind" is currently available on Prime Video. Isherwood's books are widely available at all of the finest booksellers.