Here's Where You Can Watch The 2022 Emmys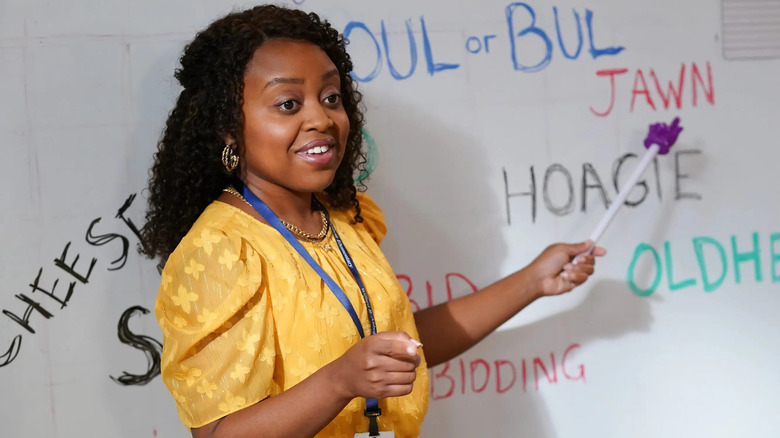 ABC
There's something hilariously ironic about the fact that so much of the best TV isn't actually on TV anymore. Many of this year's Emmy nominees can be seen on Netflix, HBO Max, Apple TV+, and various other streaming platforms, yet award shows themselves usually air on network television, which only about half of all Americans have access to at this point. Sometimes, to tune in to the show honoring your favorite shows, you might have to watch a network you can't even find.
Luckily, this year, viewers hoping to see if "Abbott Elementary" will take home the gold or "Ted Lasso" will reign supreme have a few different viewing options to choose from. "Saturday Night Live" star Kenan Thompson hosts the evening's festivities, which are coming to us live from the Microsoft Theater in Los Angeles tonight. Here's a rundown of all the different ways to tune in.
Where to watch the 2022 Emmys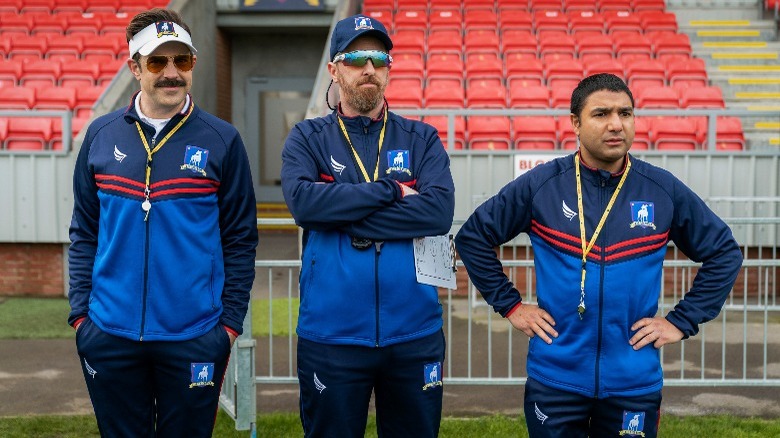 Apple TV+
If you haven't cut your cable cord yet, watching the Emmys is pretty simple. Just tune into the NBC channel for the festivities, which begin today, September 12, 2022, at 5pm PT/8pm ET. The ceremony is set to run for about three hours, which typically tends to be wishful thinking when it comes to awards telecasts, so you may want to clear your schedule for the evening.
Folks who don't have live TV also have a straightforward viewing option. The telecast will also stream on Peacock, NBC's streaming service. While Peacock typically offers some titles for free, you'll want to make sure you have a Peacock Premium subscription for the Emmys since it appears to be a Premium-only offering. Luckily, the site is among the most affordable streamers: without ads, it costs $9.99 monthly, but with ads it's only $4.99. Peacock also seems to have a sale going right now, advertising $1.99 a month for new signups.
If none of this sounds like what you're looking for, there are still more ways to watch the Emmys. Online cable alternatives like SlingTV, Hulu with Live TV, YouTube TV, Fubo, and more typically carry local stations including NBC. Many of these have free trial options for first-time subscribers, but if you do end up paying, be sure to check out the channel options ahead of time since some regions may not offer NBC.
Finally, if you're into the red carpet pre-shows, plenty of those are available too. Entertainment Weekly's livestream kicks off at 3pm PT/6pm ET, the Today show will be on the carpet and on YouTube starting an hour later, and E! Channel and NBC will air the official preshow that also begins at 4pm PT/7pm ET.
What to look out for at the 2022 Emmys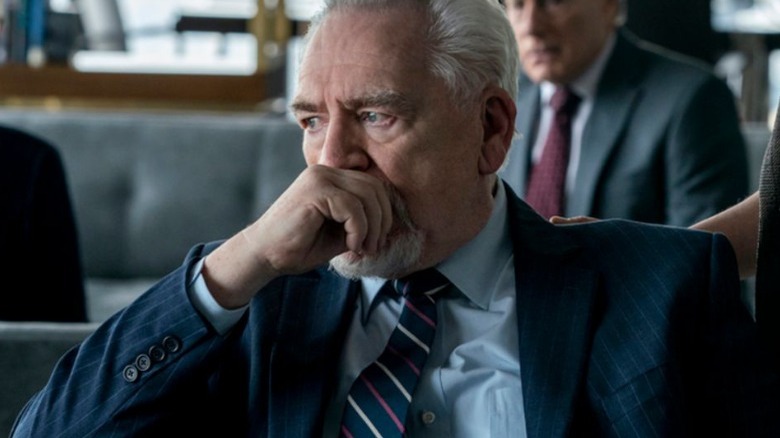 HBO
If you have a little time to kill before the Emmys begin and want a crash course on the nominees, there are several places to start. "Abbott Elementary," Quinta Brunson's delightful school-set mockumentary sitcom, already made history with seven nominations, making Brunson the first Black woman nominated for acting, writing, and comedy series at once. Hers isn't the only new show to get lots of love: both Apple TV's freaky workplace thriller "Severance" and Netflix's Korea-set phenomenon "Squid Game" earned an impressive 14 nominations.
This year's Emmy slate is chock-full of great shows, including several that have a ton of momentum – and previous awards to show for it – heading into the big night. While the series above are newcomers that could steal the show, returning titles like "Succession," "Ted Lasso," and "Barry" certainly could have a leg up on the competition since they've been awarded so thoroughly before. "Succession" leads the pack with 25 nominations, while "Ted Lasso" has 20 and "Barry" earned 14. HBO's satirical series "The White Lotus" also took over several categories this year, and has 20 total nominations. Under-awarded critical darling "Better Call Saul" may also receive some Emmy love for its last season.
In my opinion, the best show nominated tonight might be "Station Eleven," HBO Max's profound post-apocalyptic saga led by Himesh Patel, Mackenzie Davis, and Matilda Lawler. It may not make a huge splash this evening (it has 7 noms, almost entirely in technical categories), but if you want to impress your friends with a recommendation that's not constantly in the watercooler conversation, check out "Station Eleven." Fair warning, though: if you start today, you might not be able to tear yourself away long enough to actually tune into the Emmys.