A Jazzman's Blues Review: This Tyler Perry Film Is Stuck In The Past [TIFF]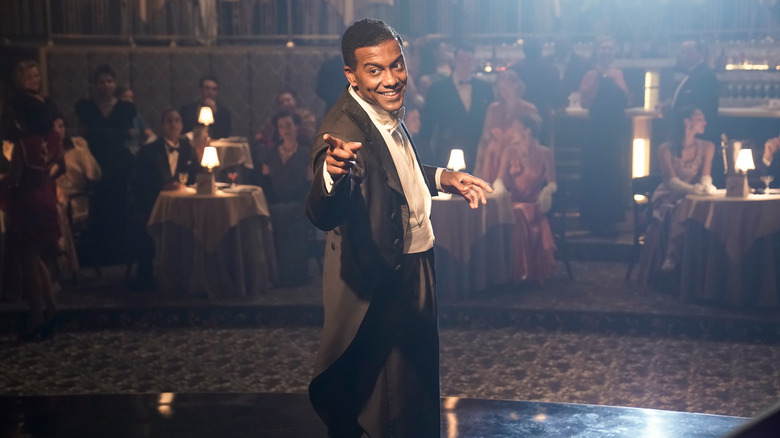 Jace Downs/NETFLIX
Bold, beautiful, and bittersweet, Tyler Perry's "A Jazzman's Blues" is a larger-than-life love story set during the Jim Crow era. It's an epic tale about love and loss with a strong musical component (hence the title); the core conflict is the star-crossed lovers, but the story is so grand, so encompassing, that it touches on various topics: Black culture, drug addiction, racism, identity, trauma ... the list goes on.
Tyler Perry wrote "A Jazzman's Blues" 27 years ago, and the project is obviously a very personal one. That passion shines throughout, scene by scene. The film is brimming with sentimentality, and there's an earnestness here that feels deeply sincere, if not always effective. This is an unusual project for the director, who is best known for comedies like "Madea's Family Reunion"; he has tackled more serious fare — such as "Precious," which he produced — but he's never really had what could be considered a dramatic breakout film that he wrote and directed. It's clear that "A Jazzman's Blues" is something special in the Tyler Perry catalog — but it is still a uniquely Perry film. 
Perry — who wrote and directed — thankfully leans into the film's strength: the music. With songs by Terence Blanchard, music by composer Aaron Zigman, and choreography by industry legend Debbie Allen, there's a high level of talent on display in the scenes set in juke joints and concert halls. I personally found it very difficult to sit still during these scenes. There's just such a good groove that it's impossible not to be drawn in. This is one of those movies where the soundtrack is far and wide the best element. 
A star is born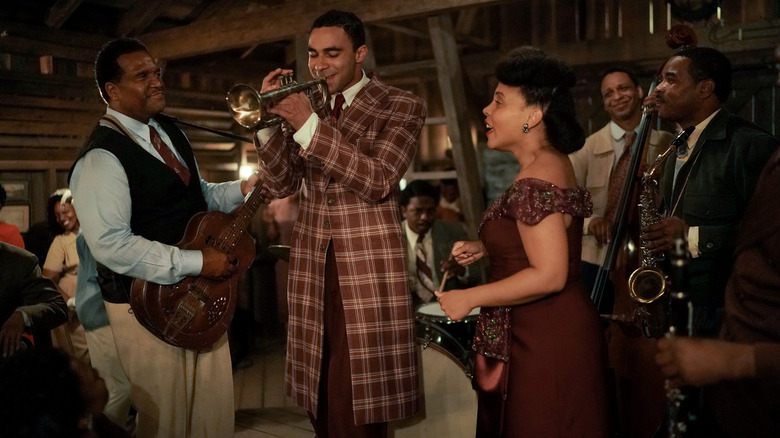 Jace Downs/NETFLIX
"A Jazzman's Blues" stars Joshua Boone and Bayou, the son of a washer-woman (and talented blues singer), Hattie May, played by Amirah Vann. The film starts in the late 1980s — a Black woman delivers a stack of Bayou's old letters to a white (and overtly racist) politician, asking him to investigate his murder. The narrative then shifts back forty years. As a young man, Bayou falls in love with Leanne (Solea Pfieffer), a sweet, kind-hearted girl in a bad situation. Before the two can elope, fate pulls them apart. Years later, Bayou runs into her by chance, and discovers she is living as a white woman, married to a wealthy, racist, Georgian aristocrat. He knows he should let her go, but he just can't get over the love of his life. This sets up the film's central tragedy: Bayou's murder is inevitable, once he attracts the ire of a good ol' boy. 
Boone is a force to be reckoned with as Bayou — he's a relatively unknown actor, but if this film does well, he could be a star. He's effortlessly charming and positively radiant on-screen. Whether he's bashfully trying to woe Leanne, or on-stage performing for a room of wealthy, white patrons, Bayou has that soft-spoken charisma that's just simply irresistible. If "A Jazzman's Blues" was a weekly series, I would show up for each episode just to watch Boone perform. Vann deserves some serious credit too: her voice is fantastic, and I loved every second of her screen time. Her presence fills the room. She is a queen, and I am here for it. 
A story from another time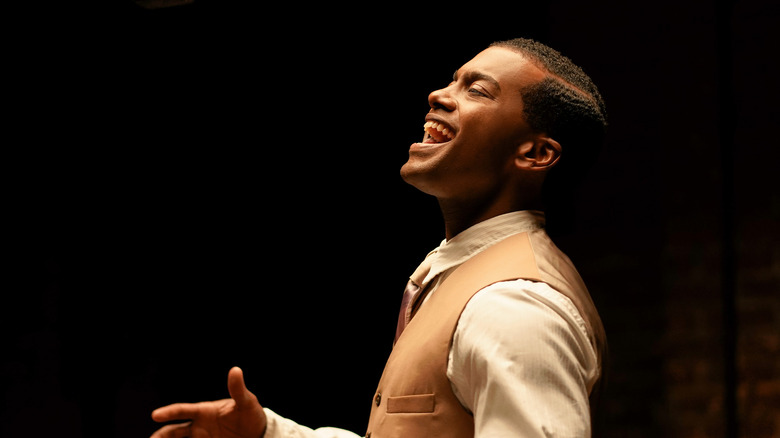 Jace Downs/NETFLIX
I wish Tyler Perry had done two things differently with "A Jazzman's Blues." First, I wish he had taken the time to edit the 27-year-old script and maybe collaborated with a writer more experienced in the genre. Second, I wish he had made the story a musical. "A Jazzman's Blues" roughly follows the same kind of format as "Ma Rainey's Black Bottom," which similarly limits the musical numbers to diegetic, in-universe performances; however, "Ma Rainey" also has a very limited scope, which makes that approach work really well, since we're focusing on a small number of characters and events happening all in one hot, afternoon recording session. "A Jazzman's Blues," by contrast, is ambitious — it is a grand story set over many years. It's already sentimental and stylish — it would have been perfect for a splashy, '40s-inspired musical. 
Instead, we get an overly sentimental, overly complicated story that's trying to do too much. Perry really struggles to write seriously, and it shows. It's never a good sign when characters have lines like "I feel sad" or "you look sad" — the audience shouldn't be told how a character is feeling. There are a few laugh-out-loud moments, but they don't really fit the scenes, and to be honest, I'm not sure they were intentional. Perry is so innately funny that I think it seeps through unexpectedly. There are also some basic story issues; it's hard to care about a romance when the lead female comes across as a fundamentally selfish, bad person. Perry's direction isn't elevating the story, either. You never really know what a character's underlying motivations are, or why they feel that way. Sure, there is lots of exposition to explain those feelings, but the actions and the events on screen often just don't back that up. What's worse, the romance scenes — which should be the driving force for a love story — are more cringe than sexy.
"A Jazzman's Blues" sets up Bayou's untimely death in the very first scene, which means everything that happens is viewed from that lens. The fact that Bayou's death is imminent makes it difficult to really get engrossed in the story. This is actually not in itself a problem; famously, Arthur Miller's "Death of a Salesman" announces its titular protagonist's tragic end in the title. With that play, the setting is limited, which allows the story to really explore the events immediately leading up to Willy's demise, as well as the aftermath. It's more a reflection on key themes (father-son expectations, the death of the American dream, fantasy versus reality, etc.) than being a narrative-driven story. I suspect this might be what Perry was going for with "A Jazzman's Blues," but it doesn't really succeed. 
Part of the issue is that the film really feels like it was written almost 30 years ago. The kinds of stories being told about Black culture and America's history of racial injustice has changed a lot since Perry first sat down to write this story. Recent shows like "Watchmen" and "Lovecraft Country" have done a lot to expose a side of our history that is difficult to face. This isn't to say that "A Jazzman's Blues" doesn't have a powerful message; it does — it's just not as clean or as powerful as it could've been. I applaud Perry for wanting to make a movie like this, and I respect his passion for the project; however, good intentions and good music are not enough to make something a good movie.
/Film Rating: 5.5 out of 10