High Fantasy Shows To Watch If You Aren't A Game Of Thrones Fan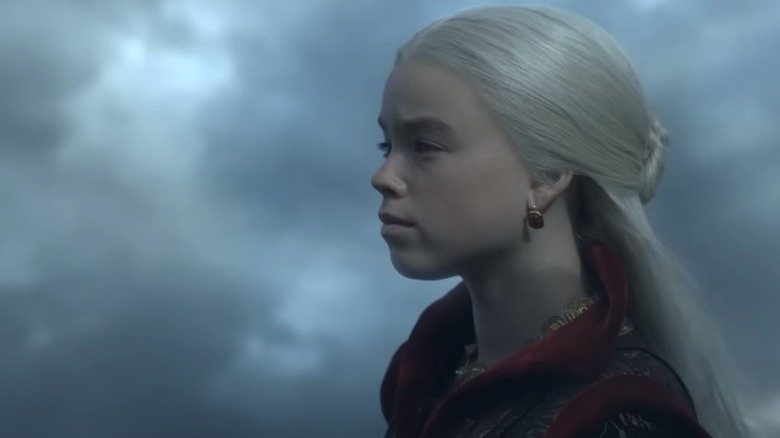 HBO
Days after "House of the Dragon" flew into homes with its Gwen Stefani-colored wigs and a lecherous Targaryen uncle, HBO renewed the "Game of Thrones" spinoff series for Season 2. Plenty has been written about how its predecessor over-relied on misogynistic violence. Ironically, "Game of Thrones" creator George R.R. Martin has stated that he uses brutal means — like rape and murder — in his stories to expose oppressive practices that hurt women. England's War of the Roses, a time which saw lady royals like Marguerite of Anjou fight for power, inspired Martin's epic series. In a post-Roe vs. Wade America, it's vital to acknowledge the historic violence women continue to face.
The HBO adaptation neglected to show how women without the power of lineage or a noble title processed being pawns in a game of thrones. The series never spotlighted the conversations less privileged women would have had, nor does it often show the aftermath of abuse, which could have been a powerful way for the show to deepen its stance on exposing inequity outside of visceral bloodshed. That's not what the show chose to be.
Understandably, some viewers might be wary of "House of the Dragon." In America, one out of six women have been sexually assaulted, so some viewers will likely choose to opt out of the show's potentially triggering content. If you're craving an alternative high-fantasy series that spotlights the plights and successes of women, I hear you! Let's dig into some deals with the devil and more!
If you or anyone you know has been a victim of sexual assault, help is available. Visit the Rape, Abuse & Incest National Network website or contact RAINN's National Helpline at 1-800-656-HOPE (4673).
Shadow & Bone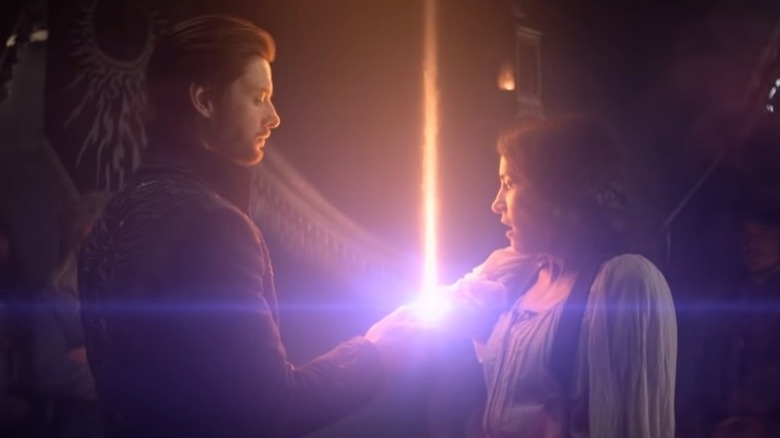 Netflix
A show like "House of the Dragon" revolves around the secret dealings of the royal (and mostly white) Targaryen elite. Due to this premise, complicated issues like social class, race, and economic privilege aren't central to its plot. However, Netflix's "Shadow & Bone" leans into all of the above with its fantastical premise that details a world split in two because of the Shadow Fold — a dark place full of ravenous dragon-like monsters. Based on Leigh Bardugo's Grishaverse novels, the television adaptation tackles discrimination, corrupt monarchs, and long-held cultural prejudices. 
Unlike the royal house featured in "House of the Dragon," "Shadow & Bone" centers on Alina Starkov (Jessie Mei Li), a common map-maker. Alina is half-Shu, an ethnicity that the fantasy series created but resembles a mixture of Chinese and Mongol cultures. Instead of growing up with a king for a father, Alina spends her early life in an orphanage. Alina is an outsider who unknowingly is the key to uniting a divided world. To its credit, the show complicates her character by giving her magical powers and more wealth and resources than her friends. Soon, she learns that anything that comes easily is because someone else paid the price. The show masterfully explores morality questions around how hard (and messy) it is to wield power over others.
Outlander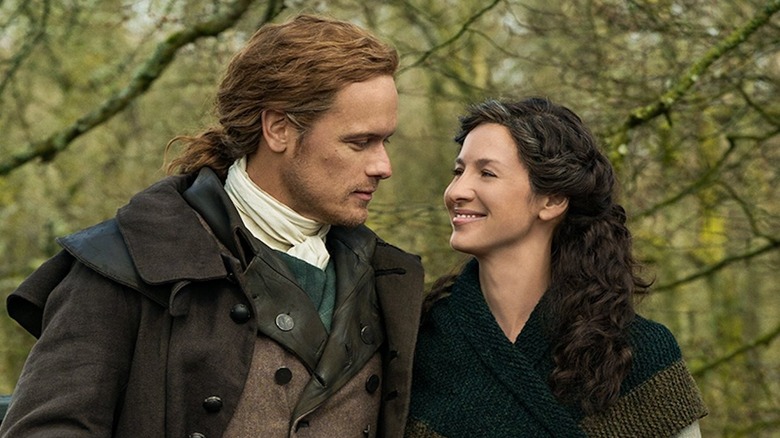 Starz
An often overlooked part of high fantasy series like "The House of the Dragon" is how they don't prioritize depicting women's sexual pleasure. In the "Games of Thrones" universe, sex is more of a tool to levy for power than a desirous act (with some notable exceptions). Of course, that choice makes sense in shows exploring the incestuous lineage and utilitarian nature of royal families. However, in the real world, women reportedly experience orgasm 50 percent of the time compared to men's 90 percent rate. Studies have also surmised that sex on television influences viewers' beliefs about sex and pleasure. While I'm not a sexual health researcher, it seems probable that showing more steamy sex scenes with consenting women could help promote more joyful sex for women.
Thankfully, Starz's "Outlander" is here to help! From the premiere and onward, Caitriona Balfe's Claire Randall embraces her sexuality. There is power in seeing Claire happily having sex on screen. Yes, this is also a time-traveling mystery series set in Scotland, but its real draw is watching Claire balance her quests with the series' steamy romantic entanglements. A former nurse in the British Army in World War II, Claire is resourceful, intelligent, quippy, and a lover who confidently asks for what she wants in the bedroom. Based on Diana Gabaldon's intensely researched novels, the historical fantasy series compellingly spans post-World War II Scotland to the American Revolution. Plus, the outfits are to die for!
A Discovery of Witches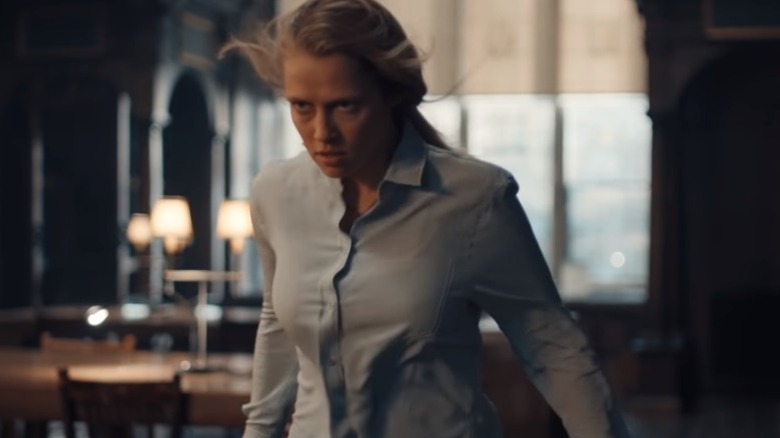 AMCN/SkyUK
Based on Deborah Harkness' All Souls trilogy of books, "A Discovery of Witches" follows Diana Bishop (Teresa Palmer), a devoted academic who stumbles into a world of witches, vampires, and daemons. Although the supernatural creatures' existence is shielded from humanity, they operate in a borderline caste system. All races of magical creatures serve on a council called the Congregation, but the vampires (mostly white men) have the most power. Historically, witches and vampires are enemies. Of course, when Diana, a witch, develops feelings for an ancient vampire named Matthew Clairmont (Matthew Goode), the magical world is upturned.
While most of the show revolves around Diana and Matthew's romance, the series carefully examines the magical world's problematic history. Through the series' fantastical and hopeful lens, it discusses meaty political issues like disassembling systemic imbalances in governing power, mental health access, normalizing interracial families, and reparation rights. Sometimes, it's nice to watch a show radically and powerfully reimagine how we could reshape the world to be equitable for all instead of focusing on how we tear each other apart.
Mystic Pop-up Bar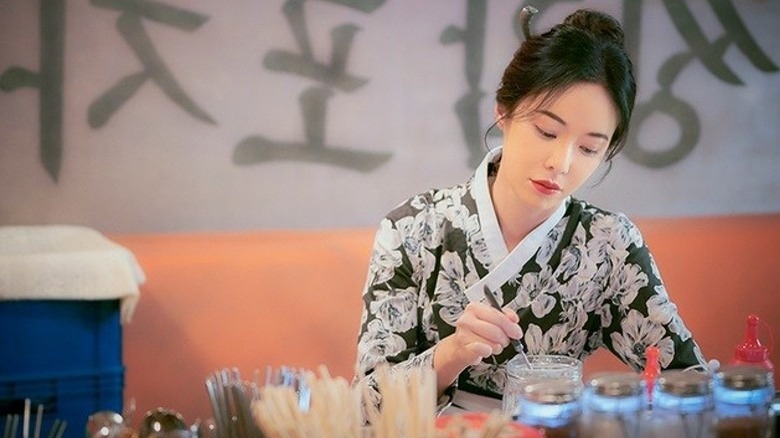 Studio Dragon/Netflix
Netflix's "Mystic Pop-up Bar" is one of its best Korean dramas. This series focuses on a complicated woman in a position of power with heaps of magic, demons, angels, and dream logic thrown in to boot. Yet, where this series soars is in how it tackles the concept of revenge. Yes, payback in the world of "Games of Thrones" is brutal. Who can forget Ramsay's (Iwan Rheon) face being eaten by his dogs as Sansa (Sophie Turner) watched? "Mystic Pop-up Bar" succeeds in avoiding graphic comeuppances (though there are still several disturbing scenes including depictions of suicide). Instead, it dials up its focus on the stress the avenging person feels.
Without spoiling who Hwang Jung-eum's Weol-ju is, it's fair to say that she's someone who committed such a fierce act of revenge that she's still paying off its karmic debt. To accomplish this, she works at a pop-up restaurant called Mystic Pop-up Bar, which appears before those who seek vengeance. Once they enter, Weol-ju gives them a magical sleeping potion and enters their dreamscapes. There, she can enter the dreams (or nightmares) of anyone and punish those oppressing others. Its conceit is fascinating, as it not only promotes storylines full of cathartic healing but also shows how what we think will make us feel better can end up hurting us more.
If you or anyone you know is having suicidal thoughts, please call the National Suicide Prevention Lifeline by dialing 988 or by calling 1-800-273-TALK (8255)​.
Supernatural Academy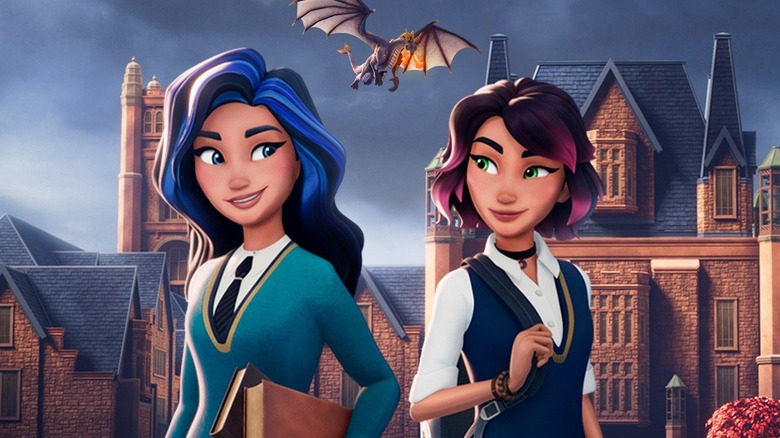 Peacock
Let's be real. People aren't tuning into "Game of Thrones" or "The House of the Dragon" for notes on how to be a more caring family member. That's perfectly ok! However, sometimes (and especially for fantasy-lovers with children) it can be refreshing to interweave magical lore with a tale in which families do love and protect one another — even if they make mistakes along the way. Beneath the dragons and fairy lore, "Supernatural Academy" focuses on the rekindled bond between estranged shapeshifting sisters Jessa (Larissa Albuquerque) and Mischa (Gigi Saul Guerrero).
The animated series is incredibly inclusive, bringing in a diverse voice-acting cast for its multifaceted characters. To its credit, characters are never flagships for one identity like being queer or non-binary. Everyone seems as complex on screen as people are in real life. What stands out most about this series is how it delicately discusses issues like colorism as it playfully uses rainbow makeup on a fairy's face. Yes, it hits more like a PG family-friendly magical adventure where the point is to learn a moral lesson. Adults will be surprised at how a show seemingly about two sisters adjusting to life at the Supernatural Academy unearths earnest discussions about breaking down oppressive power systems and removing cultural biases. And that's something I wish we all thought about more every day.
The Uncanny Counter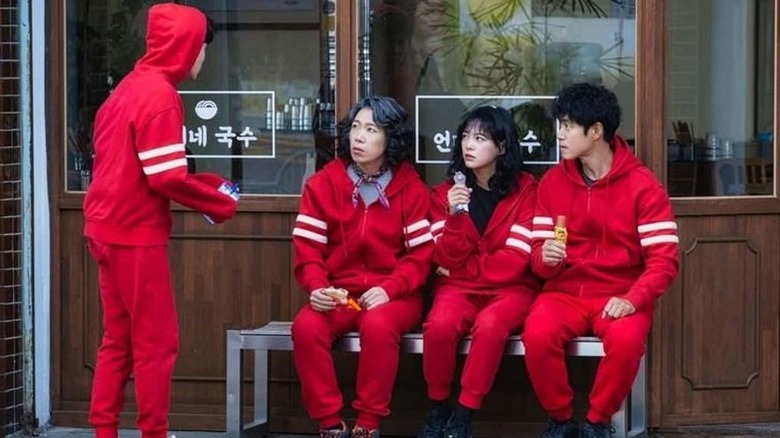 Netflix
Based on Jang Yi's webcomic, "The Uncanny Counter" tackles some dark themes like how far political corruption goes to destroy the planet, but it does so in a heartwarming way. The series follows a group of Counters, So Mun (Joe Byeong-Gyu), Ga Mo-Tak (Yu Jun-Sang), Do Ha-Na (Kim Se-Jeong), and Chu Mae-Ok (Yum Hye-Ran), who hunt down evil spirits. People who enjoy hurting others are perfect targets for evil spirits to possess, which makes the Counters' job of finding these souls extremely difficult, physically and mentally. Thankfully, they have powers! Divine forces grant them abilities like super strength and the ability to read people's memories to solely use on the job without other humans discovering their existence.
At first, the series follows So Mun, a newly turned Counter who is still processing the death of his parents. His parents died in the same accident that severely injured his left leg, so the teen walks with a cane, a fact that causes bullies to target him at school. Chu Mae-Ok is the beating heart of the series, uniting the group through losses and running a noodle restaurant as the group's cover. Although she's strict with So Mun, she's also a healer who saves the day and helps the group emotionally bond. Unlike the backstabbing antics of "The House of the Dragon," friendship and community are what rule in this K-drama.
The Owl House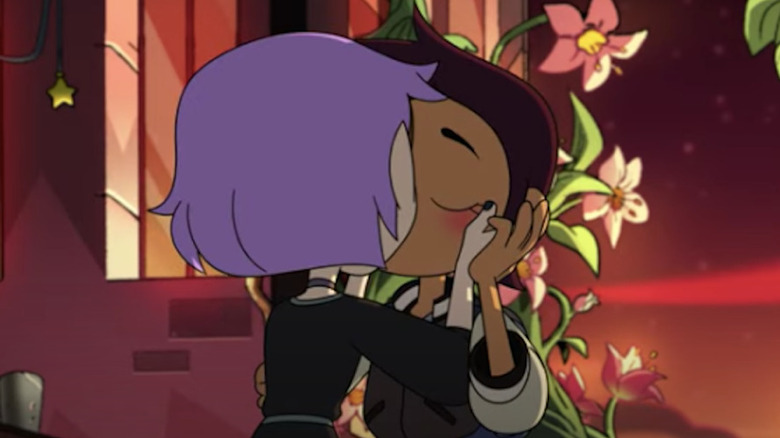 Disney
Disney has not had a stellar record in depicting overtly gay affection on screen. In May, frustrated Pixar employees wrote a letter to Disney's corporate executives, raising awareness of the censorship placed upon LGBQTIA+ characters and stories at the studio. A rare and notable exception to Disney's policies arrived (ironically) also in May when "The Owl House" made animated television history by depicting two teenage girls kissing. While the GLAAD-nominated series has never shied away from expressing itself as a queer show centered on self-discovery, Luz (Sarah-Nicole Robles) and Amity (Mae Whitman) hadn't kissed until the tail-end of Season 2. When that moment does happen, it's a tender beat between the episode's action, which normalizes the moment more. They sweetly joke about how awkward and excited they are, a reaction that embodies the rarely seen and joyful representation that young gay audiences need and deserve.
Queer characters never lasted long nor were they happy in "Game of Thrones." To be clear, I'm not saying we need to protect queer characters from violence or hardship in stories. Shielding queer characters from engaging in the plot, even if violent, can be just as harmful and insultingly infantilizing (see "They/Them"). However, as an American living in a country that diagnosed queerness as a mental illness until 1973, I love seeing our community blush giddily on screen. Throughout "The Owl House," queerness and self-love are gleefully celebrated, making it a must-watch.
Tomorrow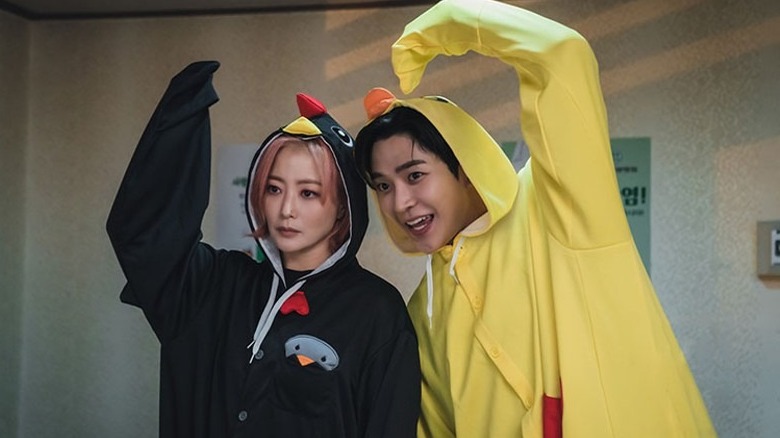 Netflix
For some time, South Korea has dealt with an extremely high rate of suicide among its young people. A fantasy K-drama series about suicide prevention is bold, but "Tomorrow" excels at balancing its magical elements with heartwrenching storylines that destigmatize the taboo topic. Throughout the series, a wide range of people (and even a dog) have suicidal thoughts, which rightfully pushes back against the idea that only certain people have or will have a mental illness. No one is "saved" so much as they are found. A trio of grim reapers locate individuals in crisis through a phone app and provide whatever assistance will help someone's mental health improve. Sometimes, the acts are fantastical, like bargaining with the Queen of Heaven (Kim Hae-Sook) to help a soul. At other times, it's about showing someone what a healthy emotional support system looks like.
There is a lot of fun wish fulfillment happening here, but more importantly, the series shows how these grim reapers realize that individuals struggle because of systemic issues outside their control like lack of access to medical care. People need help, and they're willing to give it when policies fail. It's impossible to watch this series without crying — especially during Kong the dog's storyline in "Someday, Because of You." Kim Hee-Seon's Koo Ryeon anchors the series with well-timed humor and a stunning performance. Watching a series about survival makes the murderous crown-hungry world of "Games of Thrones" feel silly.
If you or anyone you know is having suicidal thoughts, please call the National Suicide Prevention Lifeline by dialing 988 or by calling 1-800-273-TALK (8255)​.
Penny Dreadful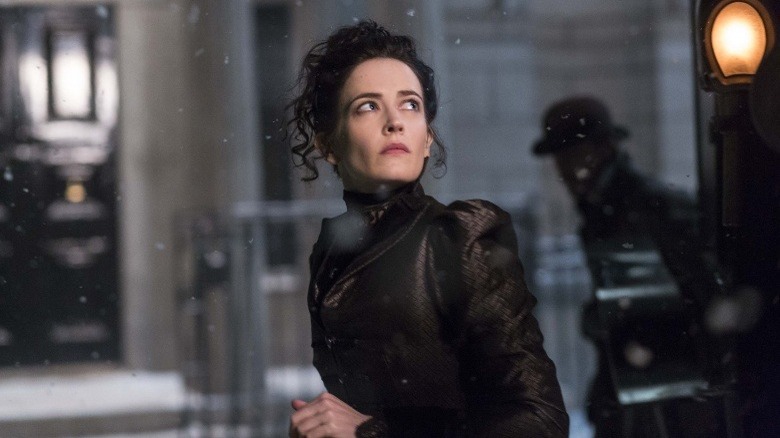 Showtime
Despite its frustrating finale, "Penny Dreadful" holds up as a work of fierce feminine-focused horror. As any English major will quickly tell you, the Showtime series' name is a play on the penny dreadfuls that existed in Victorian-era London. Murder, bigamy, kidnapping, and more creepy mayhem filled the pages of cheap, short tales that the working class read for pleasure. True to its name, "Penny Dreadful" runs the gothic gambit, bringing iconic horror characters like Dracula, Dorian Gray, and Frankenstein's monster to its sprawling tale. 
At its heart, the series is about Vanessa Ives' (Eva Green) journey to find peace while Lucifer battles for her soul. Along the way, expect plenty of mysteries, vampires, covens of witches, and supernatural occurrences that are a delight to watch. Given its premise, the series leans into challenging Victorian beliefs about women who wield or are attracted to power — themes that also frequently pop up in the "Game of Thrones" universe. Temptation, seduction, and whether or not free will exists also play a central role in this tale. If you want to watch a darker storyline that's not afraid of bloodshed, this is a must-see suggestion. Be warned, its ending feels premature.
Hotel del Luna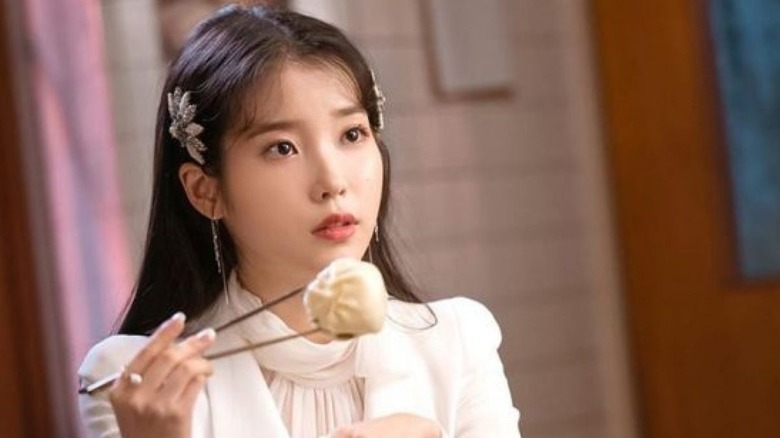 Netflix
Even if you're not a fan of "Game of Thrones," it's hard to not acknowledge the show's elaborate sets and costume designs. It feels like a show about royals living in ornate kingdoms — as it should, with each season costing about $100 million. If you want to watch a high fantasy show that shares a love for extravagance, look no further than "Hotel del Luna." 
After committing brutal crimes 1,300 years ago, Jang Man-wol (Lee Ji-eun) has to pay off her karmic debt. Her fate is to own the Hotel del Luna, a hotel that houses ghosts as they process their deaths until they're ready to move on to the afterlife or reincarnation. Like Koo Ryeon in "Tomorrow," Jang Man-wol has a past that she's not inclined to share. Instead, she lashes out at others, including her ghostly employees. She spares no cost on treating herself, consistently flashing fantastic outfits, drinking expensive champagne, and driving muscle cars. Even when she intervenes to help her guests with unfinished business, she'll take out a gold-encrusted and jeweled magical rifle to do the job. She is fantastic. Events are heartbreaking, and the series steers itself into some chilling moments, too. However, the real draw of the series is its physical comedy, which becomes even more delightful when the perfectionist human Gu Chan-sung (Yeo Jin-goo) arrives to become the hotel's manager.
The series' popularity has led to an upcoming American remake of "Hotel del Luna."
Sweet Tooth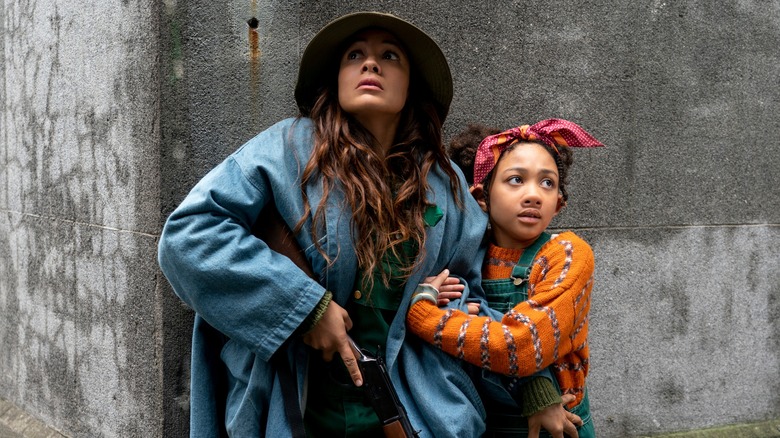 Netflix
Netflix's "Sweet Tooth" beautifully adapts Jeff Lemire's comic into a movingly lush television series. Like the source material, the show explores a world where some babies are born half-animal and others aren't. Since this is also happening around the same time a disease called the Sick ravages the world, humans fear the human hybrids and hunt them. 
While half of the tale follows the half-deer hybrid Gus (Christian Convery) fighting for his survival, the other half introduces us to Dania Ramirez's Aimee Eden, a former therapist who builds a sanctuary for hybrid children to thrive. The Preserve hosts a wide range of adorable, fuzzy hybrid children. It's touching to watch Aimee teach them self-love and acceptance. As the world around these children threatens to extinguish them for being different, Aimee stands up for their safety. The outsider narrative isn't new, but it persists because it translates so aptly to many lived experiences of marginalized individuals. Again, it's a delight for a show to raise awareness of why prejudices are deadly while spending more time on characters fighting for equality — not just a seat on the Iron Throne. 
George R. R. Martin once told Rolling Stone, "Just having good intentions doesn't make you a wise king ... We have the angels and the demons inside of us, and our lives are a succession of choices." Martin's work exposes the dangers of wielding great power, but the stories of disenfranchised rebels are equally important.
The Dark Crystal: Age of Resistance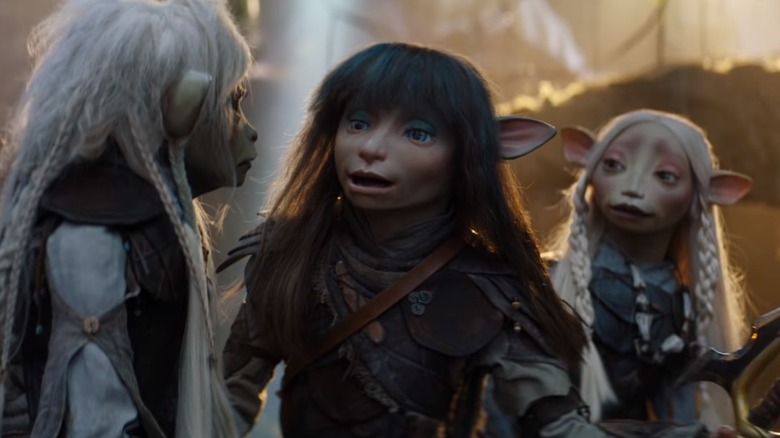 Netflix
Rebellion! I love to see it. Of all the shows listed, "The Dark Crystal: Age of Resistance" leans the most into revolutionary themes and high fantasy concepts. If you never saw Jim Henson and Frank Oz's beloved classic, "The Dark Crystal," settle into an ethereal universe bursting with lavish world designs, lore, creatures, lovingly-rendered puppets, and themes of resistance. Thanks to its detailed design and fairly straightforward story, "Age of Resistance" can be watched by viewers of all ages — especially those kiddos who want to live in Oga's Cantina from "Star Wars: Episode IV – A New Hope."
In this prequel series, three Gelfling, Rian (Taron Egerton), Deet (Nathalie Emmanuel), and Brea (Anya Taylor-Joy), discover that the alien Skeksis have been misusing the Crystal of Truth. Instead of protecting a power source for the world of Thra, they've been draining its energies to cheat death. The series revolves around the trio uniting Gelfling clans to fight against the power-hungry Skeksis and trying to prevent a blight called the Darkening. 
Like the houses in "Game of Thrones," it's nearly impossible to make every clan happy. Revolution is complicated! Efforts to fight are shut down, and rebels are sent to jail or killed, but the trio continues because they believe in unseating tyranny and uniting their people. While oppression has always existed so has resistance. Why don't networks promote these stories too? Despite critical acclaim, Netflix canceled "Age of Resistance" after one season.