A Chance Reunion Landed Seinfeld's Wayne Knight His 3rd Rock From The Sun Role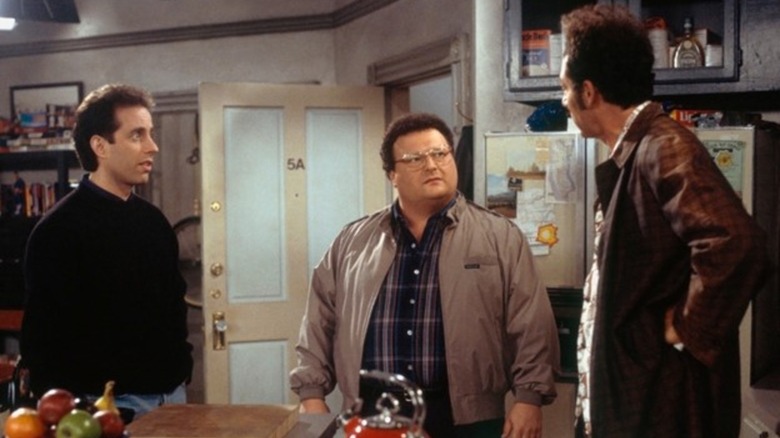 Columbia Pictures Television
Perhaps Wayne Knight's most popular performance was his recurring role as Newman, a disgruntled mailman and arch-nemesis of the titular character on the NBC sitcom "Seinfeld." Newman's mysteriously bitter feud with Jerry and string of failed get-rich-quick schemes with Kramer (Michael Richards) serve up a lot of good laughs, even more than 20 years later.
As the beloved '90s show approached its final seasons, Knight found a second gig with another NBC sitcom, "3rd Rock from the Sun," which centers on four extraterrestrials who pose as humans in the fictional city of Rutherford, Ohio. Knight plays Don Orville, an incompetent police officer who has an on-again, off-again romance with one of the aliens, Sally Solomon (Kristen Johnston). Though not as revered as "Seinfeld" — not many shows are, to be fair — "3rd Rock from the Sun" had a successful six season run; Johnston and John Lithgow, who plays alien Dick Solomon, won Emmys for their performances.
The show was created by husband-and-wife duo Bonnie and Terry Turner, who also created "That's '70s Show." Before that, the couple wrote for "Saturday Night Live," and penned the screenplays for the "Coneheads," "Wayne's World," and "The Brady Bunch Movie." And when it came down to casting for "3rd Rock from the Sun," Knight didn't need to audition for his role.
Hellooo, Newman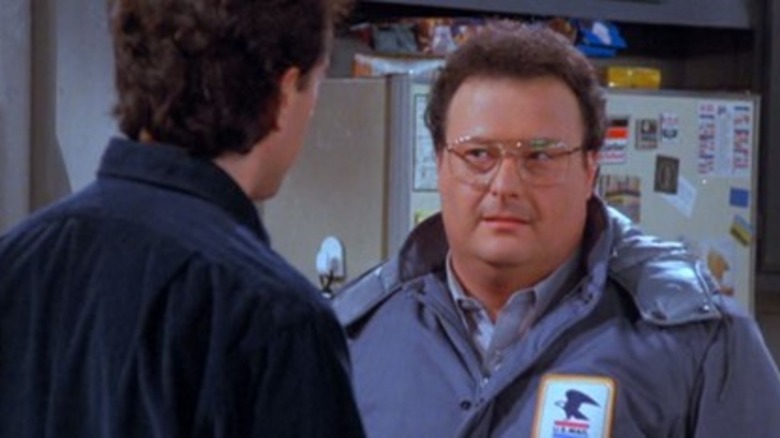 Columbia Pictures Television
In a 2021 panel moderated by Vulture, Wayne Knight detailed the chance reunion between him and the Turners that landed him the gig on "3rd Rock from the Sun." According to the actor, he and Terry Turner met as students at the University of Georgia and performed in a play together. Some years later, he ran into the couple on the streets in New York during their time at "Saturday Night Live."
"Oh, you're doing 'SNL'? That's great," he recalled saying to the couple as he laughed. "And I didn't think anything of it." Some more years passed before he ran into them again, this time at the "Seinfeld" and "3rd Rock from the Sun" studio lot in Los Angeles. "They say, 'You know, we'd really love to write a show for you.' I'm like, 'Hello?'"
Unfortunately for Knight, the Tuners told him they couldn't at the time because they were swamped with so much work, which included a project with Whoopi Goldberg. I assume the project they referred to is "Whoopi," the 2003 sitcom starring the "View" co-host. The show was created by Bonnie and Terry Tuner and aired on NBC in 2003 before being cancelled after its first season.
From mailman to cop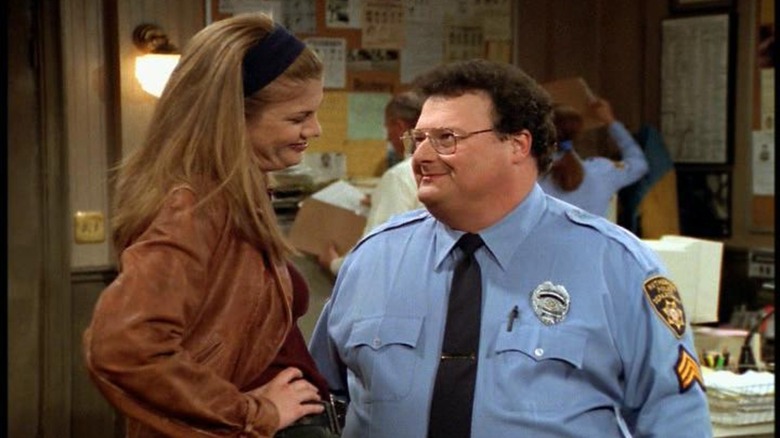 Carsey-Werner Distribution
Bonnie and Terry Turner proposed for Knight to appear on "3rd Rock from the Sun" until they found time to write him a show. Knight accepted. Though the show the Turners planned to cook up for him never materialized, Knight made his first appearance on "3rd Rock from the Sun" at the tail end of season 1. Sally and fellow alien Harry (French Stewart) show up to the police station to report that someone stole their car radio, and it's attraction at first sight. "What can I do for you?" Officer Don Orville softly asks Sally as he looks her over with dreamy eyes. She reciprocates the stare as she responds, "Just let me be near you." The rest is history.
Kristen Johnston said Knight's addition to the cast was perfect. "They kept trying to find a boyfriend for Sally the first year, and it was all these hot guys, and it just wasn't working," she said at the Vulture panel. "So he comes on as Officer Don and right away it was chemistry! You can't bottle it." Knight concurred: "It's strange, in that first scene, just like [growling sound]. What we figured out is that it's like pheromones. You could get into a room and just sense that she was in the room." 
The fact that the two characters could sense the presence of the other was a running gag during the show. I do wonder what a Wayne Knight sitcom would have been like back then; perhaps a spin-off centered on Don and Sally? Regardless, considering his performances in "Seinfeld" and "3rd Rock from the Sun," his character definitely should have had to been an eccentric public service worker of some type.