10 Family-Friendly Halloween Movies Like Hocus Pocus 2 You Need To See
Disney+
Grab a warm blanket and relight the Black Flame Candle. Spooky season is officially upon us! What's more, as if the return of colorful leaves, chilly air, and pumpkin spice lattes wasn't enough to suit all of your autumnal needs, the coziest time of the year also comes with the long-awaited resurrection of three supernatural sisters who no doubt played a huge part in the childhoods of '90s kids worldwide.
That's right. On September 30, 2022, the children of Salem better watch out because the Sanderson sisters, Winnifred (Bette Midler), Mary (Kathy Najimy), and Sarah (Sarah Jessica Parker) return to this mortal realm after a 29-year absence to continue their quest for eternal youth in director Anne Fletcher's hotly-anticipated nostalgic sequel, "Hocus Pocus 2."
However, if all this talk of witches, ghosts, and things that go bump in the night has got you craving family-friendly frights like some kind of drink-deprived Dracula, then fear not. We've rounded up a handy list of Halloween-themed films that walk the precarious tightrope of being family-friendly while also managing to send a sinister chill down the spine — just like "Hocus Pocus." So round up the family if you reckon you're brave enough! Here are 10 family-friendly Halloween movies to add to your watch list this autumn that the Sanderson sisters would certainly approve of.
Hocus Pocus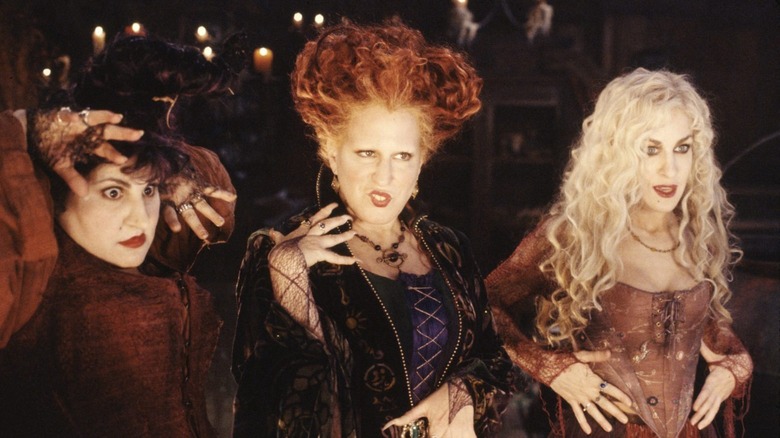 Buena Vista Pictures
Since we're talking about films that manage to capture that same magic as the pumpkin-and-cobweb classic "Hocus Pocus," we should probably include the original, right? Released back in 1993, this much-loved Halloween movie marked the second feature release from "Dirty Dancing" choreographer turned filmmaker Kenny Ortega and has since become comfort-food viewing during those chilly days and gloomy evenings in the run-up to October 31.
It takes us to Salem, Massachusetts, where we meet Max (Omri Katz) and Dani (Thora Birch), two new arrivals struggling to fit in their new hometown. While visiting a local cottage-turned-museum that celebrates historical witches the Sanderson sisters with Max's friend Allison (Vinessa Shaw), Max accidentally lights the cursed Black Flame Candle and returns the witchy trio to Earth where they set about stealing the life force from as many local children as they can before daylight arrives.
With Midler, Najimy, and Parker all having a ball as the film's larger-than-life leads, "Hocus Pocus" is given an extra sprinkle of magic thanks to some sharp gags and a great supporting cast. Future Guillermo del Toro regular Doug Jones delivers a memorable performance as Winnifred's undead-ex Billy Butcherson, while a 10-year-old Birch defies her age to deliver a sassy heroine that young audiences can look up to. Overall, "Hocus Pocus" is full of special moments and remains a Halloween classic for a good reason.
The Witches
Forget Robert Zemeckis' 2020 remake. Nicolas Roeg's 1990 seaside frightener, "The Witches," perfectly encapsulates everything that makes Roald Dahl's work so great — mainly by cooking up a mix of magical childhood escapism with stuff that's borderline terrifying. Don't worry. It doesn't contain anything that'll scar the kids too much. However, its now-iconic Grand High Witch transformation sequence may be enough to put you off your popcorn — if only temporarily.
The focus of that infamous scene is Anjelica Huston, who plays the leader of all the world's witches, each of whom has gathered in a tacky Bournemouth hotel to hear about her new plan to rid the world of the thing witches hate the most: children. Luckily, our hero Luke (Jasen Fisher) is here to stop them, but when he's suddenly transformed into a mouse, he must rely on his hardy witch-hunting grandmother (Mai Zetterling) to help squash this murderous scheme in its tracks.
In retrospect, there are lots of elements that make 1990's "The Witches" appear dated by today's standards. There's its coastal hotel location and gooey practical effects by Jim Henson for starters. Plus, its part-American, part-English cast makes it one of those films that's weirdly hard to place, much like another Dahl adaptation, 1971's "Willy Wonka & The Chocolate Factory." Still, there's plenty to like, and while it may not have Halloween guiding its story, Huston's sly, alluring, and downright evil performance as the world's worst witch is worth tuning in for alone.
Casper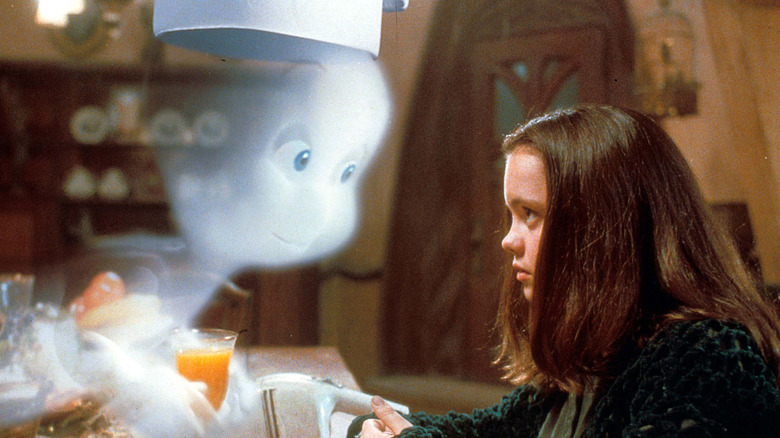 Universal Pictures
Two years after her second outing as Wednesday in "Addams Family Values," Ricci returned to the world of the undead with the 1995 family fantasy "Caspe film is one of the first movies to really rely on computer-generated animation in the wake of Steven Spielberg's 1993 ground-breaker "Jurassic Park," this time using the new-fangled tech to power its spooky leads instead of just a few bloodthirsty monsters.
Ricci plays Kat, an awkward teen who begrudgingly follows her widower father (Bill Pullman) around the country as he uses his paranormal therapist job to mask his goal of one day making contact with his late wife. When they receive a call from a money-grubbing duo hellbent on getting their hands on a hidden treasure inside the haunted Whipstaff Manor, they move in to rid the house of its ghostly guests. It's here where Kat befriends Casper (Malachi Pearson), a friendly phantom haunted by his nasty uncles, Stretch (Joe Nipote), Stinkie (Joe Alaskey), and Fatso (Brad Garrett).
"Casper" is one of those early '90s family comedies that's unafraid of splicing kids' humor with something for the adults, too, making movie night enjoyable for everyone. Like a spiritual sibling to "Hocus Pocus," its seasonal small-town aesthetic gives it Sunday-afternoon viewing vibes, and it also ends with a big costumed Halloween party. "Casper" gets extra points for including a cameo appearance by Dan Aykroyd's Ghostbuster, Dr. Ray Stanz, who tries — and fails — to bust Casper's nasty uncles.
Coraline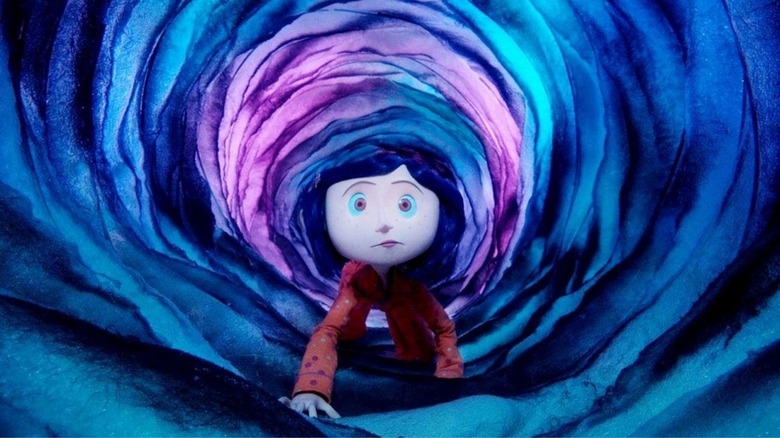 Focus Features
There's something decidedly dark about the world of stop-motion animation that feels inherently baked into this little sub-genre of cinema. From "The Nightmare Before Christmas" and "Corpse Bride" to "ParaNorman" and "James and the Giant Peach," each tale has something sinister lurking just beneath its colorful, grinning visuals. Combine this element with the whimsical world of Neil Gaiman, and you have a recipe for something truly special.
Based on Gaiman's 2002 novella of the same name, 2009's "Coraline" was adapted by Jack Skellington's former director, filmmaker Henry Selick, who here escapes the shadow of his "The Nightmare Before Christmas" producer, Tim Burton, to deliver a fantasy about family, identity, and home. It follows its titular heroine, who discovers a mysterious door leading to a parallel world where her workaholic parents are replaced by a pair of overly-doting "others." While everything looks fine on the surface, their sewn-on button eyes scream otherwise, and pretty soon, the evil true intentions of her Other Mother and Other Father make themselves known.
With beautiful animation and a delicate score courtesy of composer Bruno Coulais, Selick's "Coraline" lulls you into its melancholic fantasy world where nothing is quite as it seems. Much like "Hocus Pocus," its warm autumnal cinematography makes it a seasonal must-see and the perfect, cozy way to escape a dreary pre-Halloween afternoon.
E.T: The Extra-Terrestrial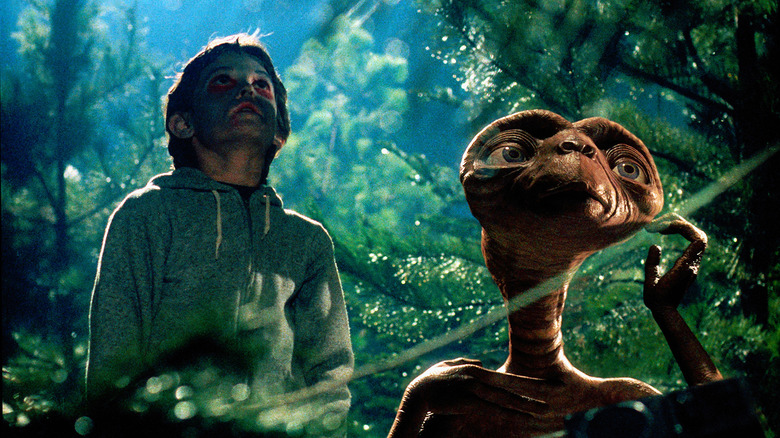 Universal Pictures
Don't be fooled. You may think that this is a Christmas movie thanks to frequent seasonal re-runs, but look again, and you'll see it has a different holiday at its core. Released in 1982, Steven Spielberg's family megahit "E.T: The Extra-Terrestrial" may have forever changed the way we look at Reece's Pieces, but it also served up something you rarely see in cinema: scenes of costumed kids playfully trick-or-treating in a sunset-lit neighborhood.
At this point, we're not sure there's anyone that doesn't already know the film's plot, but what the heck, we'll tell you anyway. Left behind by his pals, a dumpy, plant-loving alien develops a deep connection with a lonely kid (Henry Thomas) whose family and school life are negatively impacted by his parents' divorce. With his brother Michael (Robert MacNaughton), kid-sister Gertie (Drew Barrymore), and a few local friends, Elliott must help E.T phone home and secure his rescue before government officials start doing their own abducting.
E.T's fascination with nature and everything earthy spills over into the visuals of a Spielberg film so popular that it stayed at the No.1 spot at the box office for six weeks following its release. Its abundance of trees and chilly, autumn scenes make this an unlikely yet very welcome entry into this list of family-friendly Halloween favorites.
The Addams Family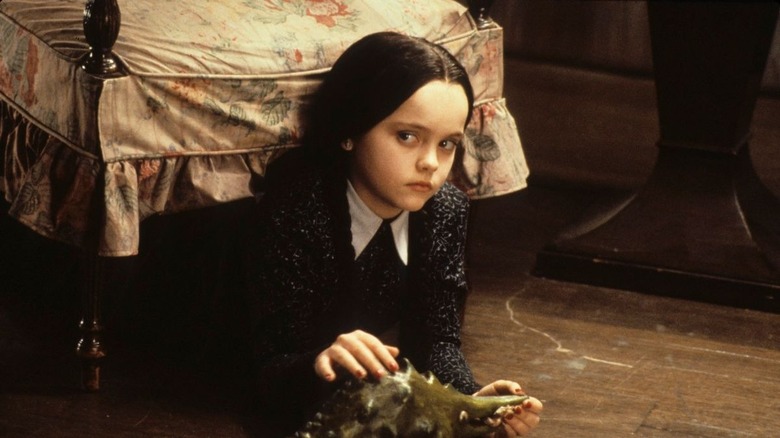 Paramount Pictures/Columbia Pictures
Barry Sonnenfeld's two outings with "The Addams Family" (the 1992 sequel, "Addams Family Values" is arguably the better movie) have managed to become more than just autumnal gems. They're some of the strongest family comedies of the decade. We find the Addams Family torn apart after Uncle Fester (Christopher Lloyd) goes missing in the Bermuda Triangle. However, when a mysterious stranger knocks on Gomez (Raul Julia) and Morticia's (Anjelica Huston) door, the arrival of this long-lost sibling seemingly threatens to derail this freakish family from the inside out.
"Hocus Pocus" star Dani (Thora Bich) may be a great example of a rebel girl, but if you were a kid growing up in the early '90s, no one was cooler than Christina Ricci's alternative and macabre Wednesday Addams. Despite landing her first big-screen role in "Mermaids" opposite Cher a few years earlier, Ricci's role as the stonefaced Wednesday in this adaptation of Charles Addams' popular comic has become so iconic that it's synonymous with Ricci herself — and for good reason. Arch, sardonic, and devilishly dry, she manages to not only steal every scene she's in, but she holds her own alongside movie heavyweights like Huston, Julia, and Lloyd.
Working from a whip-smart script from Caroline Thompson and Larry Wilson and infused with Sonnenfeld's trademark satirical wit, "The Addams Family" hits that cinematic sweet spot of being something the whole family can not only enjoy but bellylaugh along with.
Monster Squad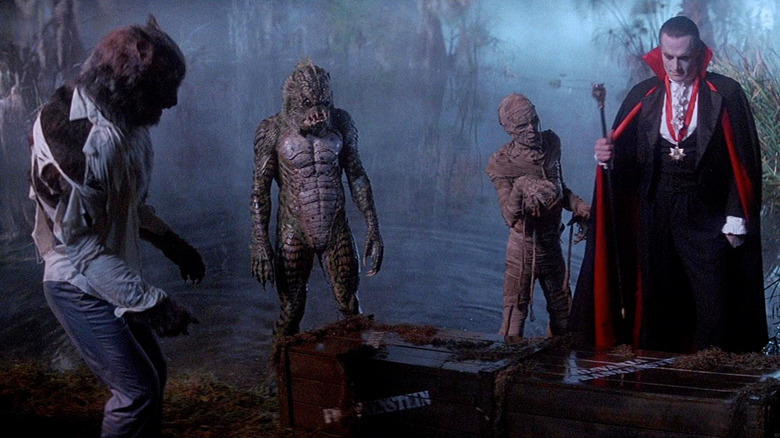 TriStar Pictures
A group of small-town youngsters is forced to do battle with classic monsters and banish them once and for all in "The Monster Squad." Sound familiar? It doesn't take a great leap of the imagination to see the similarities between "Hocus Pocus" and the plot of this 1987's kids' horror adventure. Released six years apart, both of these family-friendly frighteners share more than a little connective DNA.
Directed by Fred Dekker, with special effects legend Stan Winston on creature-creating duty, "Monster Squad" follows a group of kids who stumble upon the legend of a mysterious amulet with the power to rid the world of its monsters. There's just one catch: They're not the only people looking for it. Count Dracula (Duncan Regehr) is on the case, too. He gathers his own gang of baddies, including the Mummy (Michael MacKay), Wolf Man (Carl Thibault), and what's presumably a copyright-free version of the Creature From the Black Lagoon's Gill Man (Tom Woodruff Jr.) in an attempt to get to the amulet first. The result is like mixing "The Goonies" with "The Lost Boys" and throwing in some "Hocus Pocus" thrills for good measure. With classic monsters and Winston's effects, it's strange that more people didn't see "Monster Squad."
Goosebumps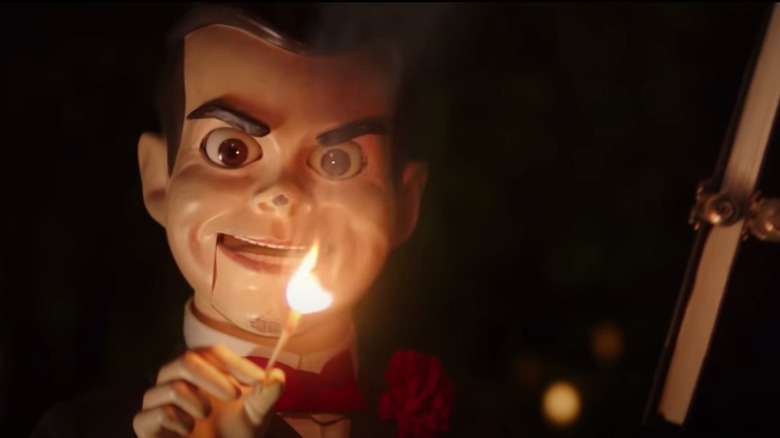 Sony Pictures Releasing
There's probably not a '90s kid in the world that doesn't have some familiarity with R.L. Stine's hugely popular "Goosebumps" books. With the first of Stine's kid-horror series arriving in 1992, fans only had to wait 23 years for their favorite spooky stories to make their way to the big screen, but when it finally arrived, 2015's "Goosebumps" starring Jack Black was worth the wait.
Black appears as a fictionalized version of Stine who fiercely guards his "Goosebumps" manuscripts against prying eyes. However, it soon turns out that he's right to be so cagey. When a new neighbor befriends Stine's daughter and takes a surreptitious peek at his books, the monsters inside leap off of the page and into reality, releasing a deadly dose of chaos that must be recaptured before it spins further out of control.
Its small-town setting aside, "Goosebumps" shares even more links to "Hocus Pocus" due to its core story involving a group of tweens trying to stop a supernatural spectacle that they have unleashed. However, as far as big screen adaptations of kids' books go, this is one of the better entries to this subgenre thanks to a fun performance from Black and its unexpected meta-narrative. Like its Salem-set counter-point, "Hocus Pocus," this one's an easily-digestible jaunt and the perfect way to spend a lazy autumn afternoon.
ParaNorman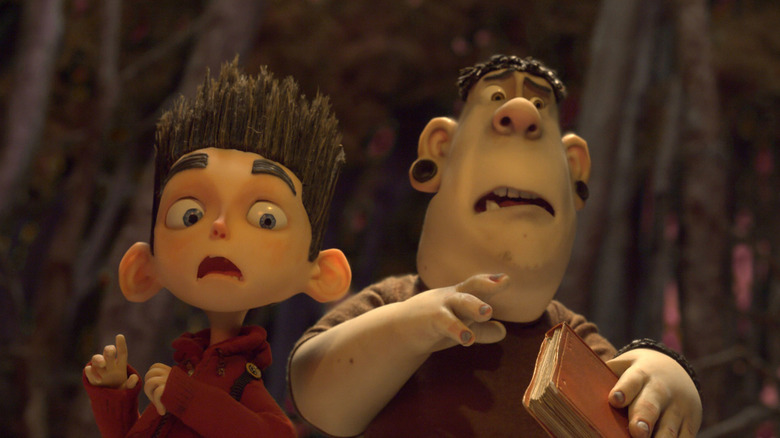 Focus Features.
Another stop-motion feature that takes its cues from beyond the grave, "ParaNorman" has more than a few elements that help it sit nicely alongside "Hocus Pocus" and its upcoming sequel. For starters, our kid outcast hero Norman is no stranger to the supernatural. He can talk to the dead, and after witnessing a school play about the execution of a centuries-old local witch, a spirit informs him of the mystical book she left behind that must be used to stop the dead rising from the grave and all hell breaking loose in his small suburban town.
Created by stop-motion animation house Laika Studios (the same team behind "Coraline" and "Kubo and the Two Strings"), directors Sam Fell and Chris Butler cram a smorgasbord of stunning imagery into "ParaNorman's" scant 92-minute run time. Its visuals were enough to turn heads during its early marketing push which included a slick theatrical trailer set to Donovan's hit song "Season of the Witch" to whet the audience's appetite for something spectacular and spooky.
While not specifically set on Halloween night, it sure has its fair share of autumnal imagery from crisp orange leaves and damp-looking forests to spooky sunsets, creeping shadows, eerie ghouls, and skeletal hands bursting forth from graves. The overall effect is perfectly suited to the Halloween season, making it more than worthy of a spot on this list.
Return to Oz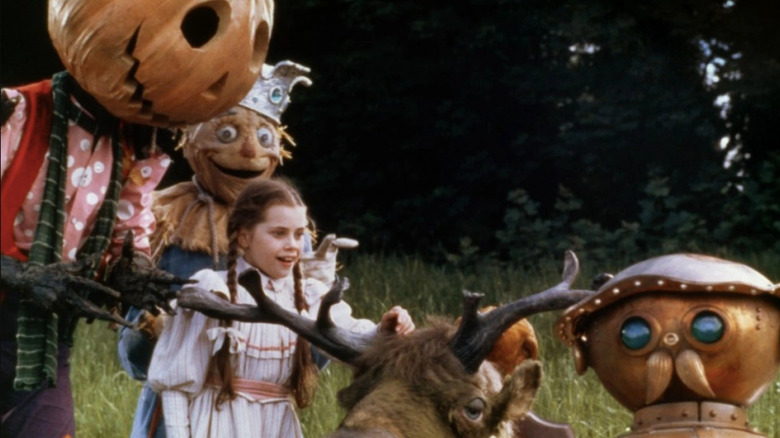 Buena Vista Distribution.
"Return to Oz" arrived 46 years after "The Wizard of Oz," and in the time between productions, a lot had changed. This long-gestating sequel couldn't be more different in tone from its iconic predecessor. Instead of spinning a tale of whimsical escapism and the importance of home, "Return to Oz" uses the handmade special effects of the '80s to craft a dark story full of mental health issues and nightmarish imagery, some of which still gives viewers nightmares to this day (we're looking at you, Wheelers).
This time around Fairuza Balk inherits Judy Garland's ruby slippers as Dorothy. After she returns from Oz, her aunt and uncle think her tales of tin-men, lions, and scarecrows are signs of delusional behavior and send her to a hospital for electroshock therapy. We know what you're thinking, a little heavy for a kids' movie, right? Well, things only get stranger when she's whisked back to Oz only to find it in ruin thanks to the reign of the Gnome King (Nicol Williamson) and an evil witch named Princess Mombi (Jean Marsh).
The film's witch link and Jack Pumpkinhead (Brian Henson) character give "Return to Oz" a nice Halloween flavor, while its abundance of puppets and creatures makes it hard to forget. Despite flopping back in 1985, perhaps for being a little too different from the much-loved original, Walter Murch's only film has since developed a cult following, with its weirdness tempting viewers back time and time again.