National Treasure: Edge Of History Trailer: Meet A New Generation Of Treasure Hunters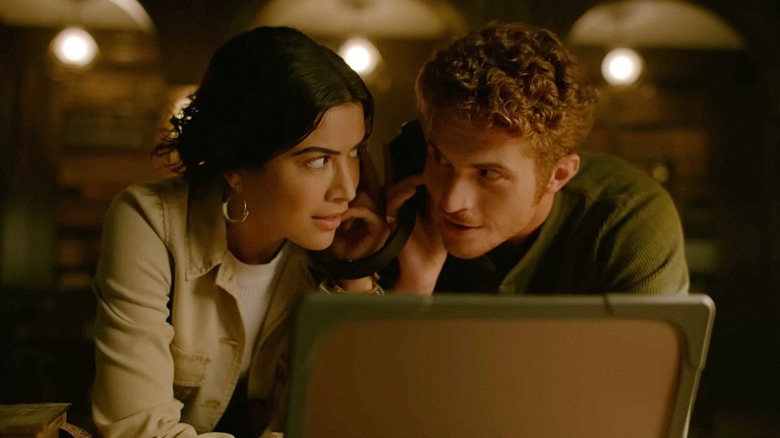 Disney+
Harvey Keitel and Justin Bartha are back to help a new generation of adventurers in "National Treasure: Edge of History." The Disney+ series is set to debut in December, and the first trailer was unveiled at D23 Expo this weekend. While it doesn't look too much like the two movies that came before it, it's still a lot going for it — like Catherine Zeta-Jones in a severe white-blonde wig talking about "the Daughters of the Plume Serpent."
The series will follow a young treasure hunter, Jess (Lisette Alexis), whom the trailer shows was left some sort of secret key or clue in the form of her late father's necklace. The action kicks off immediately in the promo, which you can check out below:
Could Cage return?
If you missed "National Treasure: Book of Secrets" or don't remember the Jerry Bruckheimer-produced 2000s franchise well, it's worth noting that Keitel plays Peter Sadusky, an FBI agent who hunts down Ben (Nicolas Cage) in the first film before being revealed as a freemason and historical secret-keeper. He clearly hasn't retired, as he ominously asks Jess, "What if I told you everything you know about your dad is a lie?" The rest of the promo gets into the fun, quasi-mystical territory of the first two films as Jess waves her hand over a lit-up wall and opens up a secret door behind a bookcase.
Though this first trailer doesn't give us much of an introduction to the new characters, "National Treasure: Edge of History" features quite a few. Zeta-Jones plays Billie, a wealthy antiquities expert, while the rest of the treasure hunting ensemble includes legacy adventurer Liam (Austin Walker), potential love interest Ethan (Jordan Rodrigues), conspiracy-minded Oren (Antonio Cipriano), and best friend Tasha (Zuri Reed). Bartha's Riley, a fan favorite from the films, is billed as a guest star.
Cage, of course, is noticeably absent here, but I'm starting to wonder if "National Treasure: Edge of History" is a planned bridge story between the second and third films. After years of headlines about whether or not a third "National Treasure" movie will ever materialize, it does seem to be on the horizon, with Bruckheimer recently claiming that a script is being finished up and should be sent to Cage shortly. "National Treasure: Edge of History" certainly wants to keep the films fresh in our minds: the new trailer ends with a familiar piece of the original movies' score.
"National Treasure: Edge of History" will premiere with its first two episodes on Disney+ on December 14, 2022.