The Little Mermaid Footage Description: Halle Bailey Wants To Be Part Of Your World [D23]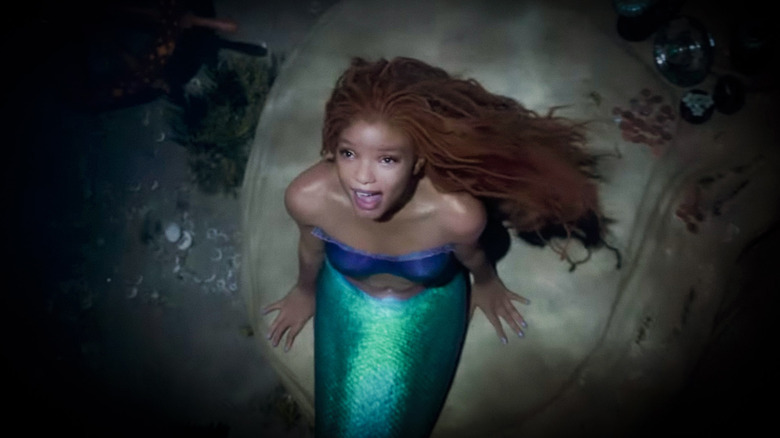 Disney
Disney is showing off its upcoming line-up at D23 Expo today, and /Film was on the ground to catch the first footage of the upcoming live-action version of "The Little Mermaid." While Disney's live-action adaptations haven't always been the best or most creative projects the studio has to offer (see, or don't: the new "Pinocchio" that dropped this week), "The Little Mermaid" has several elements going for it that its predecessors don't. Namely, original music and lyrics co-written by Lin-Manuel Miranda and Chloe x Halle musician Halle Bailey in the lead role as Princess Ariel.
Audiences were given a sneak peek of the film (in addition to the new teaser trailer), which is set to debut next year, at D23 today and /Film's Ethan Anderton was there to catch it. Director Rob Marshall introduced the first footage after hyping up both musician and "Grown-ish" actor Bailey (he calls her "a revelation") and Melissa McCarthy, whose Ursula the filmmaker says is unlike anything the "Bridesmaids" actor has done before. Audiences at the panel were treated to the entire "Part of Your World" sequence, which featured some impressive underwater CGI and put Bailey's equally impressive singing voice on full display.
A showstopping introduction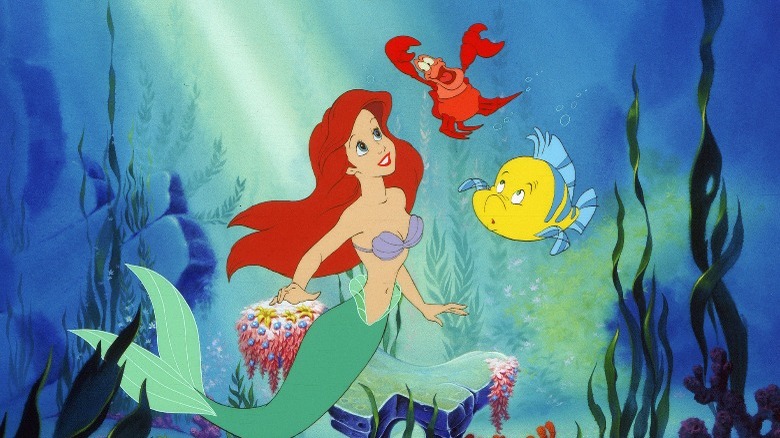 Disney
The footage matches the 1989 film's shot setup pretty closely, beginning with Ariel swimming through seaweed to her secret cave, which is full of human detritus she's collected over the years. Bailey's Ariel appears to have braided hair, and has iridescent scales that seem to go all the way up her chest as opposed to the animated version's clamshell swim top. By her side is Flounder (Jacob Tremblay), who looks decidedly more like a real fish than the cartoon version did.
Ariel perches on a rock beside a chandelier, and it's clear as she sings that her voice is a great match for the character. It's more natural-sounding than the Broadway belting version of the musical, and as the music builds, Bailey's performance is nothing short of showstopping. The scene recreates some exact shots from the animated film, including one in which moonlight shines on Ariel's face as she swims toward a hole in the cave. The footage ends after light falls on Ariel's hands as she reaches out, desperate to be above the surface.
"The Little Mermaid" will feature music by the same composer who scored the 1989 film, Alan Menkin, who co-wrote the soundtrack with "Encanto" songwriter Miranda. The film's supporting cast includes Daveed Diggs, Awkwafina, Jonah Hauer-King, and Javier Bardem. "The Little Mermaid" will hit theaters on May 26, 2023.