Mike Judge Didn't Want To Make A Big Deal Out Of King Of The Hill's Finale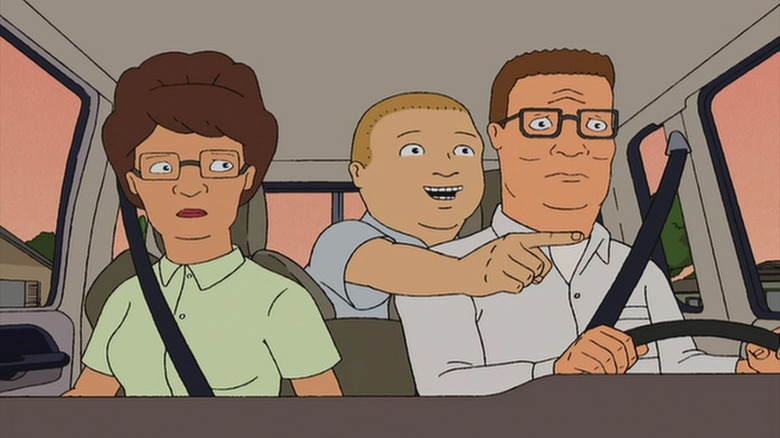 20th Television
As of this writing, a revival of Mike Judge's long-running animated sitcom "King of the Hill" (which initially ran 13 seasons from 1997 to 2009) is a little up in the air. Back in March of 2021, a revival was announced, followed by a year and a half of radio silence. Then, on September 7, 2022, the Hollywood Reporter announced that it wouldn't be broadcast on Fox. That's all the information currently known. 
That "King of the Hill" should saunter gradually back to television without an ever-mounting level of fanfare seems weirdly appropriate for the show. "King of the Hill," which ran after "The Simpsons" and before "The X-Files" in many markets, was always the unassuming hit of '90s animated sitcoms. Generally affable and gently hilarious, "King of the Hill" lovingly poked fun at life in modern Texas with a knowing eye; Judge attended college in Texas and knew of what he spoke. "King of the Hill" lacked the Gen-X wastoid mentality of Judge's "Beavis and Butt-Head" and the absurdity of "The Simpsons" (to which it was frequently compared). It was grounded and comparatively realistic. Hank Hill, with his frozen expression of concern and lack of buttocks, happily ambled through 13 seasons before going off the air without any notable climax or conclusion.
Judge, in a 2009 interview with the New York Times, indicated that the series' lack of a "finale" episode was a deliberate choice. There was every reason to believe that he would end the show with a dramatic twist — the death of a major character, a natural disaster, a sudden change of location — but "King of the Hill" went out on a quiet moment of non-conclusive sentimentality. Judge wanted it that way.
The final finale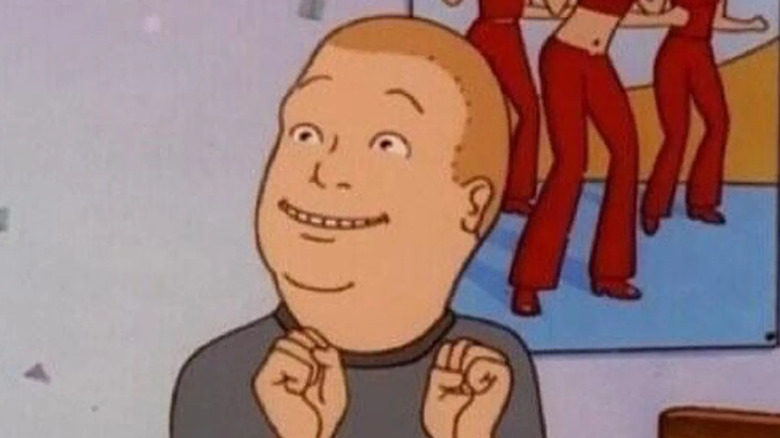 20th Television
Indeed, the finality of "King of the Hill" was even prolonged thanks to the magic of syndication. The series finale aired on September 13, 2009, but then four additional new episodes — all made prior to the finale — aired after it. Purists and television archivists were driven absolutely crazy. The finale, called "To Sirloin with Love," ended on a sweet moment when Hank (Judge) and his quirky son Bobby (Pamela Adlon) spend a span grilling together. Hank, a longtime propane salesman, was very keen on grilling and was pleased to be sharing the moment with his son. The final shot is a birds-eye-view of Arlen, Texas where the show took place. And that was it. A small wave goodbye. The finale's giant "reveal" would be a declaration of what the character Boomhauer (also Judge) did for a living. It turns out he was a Texas Ranger. 
When asked about the finale prior to its airing, Judge was dismissive. He didn't want to "conclude" the series. The Hill family were very much ordinary, and giving them a grand arc would be antithetical to the nature of the show. For Judge, the Hill family would live on. Audiences merely wouldn't be able to watch them any longer. In his words:
"Actually I'm not sure there will be a final episode this time around. We did a final episode back in the first year we thought we were canceled. I was really proud of that last episode, and then when we didn't get canceled, we had to kind of tweak it and do these different things to make it not seem so final. And I'm not sure there will be any kind of story arc. The thing I think we do well is kind of keeping it the same."
A classic ending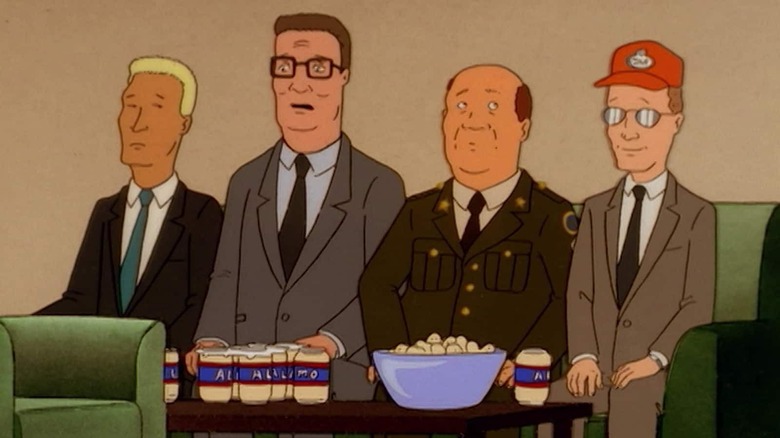 20th Television
Judge's need to conclude the series on a smaller, less definitive note comes less from a sense of apathy toward his own series, and more from a fondness for classic television. Show's didn't always conclude with splashy finales until the age of "M*A*S*H," which ended its 11-season run in 1983. Judge revealed that his inspirations were older sitcoms that concluded in 1962, 1963, and 1968 respectively. He said: 
"I'm a big fan of just classic TV. The old 'Bob Newhart Show,' 'Leave It to Beaver,' 'The Andy Griffith Show.' There was something kind of comforting in that, episode after episode, they didn't change that much."
Since "King of the Hill," Judge has created the TV shows "The Goode Family" and "Silicon Valley" and overseen two separate revivals of "Beavis and Butt-Head." Even if "King of the Hill" doesn't return, we can rest easy that Judge is doing fine, and that the Hill family hasn't changed much.
Yep.