It Was Never In Question That Beverly Hills Cop Was Going To Be A Hit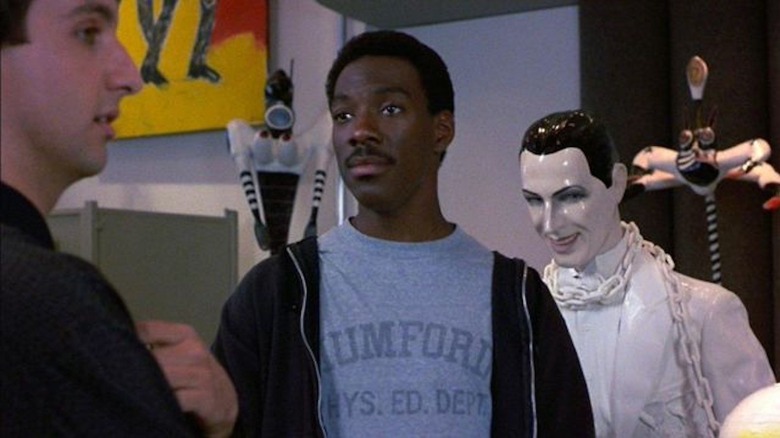 Paramount
Eddie Murphy was the surest of bets in the 1980s. At the age of 19, he single-handedly yanked "Saturday Night Live" back from the brink of cancellation after the departure of the original cast, and was all of 21 when he shot to big-screen stardom opposite Nick Nolte in Walter Hill's action-comedy classic, "48 Hrs." His second feature, "Trading Places," was also a critical and commercial hit, while his stand-up LP "Eddie Murphy: Comedian" went platinum. By 1984, Murphy was so hot, Paramount inserted him into the finished Dudley Moore comedy "Best Defense" in the hopes that he could enliven the deathly unfunny film with his ad-libbed brilliance. It didn't work, but no one held it against Murphy. The movie was just that bad.
There was no question that Murphy had turned into one of Hollywood's biggest stars overnight, but his first two hits had been two-handers. He had yet to carry a film on his own. So more than a few eyebrows arched when Don Simpson and Jerry Bruckheimer cast him as Axel Foley in "Beverly Hills Cop." For close to a decade, Paramount had developed the movie as a fish-out-of-water action flick. Mickey Rourke was once eyed as the leading man, and the movie came very close to production with Sylvester Stallone as the loose-cannon detective who shakes up the tony Los Angeles neighborhood while trying to track down the drug traffickers who killed his best friend.
This sounded a bit like "Best Defense" redux: a troubled project hastily retrofitted to accommodate Murphy's comedic genius. It wasn't long into production, however, that director Martin Brest, who repeatedly turned down the movie until he literally lost a coin flip, realized he had a potential blockbuster on his hands. This Murphy kid was the goods.
The blockbuster no one, save for Paramount, saw coming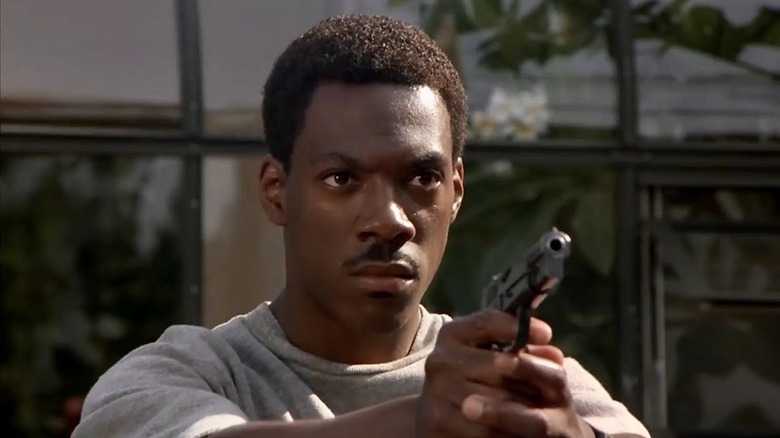 Paramount
Paramount had high hopes for "Beverly Hills Cop" going into 1984's holiday season, but the buzz was primarily focused on ambitious sci-fi movies like "Dune," "2010" and "Starman." There was also Francis Ford Coppola's pricey gangland epic "The Cotton Club" and another cop comedy in the Clint Eastwood-Burt Reynolds vehicle "City Heat." Eddie would bury them all.
According to Nick De Semlyen's immensely entertaining "Wild and Crazy Guys: How the Comedy Mavericks of the '80s Changed Hollywood Forever," the studio was so excited by the euphoric response to an early test screening that they pumped an extra $2 million into the advertising budget, went wide on over 1,500 screens and opened the movie two days early on a Wednesday (a move typically reserved for event films). Paramount got a jump on the December competition, and, by Christmas, "Beverly Hills Cop" was the only wide-release movie anyone was talking about.
In the view of the film's co-screenwriter, Daniel Petrie Jr., the film's success hinged not just on Murphy's high-wattage appeal, but in its subversion of cop movie cliches.
"In most films the cop wakes up alone in a sh***y apartment, has a cup of horrible coffee, then gets served divorce papers by his wife. But in this one you can see the enjoyment pouring out of Eddie all the time. Even though he's at odds with all the people around him, he charms them all."
Let's do the neutron dance again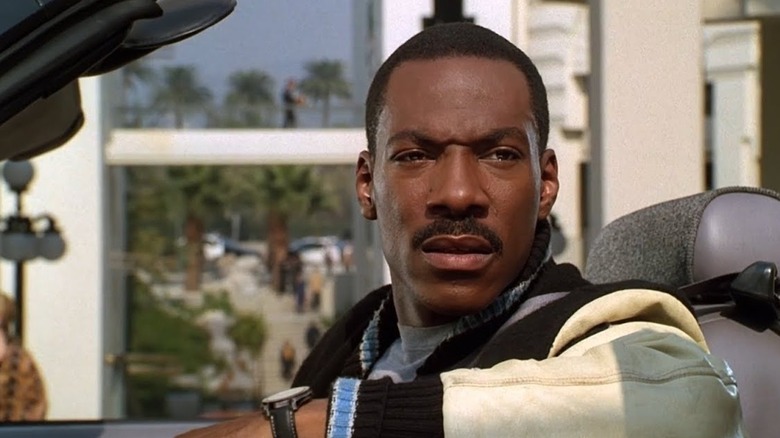 Paramount
"Beverly Hills Cop" blew past the $100 million barrier in early January 1985, while the aforementioned would-be blockbusters languished. 20th Century Fox president Tom Sherak groused that Murphy was "the Grinch that stole Christmas." Amazingly, the film hung out in the top five of the U.S. box office until Memorial Day, and bucked the video rental market by hitting VHS in the fall of 1985 at a priced-to-sell $29.99 (at the time, most new releases cost an obscene $79.99).
Hollywood responded by rushing a number of imitation action-comedies into production. Some were pretty good (Brest's "Midnight Run" wound up becoming the platonic ideal of the subgenre), but the formula quickly grew stale. Murphy eventually lost interest as well. He's completely checked out in "Another 48 Hrs.," and couldn't get it out of third gear in "Beverly Hills Cop III." This makes it difficult to work up any real enthusiasm for the currently shooting "Beverly Hills Cop IV." Murphy is now 61. He's older than Bill Cosby was when he made "Ghost Dad." Though he proved he still had his fastball when he hosted "Saturday Night Live" in 2019, he sleep-walked through 2021's "Coming 2 America."
If you grew up in the 1980s, you're instinctively rooting for Murphy. It wasn't just his generational talent. It was his age. He paid his nightclub dues while most kids are doing their geometry homework. He was so very far ahead of schedule, and shone so brightly at multiple stages of his career. Barring a late-breaking miracle, "Beverly Hills Cop" will remain the apex. No one was ever funnier or more magnetic. Arguably, no one was ever a bigger star.