Paul Wesley's Kirk In Star Trek: Strange New Worlds Won't Be Much Like William Shatner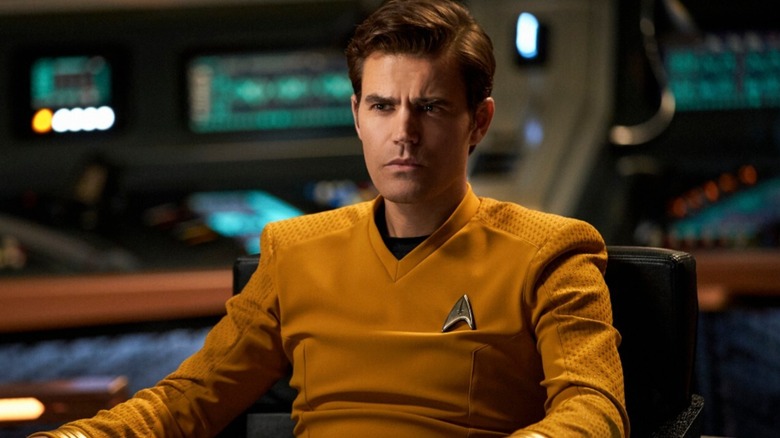 Paramount+
In its first season, "Star Trek: Strange New Worlds" reinvigorated the modern Trek era in an unexpectedly playful way. The first ten episodes of the "Star Trek: The Original Series" prequel not only delivered a delightful, smart, and emotional assortment of one-offs, but it also introduced some great new takes on familiar characters. Ethan Peck's Spock, Celia Rose Gooding's Uhura, and the rest of the "Star Trek: Strange New Worlds" Enterprise crew have already become indelible versions of the officers we know and love.
And then there's Captain Kirk. William Shatner's take on the character is larger-than-life, the sort of often-exaggerated performance that's no doubt been the perfect starter impression for a thousand comedy students over the years. Shatner's performance is sometimes excellent, but it's most remembered for its sense of melodrama above all else — for better or for worse. It makes sense, then, that when "Star Trek: Strange New Worlds" returns for its second season, Paul Wesley's young Kirk will not be attempting a Shatner-like inflection. In fact, the actor tells Entertainment Weekly that his Kirk won't be too much like Chris Pine's version either, but will land "somewhere in between" the two versions of the Enterprise captain.
A captain who guides by instinct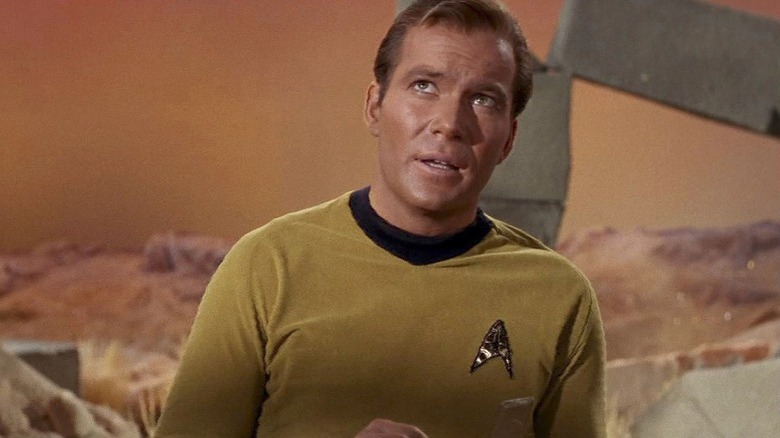 NBC
"What is most important is to pay respect to the integrity of who Kirk is," Wesley tells EW. "His wants, his needs, his deep desires, his morality, his spontaneity, his instinct." That last quality is one that Wesley's mentioned in several interviews, and it's what will likely set the character apart from the largely heart and logic-driven Enterprise crew. Kirk trusts his gut, and it doesn't always work out right, but as "A Quality of Mercy" demonstrated, sometimes the fate of the universe depends on good instincts.
Wesley says that both he and the series' showrunners thought the most important aspect of approaching the legendary role "was to not insult the original series' Kirk by doing an imitation of [Shatner]." Just as Peck's version of Spock hasn't quite grown into his confidence yet, and Jess Bush's Nurse Chapel has a playful grounded quality that her predecessor didn't, it sounds like Wesley has put a lot of thought into what an earlier version of Kirk would look like.
"This is a younger Kirk. It's before he was fully developed as a man," Wesley tells Variety. He also clarifies that the version of Kirk we'll see in season 2 won't just be different from Shatner and Pine's Kirk, but different from the version we saw in the first season finale, an alternate timeline episode that introduced a future version of the character. That "Kirk hasn't been influenced by Spock, by Uhura," he says. "In many ways, he's the same Kirk. But he's not really the Kirk that we know, because he's had a completely different life."
We've yet to meet Wesley's 'real' Kirk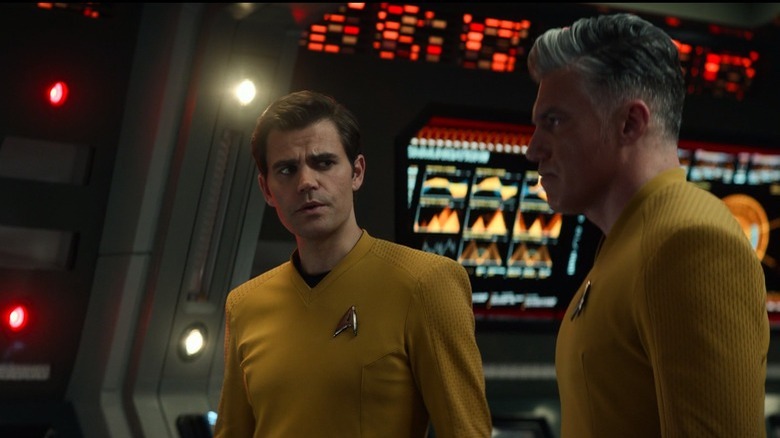 Paramount+
While details around season 2 are still under wraps, it sounds like it'll dig into Kirk's life in the main timeline. "It's important to just understand who Kirk is, what his childhood was like, what he wants, what he doesn't want, what the pillars of his personality [are]," Wesley told Collider. He also confirmed to EW that his version of Kirk will be pre-Enterprise (the series, with the exception of the first season finale, takes place seven years before The Original Series' timeline) and will likely have a stronger sense of humor than the fairly serious, crunch-time Kirk we saw in "A Quality of Mercy."
It's impossible to judge Wesley's take on Kirk until we've met him, and the alternate timeline circumstances of the show's first season finale mean we still haven't really met him. But based on Wesley's conversations about his approach to the character alone, it sounds like his take on Kirk could turn out to be as much of a breath of fresh air as the rest of the show. "Star Trek: Strange New Worlds" hasn't announced its second season release date yet, but the show's first season is currently available to stream on Paramount+.