One Of Armie Hammer's Accusers Says House Of Hammer Filmmakers Are Exploiting Her Trauma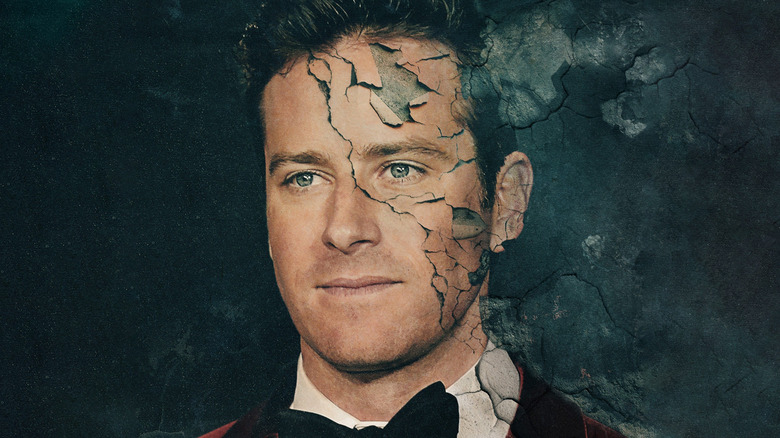 Discovery+
It's been a year and half since Armie Hammer's stardom publicly imploded and somehow, there's already a docuseries about it.
What began with one woman sharing her story eventually led to a snowball effect as many of Hammer's former girlfriends stepped forward to share horrifying accusations and proof of threatening text messages. The actor has since been accused of rape and abuse. He ended up losing his agent, dropping out of multiple projects, and remains at the center of an LAPD sex crimes investigation. The latest word on the matter is the news surrounding "House of Hammer," a three-part Discovery+ docuseries, which arrived on the streamer earlier this week.
While the news was still breaking in March 2021, filmmakers Elli Hakami and Julian Hobbs spoke with executives at Discovery+ about their idea to dig into the story behind the headlines. "House of Hammer" is the result: a series that includes interviews with Hammer's ex-girlfriends and an investigation of his family tree, exposing the lineage of allegedly troubled and violent men that have emerged from the Hammer family. This includes the story of Hammer's great grandfather Armand Hammer, his uncle Julian Hammer, and his father Michael Hammer.
Much of the case against Hammer originates with the allegations made by Effie (whose last name remains unknown to protect her privacy). The a 26-year-old European woman said in a March 2021 news conference held by her lawyer, Gloria Allred, that Hammer "violently raped" her. This is the basis of the ongoing LAPD investigation. While some of Hammer's accusers have supported the docuseries — including Courtney Vucekovich (pictured below), who is interviewed throughout  — Effie does not, and has now openly accused the filmmakers of exploiting her trauma.
Effie speaks up against House of Hammer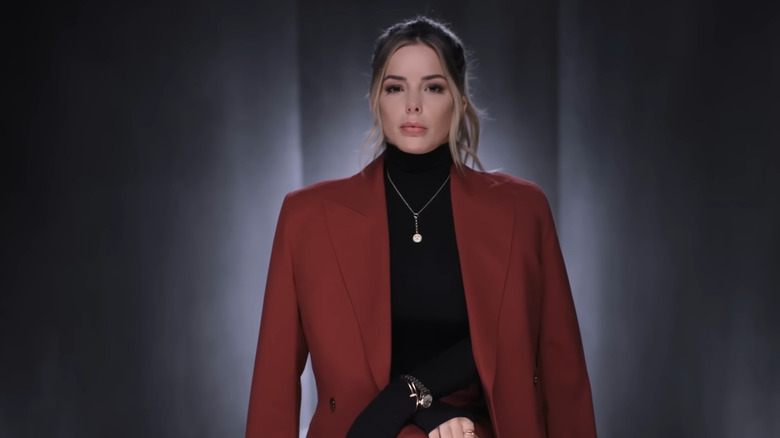 Discovery+
According to a recent report in the Los Angeles Times, Effie was contacted by a "House of Hammer" producer a month after her press conference. She was asked if she'd be interested in giving an interview for the series and declined with the following statement:
"It is extremely inappropriate of you to exploit such a tragic, vulnerable time in many people's lives, with no regard whatsoever for our healing process and privacy."
Despite refusing to participate in "House of Hammer," Effie's experience and story are still covered in the docuseries, including screenshots that she posted on her Instagram account and a clip of the 2021 press conference where she alleged that Hammer raped her. The series also includes a sit-down interview with Effie's lawyer Gloria Allred, the high-profile attorney known for working in protection of women's rights. Effie told the Times that she was not made aware of her lawyer's participation in the series.
On-screen, Allred introduces herself as Effie's attorney but, due to attorney-client privilege, does not discuss Effie's allegations. Instead, she speaks generally about representing victims because they need support in the fight against powerful men. Per Variety, she also comments on the nature of toxic relationships and consent, saying: "Even in BDSM relationships, consent is still at the heart of it. It doesn't mean that anyone can do anything to anyone during a sexual relationship. If she withdraws her consent, and he continues, that's crime. It's as simple as that."
Although Effie also declined to be interviewed by the Times, she did provide the following statement in regards to the docuseries:
"The way they've been exploiting my trauma is disgusting. When I keep screaming 'no' and they keep going, saying they don't need my permission, they remind me of Armie."
The filmmakers respond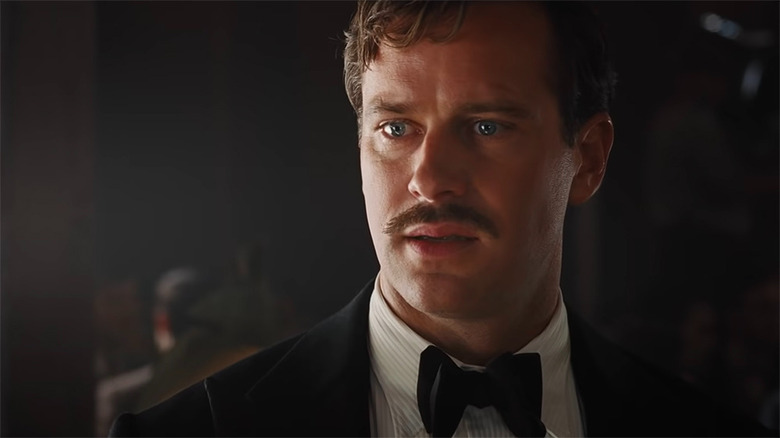 20th Century Studios
"House of Hammer" filmmakers Elli Hakami and Julian Hobbs, on the other hand, didn't feel that they did anything wrong by including Effie's story. Hobbs told the Times: "There's all types of laws around material and the use of material. And when she posted on a public forum ... her allegations against Armie Hammer enter into the public discourse, right?"
Hobbs goes on to point out that removing or ignoring Effie's story would mean painting an incomplete picture of the allegations against Hammer — particularly because Effie's story played a crucial role in encouraging other women to come forward:
"Even though Effie wasn't there in person being interviewed, she's clearly posited in the film as the match that lit the fire. And when that fire was lit, that's when Courtney decided to come forward. That's when people really became inflamed ... Her coming forward was a major moment."
In response to Effie's statement against the series, Hobbs said the following:
"[Effie]'s been vocal that she thinks that making any form of media out of these events is somewhat problematic. As filmmakers, we don't take that view. We feel we actually have an obligation to tell the stories. If you were to stop making films because someone said they didn't want a film being made, you would never make a film ... That being said, I think what you have to be is ethically on the right side of how the affairs are conducted. You have to be open and transparent about what's going on with the film, and you have to be inclusive."
"House of Hammer" is currently available to stream on Discovery+.