How To Watch Nope At Home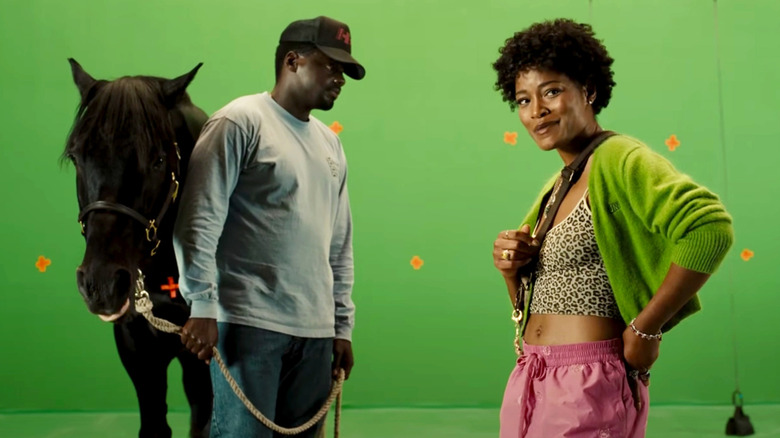 Universal Pictures
What if I told you that today, you'll leave this article different? That's because "Nope," Jordan Peele's incredible sci-fi horror, is finally available to watch from the comfort (and safety) of your own home. So are you ready for a rewatch?
"Nope" is currently available to rent through digital movie services. iTunes, Amazon, Google Play, and YouTube all have it listed for $19.99 for a thirty-day rental. Vudu also has the film available for rent, although the Fandango-owned service is currently running a promotion where users can gift rentals of the movie via unique digital gift cards. 
While renting movies digitally is a fun experience, especially for a movie as unique and thrilling as "Nope," you are going to wait a little while longer to actually own a copy of the movie. A date for when the film will be available for purchase on the aforementioned services has not been released, nor have any details on the imminent physical releases. However, it is worth noting that pre-orders for DVD, Blu-ray, and 4K copies of the movie are currently online.
Will Nope be on streaming?
Universal Pictures
As of right now, the answer to whether "Nope" is available on any streaming platform is, yep. Peacock has announced that "Nope" will begin streaming exclusively on its service starting November 18, 2022.
Alongside the film, Peacock will also be streaming "a robust and intimate look" at the making of "Nope" with a new documentary, featuring interviews from cast and crew, in addition to behind-the-scenes footage.
"Nope" tells the story of sibling horse trainer duo OJ (Daniel Kaluuya) and Emerald (Keke Palmer) as they try to do something nobody has ever done before: capture proof that aliens are real. With their target laid upon a strangely stationary cloud, the two recruit the help of the aforementioned Angel and aging cinematographer Antlers (Michael Wincott) to get the job done. However, their efforts quickly turn into the fight of their lives in a story rife with themes of spectacle and exploitation. For a more in-depth analysis, check out /Film's spoiler review here.