Robin Williams Had A Lot To Prove Going Into Good Morning, Vietnam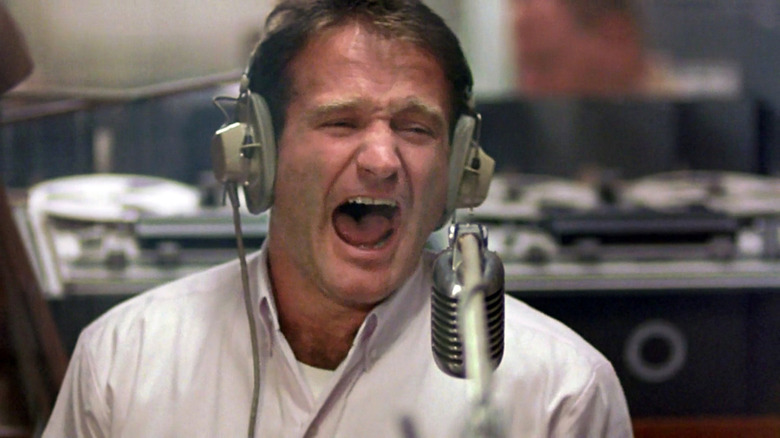 Touchstone Pictures
For those who were not cognizant throughout the 1980s, it's probably difficult to believe there was a time when Robin Williams was considered a risky box office bet. Though his first time out as a leading man, in Robert Altman's "Popeye," was a hit, that film's success was largely ascribed to the popularity of the cartoon character. He enjoyed two moderate successes after the cancellation of "Mork & Mindy" ("The World According to Garp" and "Moscow on the Hudson"), but neither film fully showcased his head-spinning comedic stream-of-consciousness. In 1986, he was strangely miscast in the Ron Shelton-scripted underdog yarn "The Best of Times," and undermined by a relentlessly unfunny screenplay in Harold Ramis' "Club Paradise."
The back-to-back failure of those two films left studios weary of Williams' big-screen appeal. The industry's conventional wisdom held that his genius was limited to the stand-up stage and guest appearances on late-night talk shows. Movies hemmed him in. Fortunately, director Barry Levinson didn't buy this one bit when he floated Williams as the star of his Vietnam War dramedy "Good Morning, Vietnam." Still, it took quite the sell job to convince the studio Robin Williams could be unfiltered Robin Williams in a major motion picture.
The Robin and Barry show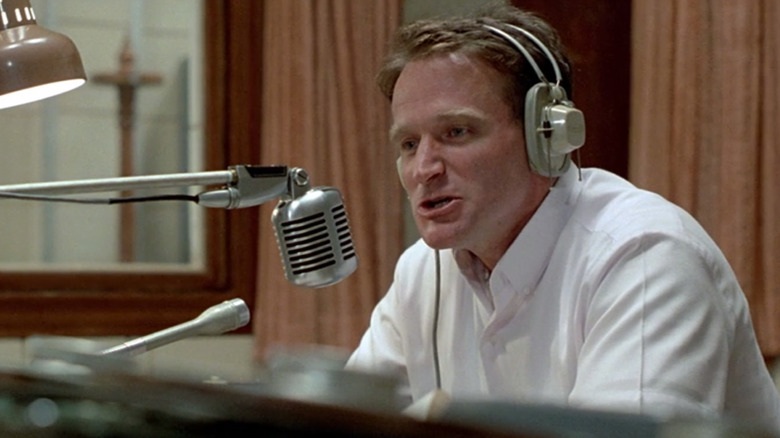 Touchstone Pictures
Loosely based on the wartime exploits of Armed Forces DJ Adrien Cronauer, "Good Morning, Vietnam" arrived in theaters one year after Oliver Stone's "Platoon" battered American audiences with the awful, boots-on-the-ground truth of its ill-advised police action. Were people ready to view the conflict through a semi-comedic lens?
Levinson and Williams believed so, and sought to break down the studio's resistance by shooting a proof-of-concept short that showed how smoothly the comedian's rapid-fire style could translate to film. As Levinson told Dave Itzkoff in the latter's biography, "Robin," he knew Williams was a movie star. "You say, 'This is an immensely talented person. We've just got to find a way to make him really work for what we're going to do.'"
The short was a model of simplicity: 90 non-stop seconds of Williams riffing in a Vietnam radio studio in 1965. It opens with him goofing on Frankie Valli ("Wow, walk like a man, sing like a girl; an incredible thing to do"), and flying through references to Ho Chi Minh, Colonel Sanders, and Ethel Merman. But what sounds basic on paper was actually a skillfully shot and edited sequence that captured Williams' high-revving comedic rhythm. Levinson's camera glides around the room as Williams does his dizzying thing into a microphone. The editing is invisible, partially because we're captivated by Williams, but also because, when he was at the height of his powers, few people knew how to cut on dialogue better than Levinson.
When Levinson screened the footage for the studio, they were so impressed that they released it as a teaser during the summer of 1987. I vividly remember seeing it before Stanley Kubrick's pulverizing "Full Metal Jacket," and roaring along with the rest of the packed theater. It worked sensationally well.
Maybe this Robin Williams is a movie star after all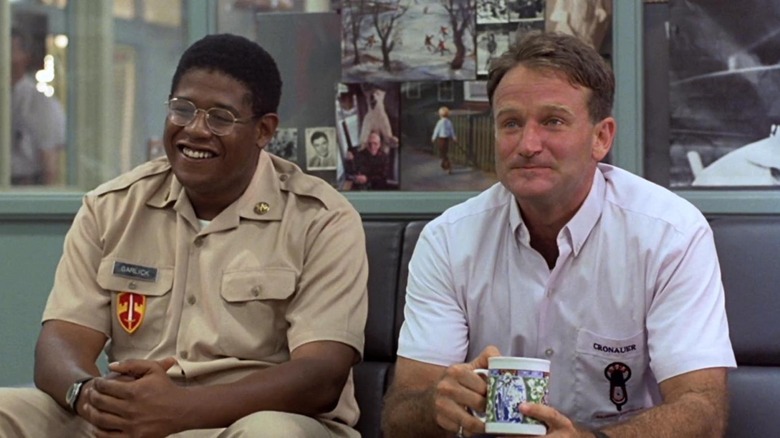 Touchstone Pictures
Levinson and Williams had moviegoers on the hook. Now all they had to do was make the movie. Yes, they had yet to commence principal photography, which was somewhat nerve-wracking for a film that was due in theaters by the end of December so it could qualify for the Academy Awards. They pulled it off, barely. "Good Morning, Vietnam" opened in limited release on December 23, 1987, and went wide on January 15, 1988. Though it only wound up snagging one Oscar nomination, it was the one that mattered most for its star. Perhaps more important than the Best Actor nod, the film was a blockbuster, raking in $124 million at the U.S. box office.
Overnight, Williams rocketed from being an unproven movie star to one of the most bankable actors in Hollywood. The industry now took him seriously as a commercial draw and a versatile performer. There was and never will be anyone like Robin Williams.