The Unseen Leonardo DiCaprio And Tobey Maguire Movie That Inspired Bodies Bodies Bodies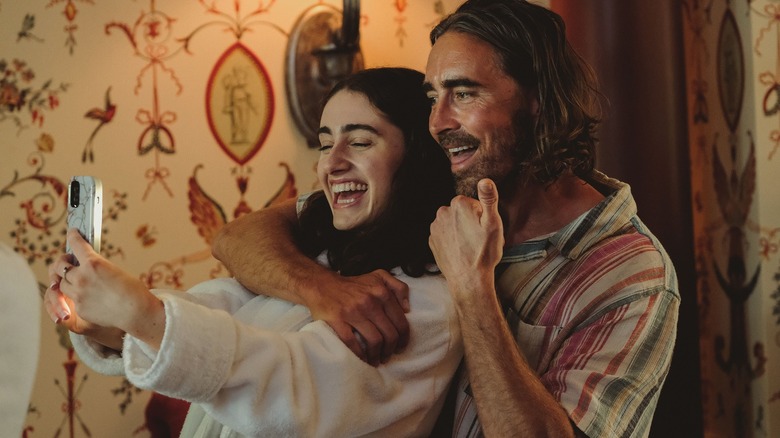 A24
A general rule of thumb is to just avoid people at all cost. Bad things happen in group gatherings, and it's best to just be a hermit to avoid any stressful encounters. Clearly, an introvert is writing this piece, but there is a point to this segue as we launch into conversation about the latest murder mystery, "Bodies Bodies Bodies." This high-intensity whodunnit follows a group of 20-somethings (and an adorable just-happy-to-be-there Lee Pace) having a hurricane party in a fancy mansion. But once they decide to play the game 'Bodies, Bodies, Bodies,' things escalate and just keep escalating.
This escalation was something that director Halina Reijn aimed to explore in particular. In earlier drafts of the script, the director was pulling on games like Mafia, Murderer, and Werewolf, and her own intense experiences playing them. As she explained in a chat with Nightmarish Conjurings, how people reacted during these games was what fascinated her: "The psychological warfare of it all, the whole idea of group behavior and what a group can do under pressure, and who [we are] when we are in a pressure cooker together, was what intrigued me."
Reijn pulled inspiration from films like "Clue" and "Heathers," both darkly subversive, murder-filled films with an emphasis on group dynamics. But there was another, far more obscure influence. In /Film's interview with the director, she told us:
"A film I keep referencing that no American knows is 'Don's Plum,' the Leonardo DiCaprio and Tobey Maguire film that they wanted to get rid of. We saw it in Europe, and it is amazing! It's just them talking, overlapping. It's a great film about youth culture, and I don't understand why they're not super proud of it. It was a part of my pitch to A24, that I was looking for that dynamic, that energy, and that believability within, of course, the ritual of a slasher film that is fun and crazy."
The forbidden fruit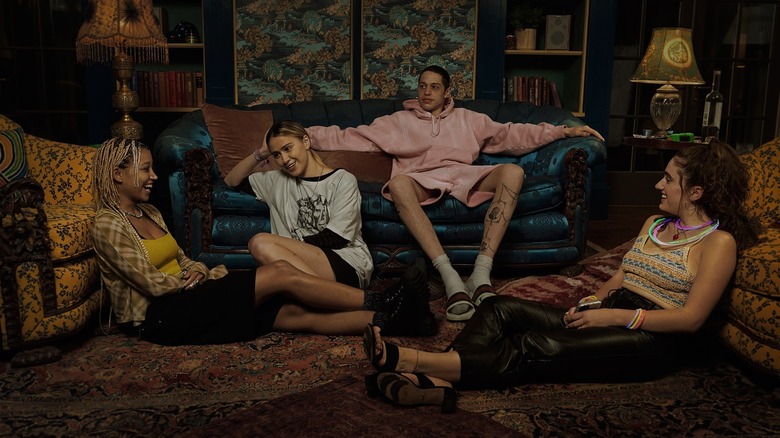 A24
If this is the first time you're hearing about "Don's Plum," there's a good reason for that. The film was never released in the United States and Canada, and the likelihood of that changing isn't high. Initially meant to be a short film, "Don's Plum" is almost entirely improvised and focuses on a group of young adults chatting about life while eating at a diner in Hollywood, with things getting progressively tense. In 1998, producer David Stutman filed a lawsuit against Maguire and DiCaprio. He claimed that they had "carried out a fraudulent and coercive campaign to prevent release of the film," while the actors countered that they'd considered the scenes they shot to be more of an acting workshop, not something to be ever released as a feature-length movie. 
The claim was eventually settled "amicably" out of court, but the fight never completely stopped. It flared up again as recently as 2016, after writer-producer Dale Wheatley uploaded "Don's Plum" in full to Vimeo, and Maguire and DiCaprio filed a copyright claim to have it taken down. Over two decades after the movie was completed, Wheatley continues his campaign to have it seen by anyone who's interested, claiming on his website that "Leonardo DiCaprio has done everything in his power to bury this film and me along with it."
The improvisation in the film lends itself to a naturalness that you can read from Reijn's direction in "Bodies Bodies Bodies." The group conversations, while rocky, flow well. It's just a shame that film buffs in the States and Canada can't check out "Don's Plum." Thankfully, Reijn is out here doing the Lord's work by introducing us to the film.