Hook Was A (Friendly) Clash Of The Titans For Robin Williams And Dustin Hoffman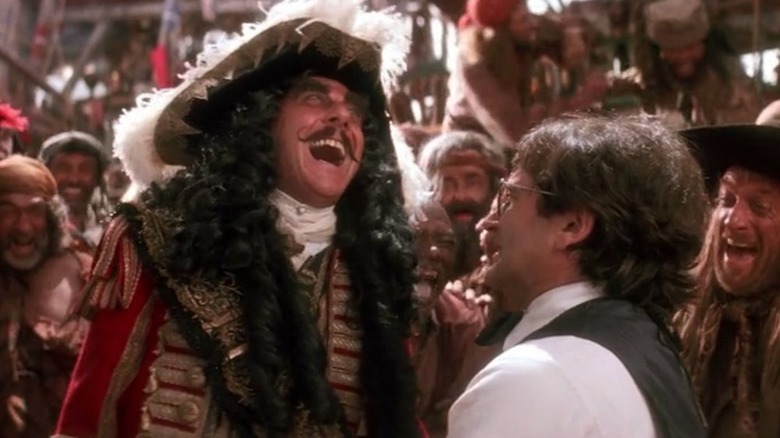 Sony
Steven Spielberg's "Hook" was, to put it mildly, a massive undertaking. The production sprawled across nine sound stages on Columbia Pictures lot and went 40 days over schedule. Stage 27, which housed the Jolly Roger pirate ship, became a celebrity tourist attraction, with Warren Beatty, Kevin Costner and Prince dropping by to gawk at the mammoth vessel. According to Nancy Griffin and Kim Masters' indispensable showbiz chronicle, "Hit and Run," the film soared $30 million over budget. Spielberg was having a miserable time.
Robin Williams and Dustin Hoffman, however, were thoroughly enjoying themselves, and on more than one occasion, talking some serious thespian trash.
The Robin and Dustin Show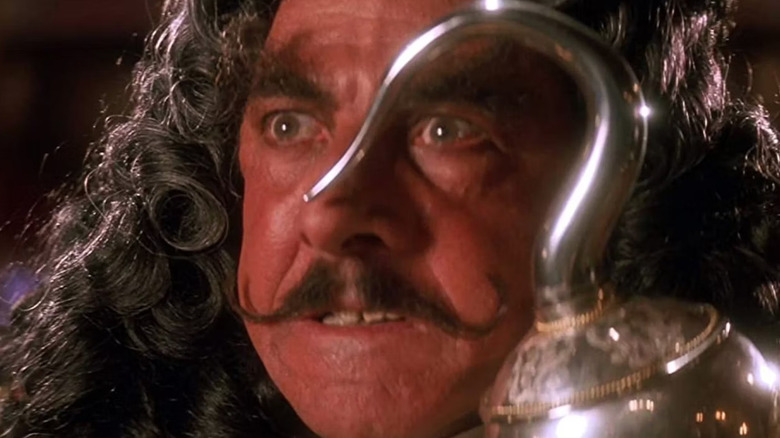 Sony
Dave Itzkoff's "Robin" is a first-rate biography of a boundlessly talented man who left us far too soon. In his book, we learn that Williams was as inspired as he was tortured, but when he was working, when that camera was rolling, no one was sharper. This is also true of Hoffman, a method actor whose deep immersion into a role has caused headaches for many a director. Put these two dynamos together, and sparks are going to fly. Fortunately for Spielberg, it was mostly good-natured repartee.
Per Itzkoff, Hoffman did not create the best of on-set conditions by insisting on a morning dietary ritual of hot onions and garlic. Perhaps this riled Williams. It'd rile most people. In any event, Williams and Hoffman spent much of the shoot firing insults at one another in between takes. Williams dropped the A-bomb early, at which point things got a tad out of hand:
When Hoffman called for a scene to be halted because he'd lost his motivation, Robin hit him with a retort that had supposedly been flung at him by Laurence Olivier on the set of Marathon Man: "When all else fails, try acting." So when Robin later stumbled over his own lines, Hoffman peered into the camera and asked, "What can you expect from Mork?" After nailing the next take, Robin responded, "Ishtar is on television tonight.
Robin Williams was a blessing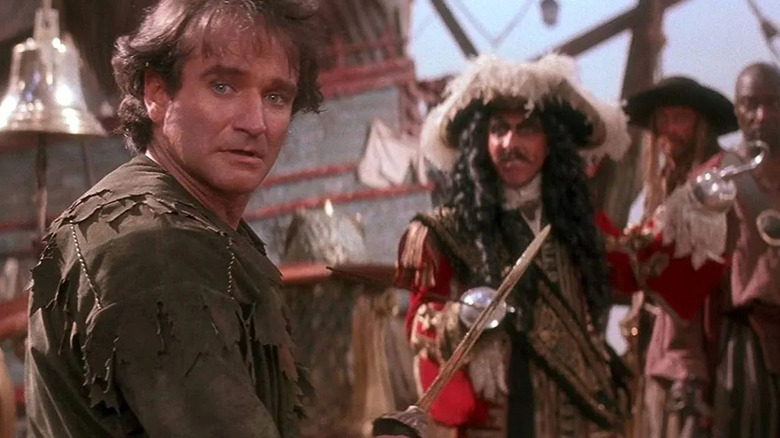 Sony
Based on the provided banter, you've got to say Williams won this war of words (though we do not tolerate "Ishtar" slander in this dojo). At least someone was having fun while this barge lumbered into port. "Hook" performed reasonably well at the box office, but was justifiably savaged by critics. Spielberg took a brief break from filmmaking, and he bounced back in a fairly big way two years later with "Jurassic Park" and "Schindler's List."
While making the latter, which, given the subject matter, was an emotionally draining task, Williams would call Spielberg at the end of the day and perform a 15-minute standup routine. Spielberg was grateful. So while "Hook" stands as one of Spielberg's few legitimately bad movies (in the opinion of this writer anyway), his collaboration with Williams' proved fruitful in ways he probably couldn't have anticipated. As for Hoffman, he never worked with Spielberg again.