Pirates Of The Caribbean's Writer Originally Had A Very Different Star In Mind For Jack Sparrow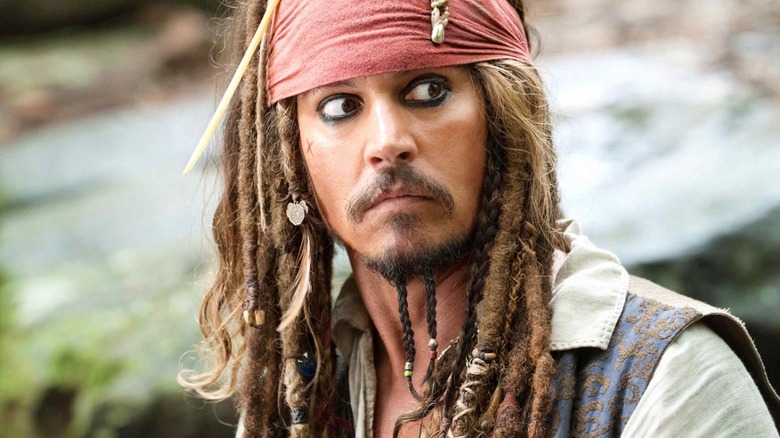 Walt Disney Pictures
There once was a time when "Pirates of the Caribbean: The Curse of the Black Pearl" seemed like a bad idea. Not only was it a film based on a theme park ride, pirate movies were deader than Captain Kidd since the mega-flops of Roman Polanski's "Pirates" and Renny Harlin's "Cutthroat Island" seemingly scuppered the genre forever. 
Skip forward two decades, and "Pirates of the Caribbean" has become a five-film franchise, a box office leviathan that pulled in almost $5 billion worldwide (via Box Office Mojo). Why are they so popular? Sure, the films are handsomely made, the visual effects are great, and the cast members give their swash plenty of buckle. But it's hard to imagine the films becoming so well-loved if it wasn't for Johnny Depp's performance as the wily Captain Jack Sparrow.
Depp has made a career playing leftfield characters, but this was one step beyond, taking some serious risks in his portrayal. His eccentric approach made studio execs very nervous, to the point that Depp was almost fired. In the end, his adventurous choices paid off: Who didn't go wild for Sparrow from the moment he appeared on screen, standing proudly on the mast of his rapidly sinking dinghy? Depp didn't even need to open his mouth; it was the perfect introduction to a perfectly cast character.
The film was a hit, Depp earned his first Oscar nomination, and Sparrow became the fulcrum of the whole series, one of the most beloved movie characters of the century so far. In short, Jack Sparrow is one of those roles so synonymous with an actor that it's virtually impossible to imagine anyone else playing the part. Yet the film's screenwriter conceived the character with a very different actor in mind.
The screenwriter wrote Jack Sparrow for Hugh Jackman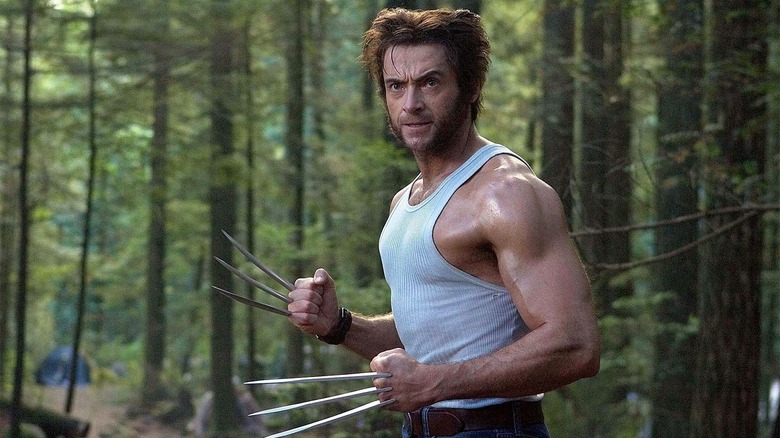 20th Century Fox
In the build up to the release of the fourth movie, "On Stranger Tides," original screenwriter Stuart Beattie revealed this tidbit:
"I initially wrote the character with Hugh Jackman in mind... hence the name Captain 'Jack' Sparrow."
Beattie had only written a few movies back home in Australia when he was hired to rewrite the "Curse of the Black Pearl" script in 2002, reportedly landing the gig because he was a "major pirate buff" and the studio wanted to add some realism.
Although he wrote the Jack Sparrow part with fellow Aussie Jackman in mind, the studio rejected the idea because they didn't consider him a big enough star at that point. Jackman only made his debut a few years earlier in "Erskineville Kings," but found himself in the frame for Wolverine in "X-Men" thanks to his friendship with first choice Russell Crowe, eventually winning the role after Dougray Scott pulled out.
Would Jackman make a good Jack Sparrow? Well, at that stage of his career, he had already proven he could do charismatic heroes, as he repeatedly demonstrated in all his performances as Wolverine. With his background in stage musicals, he has shown a theatrical flourish in many of his roles, from illusionist Angier in "The Prestige" to P.T. Barnum in "The Greatest Showman." He also isn't afraid to send himself up, so his Jack Sparrow might have been almost as colorful as Depp's, although it's difficult to imagine him pushing the envelope quite so far.
Jackman wasn't the only actor considered before Depp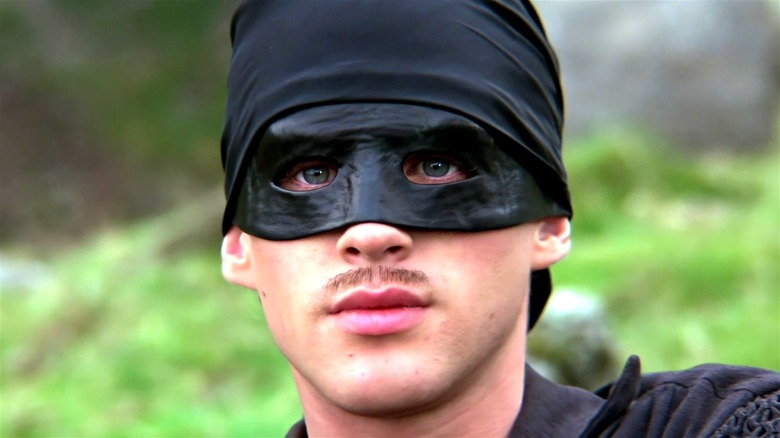 20th Century Fox
If the idea of Hugh Jackman playing Jack Sparrow still seems far-fetched, try out some other alternative casting rumors. How about Robert De Niro or Christopher Walken? Both can do comedy in their specific way, but how would they handle the swashbuckling aspect? Jim Carrey was also among those rumored for the part, but he chose "Bruce Almighty" instead.
Matthew McConaughey and Cary Elwes might have both given us a more traditionally dashing pirate. McConaughey was considered for his resemblance to Burt Lancaster ("The Crimson Pirate") while Elwes already did the comic pirate thing with "The Princess Bride." Michael Keaton was another potential choice, which might have worked surprisingly well. As he proved in "Beetlejuice," he's capable of creating a character just as off-the-wall as Depp's Sparrow.
My favorite rumored actor is British comedian Rik Mayall, who made his name playing outrageously anarchic characters in shows like "The Young Ones" and "Bottom." If you want an indication of how he might have torn into the part, look no further than his brilliant cameo as the boisterous Lord Flashheart in "Blackadder II."
In the end, Depp got the job and stamped his offbeat personality all over the part, taking inspiration from Keith Richards and Pepe Le Pew. By that point, he had already portrayed several distinctly outlandish characters, from "Edward Scissorhands" to Hunter S. Thompson in "Fear and Loathing in Las Vegas." But to paraphrase "Ed Wood," another of his great early eccentrics, Captain Jack Sparrow is the one he'll be remembered for.