Sam Mendes' James Bond Career Could Have Ended With Skyfall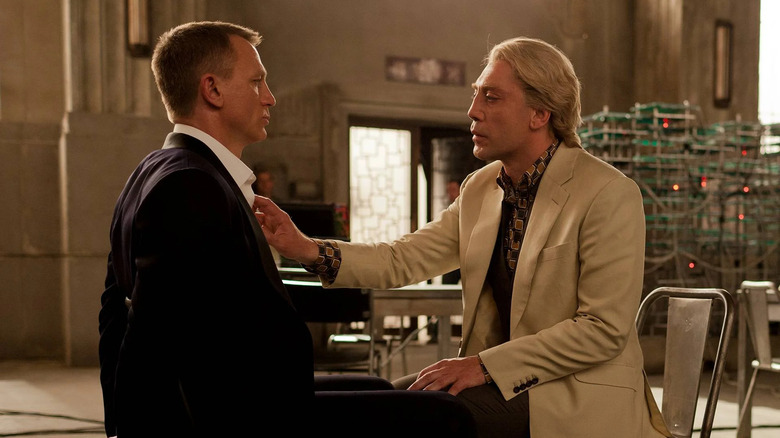 Sony Pictures Releasing
What a difference a decade makes. It was 10 years ago that London welcomed the world to the 2012 Olympics, a magnificent global event that showcased Britain in such a positive light compared to the divided, Brexit-haunted nation of today. A few months later, one of our greatest cultural exports, James Bond, cleaned up at the box office, with "Skyfall" grossing over $1 billion worldwide. In some senses, the Olympics served as a high-profile publicity stunt for the movie, with 007 (Daniel Craig) making a witty cameo at the opening ceremony as he dutifully escorted Queen Elizabeth II to her chopper for a skydive into the stadium.
"Skyfall" was a glittering reaffirmation of Daniel Craig's take on Bond. After "Casino Royale" confidently rebooted the series and made the torpid, dispiriting Pierce Brosnan entries a distant memory, the franchise lost its way again immediately with the wayward "Quantum of Solace." Thankfully, "Skyfall" fixed all that. It's one of the best Bond films, with the droll but world-weary presence of Craig fully settled into the role and giving us one of the most human versions of the super spy; complete with incredible physical stunts, one of the best villains since the '70s, and a great balance between past and present, including cheeky nods to the old classics while very much looking to the future. To top it all, Bond's prickly relationship with M (Judi Dench) provided some of the most satisfying heart and gravitas since "On Her Majesty's Secret Service."
For course-correction on a project as colossal as a Bond movie, a safe pair of hands was required: Enter celebrated stage director and Oscar winner, Sam Mendes. He proved an inspired choice, yet he almost joined the list of one-and-done Bond directors when it came to the follow-up.
How did Sam Mendes get the gig?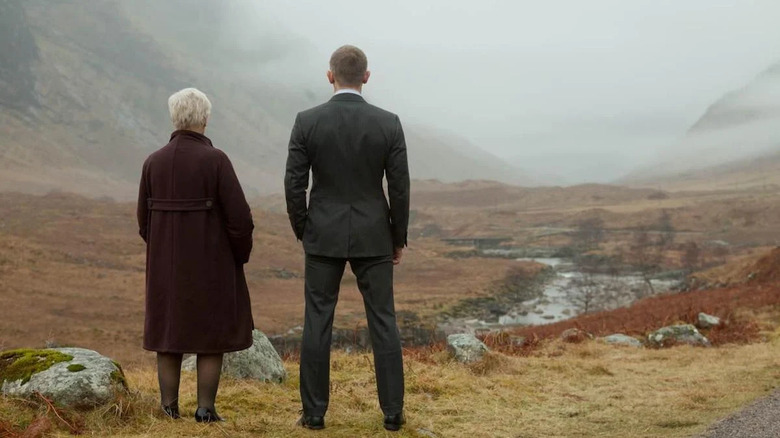 Sony Pictures Releasing
Mendes might not have seemed like an obvious choice to helm "Skyfall." He rose to prominence in the West End, directing Judi Dench in a stage version of Chekhov's "The Cherry Orchard," and working with the Royal Shakespeare Company and the Royal National Theater. He later compared Shakespeare to Bond, telling BBC Radio:
"There are actually quite strong similarities... You have a kind of familiarity with it."
When you consider his experience with The Bard, classically trained actors, and a "Skyfall" cast that includes Dench, Ralph Fiennes, Ben Whishaw, and Albert Finney, all of whom trained at the Royal Academy of Dramatic Art (RADA), it isn't surprising that the film has a far more Shakespearean tone than any other 007 adventure. 
Mendes' stage work gained the attention of Steven Spielberg, whose encouragement helped him land the directing gig on "American Beauty." The film hasn't aged well, largely due to Kevin Spacey's middle-aged dad sniffing around after a teenage girl, but you can't fault Mendes' assured direction. It won the Oscar for Best Picture, and Mendes took home the Best Director award.
Skip forward several movies (including "Road to Perdition" and "Jarhead") and producer Barbara Broccoli revealed how Mendes got the "Skyfall" job (via HeyUGuys):
"[Mendes and Daniel Craig] were at a party in New York, and we got a call the following day from Daniel, who said, 'I was at a party and had a few drinks, met Sam Mendes... I think I offered him the job, which I'm not sure I was allowed to do, but what do you think?' And we said, 'That'd be fantastic, is he interested?' And he said yeah, so we leapt on a plane, went to New York and had dinner with Sam and discussed it."
Why Mendes almost walked away from Bond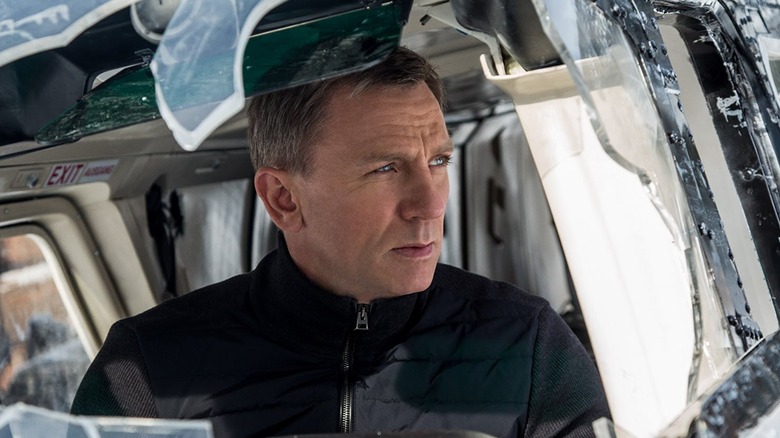 Sony Pictures Releasing
After the monumental success of "Skyfall," producers Michael G. Wilson and Barbara Broccoli didn't want to hang around when it came to getting the next instalment underway. Naturally, they were keen to get Mendes onboard again, but he initially walked away from the project, issuing a statement (via Empire):
​​"It has been a very difficult decision not to accept [the] very generous offer to direct the next Bond movie. Directing 'Skyfall' was one of the best experiences of my professional life, but I have theatre and other commitments, including productions of 'Charlie And The Chocolate Factory' and 'King Lear,' that need my complete focus over the next year and beyond."
He later admitted that the quick turnaround was an issue for him:
"It was partly that Michael and Barbara and MGM wanted to go really quickly... In fact, at one point there was talk of releasing it this summer [2013]. It would have been released a month ago. I said, 'That's impossible.' There was also talk about doing two back-to-back. I felt, as Daniel did, that was verging on the insane. One is almost more than you can cope with, let alone two!"
Nevertheless, Mendes had a change of heart and took the helm of "Spectre," which pitted Bond against Christoph Waltz's new iteration of his archenemy, Blofeld. Perhaps he would have been better leaving it to someone else, because the result was a bloated misfire that had none of the steely focus and elan of its predecessor. It was still a hit financially, but, in this writer's opinion, only the fourth best out of Daniel Craig's patchy five-film tenure. But I guess it was almost an impossible task trying to top the achievements of "Skyfall," the greatest modern Bond of them all.