Tiny Cinema Trailer: A Reality-Altering Journey Across The Multiverse [Exclusive]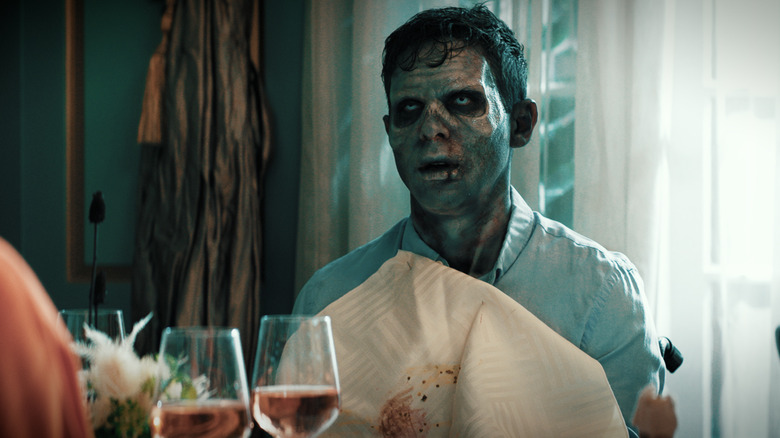 Dread
Prepare to be dazzled by a mind-blowing concept: the multiverse! In case you haven't noticed, the past decade of TV and film has taken a very special interest in the concept of parallel universes. Not only is it a great way to explain away all these caped crusaders, but outside of franchise filmmaking, it's an excuse for some very talented artists to let their imaginations run wild. This time around, the filmmakers in question are Tyler Cornack and Ryan Koch, creators of the provocative "Butt Boy," a movie about a man who makes things — and eventually people — disappear into, y'know, his butt. Don't let that premise scare you away though! /Film's Rafael Motamayor called that film "an exceptionally entertaining and weird film that defies every expectation."
Hot off the success of "Butt Boy," Cornack and Koch have re-teamed up with Bill Morean (their "Butt Boy" cinematographer) to defy more expectations and pen a twisted anthology that walks the line between horror and hilarity. Their upcoming feature film "Tiny Cinema" sees a mysterious stranger telling six tales of terror with a number of bizarre twists. Hint, hint: This adventure also involves tangling with the multiverse and sees each tale's characters embarking on reality-altering journeys for survival. As far as we know, this film will not involve a man shoving a dog up his rectum — but who knows, maybe we'll get lucky! 
/Film has the pleasure of debuting the trailer for "Tiny Cinema," which you can check out below.
Tiny Cinema trailer
"I want to tell you six stories," the mysterious narrator says at the top of the trailer. "Six innocent stories." Ah yes, nothing screams trouble quite like throwing the word 'innocent' into the mix. But on the off chance that the warped voice and ominous words didn't raise a red flag, there are plenty of images to hammer in the horror: an animated corpse, a very vicious stabbing, and a man crawling through some convenience store aisles while wearing a pig mask.
Based on the trailer, it looks like each of these mini-stories comes with its own setting and characters that are not connected to the rest. The thing they share in common? Their battle against some incredibly horrific circumstances while reality unravels around them. For more details, here's the film's synopsis:
A mysterious stranger tells the twisted tale of seemingly unconnected strangers whose lives will change in incredible and bizarre ways forever. As reality unravels, each person must battle incredible challenges from a multiverse seeking answers on the essential questions of life, death, love, and the fate of our future.
Tyler Cornack, the film's director, also stars in "Tiny Cinema" along with Tyler Rice, Philip Ursino, Sam Landers, Kristina Clifford, Shelby Dash, Austin Lewis, Olivia Herman, Matt Rubano, Kyle Lewis, Matt Rasku, and Kevin Michael Moran. The film is set to make the rounds at film festivals and debut in theaters before arriving to digital on demand.
You can catch the "Tiny Cinema" World Premiere at Popcorn Frights Film Festival (August 11-14), or see the film when it makes its UK Premiere at FrightFest (August 28-29). "Tiny Cinema" then premieres in select theaters on September 2, 2022 before becoming available on demand starting September 6.