Luck Review: Skydance's Pixar-Lite Adventure Jinxes Itself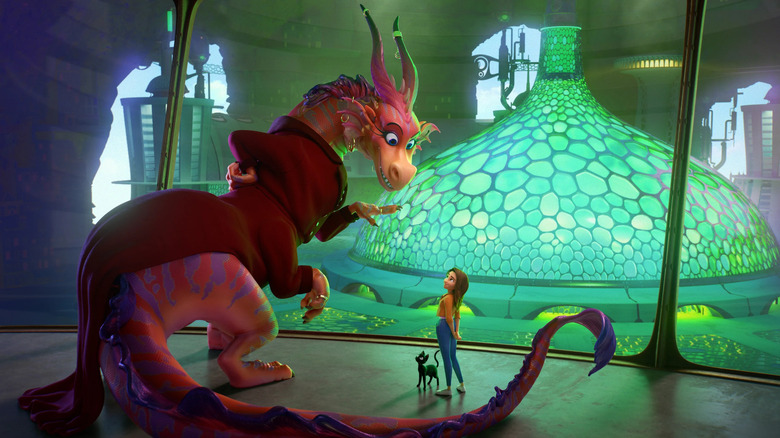 Apple TV+
You might say "Luck" was cursed from the beginning. The first animated feature film from Skydance Animation, the studio's animation division was mired in controversy the moment they brought disgraced former Pixar chief John Lasseter on board as its head of animation. Because as much as Lasseter was known for bringing a golden touch to the films that would make Pixar the animation powerhouse it is today, his departure from the company in the wake of sexual misconduct allegations could not be ignored.
But at first glance, Lasseter's name is nowhere near "Luck." Directed by Peggy Holmes in her first original animated feature film, and written by Kiel Murray ("Cars 3"), "Luck" seems to have all the, well, luck on its side — the rare female director, an experienced creative team hailing from both the Disney and Pixar houses, and an all-star cast led by Broadway darling Eva Noblezada, alongside Simon Pegg, Jane Fonda, and Whoopi Goldberg. All "Luck" needs to do is establish itself — and Skydance, by proxy — as a bold, original work of animation. And does it? Not so much.
"Luck" is like if someone watched the Studio Ghibli film "The Cat Returns" and thought, "What if we 'Monsters, Inc.'-ed it, and threw in the premise of the Lindsay Lohan rom-com 'Just My Luck' just for the hell of it?" The result is a banal, rather uninspired fantasy adventure movie that feels like every second of its 1 hour 37-minute runtime.
No such luck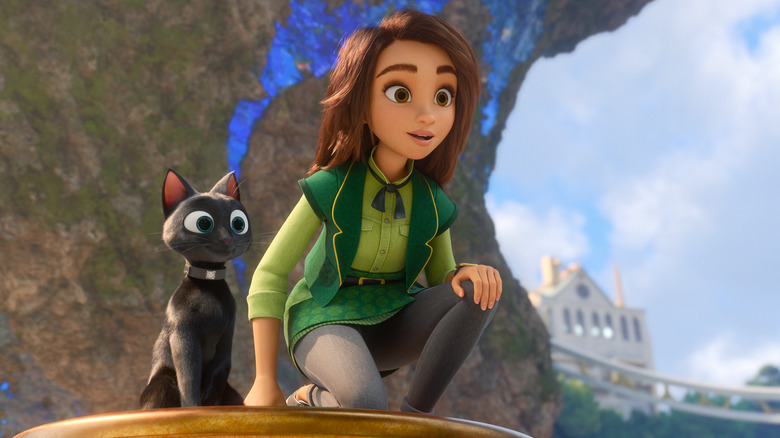 Apple TV+
Sam Greenfield (Noblezada) is the unluckiest girl in the world. She has just turned 18, which ages her out of the children's home she's lived in her whole childhood, but she's all set up for life on her own. She's got a job, an apartment, and online classes to work towards a college degree. But it seems like the universe is always out to get her, whether it's the dozens of couples who never gave her the chance to find her "forever family," or a bathroom doorknob that gets jammed while she's late for work, or a flat tire on her bike, or keys that keep falling down storm drains. It seems like she's absurdly unlucky, to the point that her job at a flower shop gets jeopardized after her first day ends in spilled paint cans, broken glassware, and runaway ladders (this is a very all-inclusive flower shop, apparently).
Sam is fed up with her bad luck — but she's most worried that her best friend Hazel, a young girl at the children's home, is destined to experience the same life of bad luck. After an encounter with a lucky penny and its talking cat owner, Bob (Pegg, having a blast doing the most over-the-top Irish accent), Sam resolves to borrow a lucky penny for Hazel so Hazel can find her forever family.
Sam's quest lands her in the Land of Luck, where leprechauns, lucky cats, and dragons (and pigs, for some reason?) live together, crafting the good luck that humans can enjoy. Of course, there's a Land of Bad Luck, which Bob is eager to avoid — prompting him and Sam to team up to retrieve the lost lucky penny before they get banished to Bad Luck. You can guess what happens next: Hijinks ensue.
A broken mirror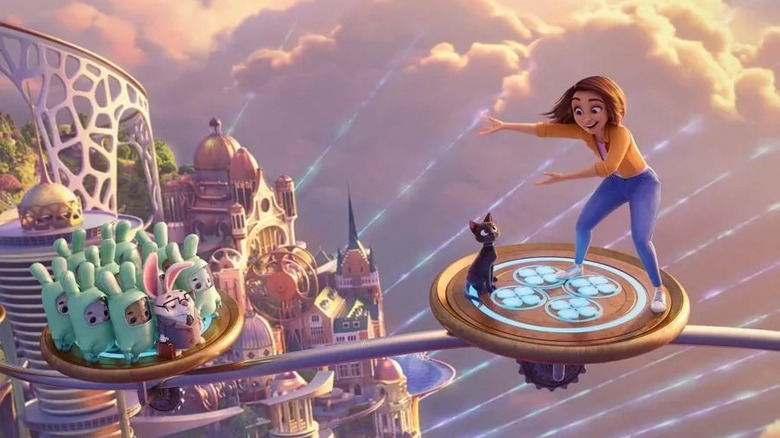 Apple TV+
"Luck" might be a fun time if it weren't so clearly reminiscent of other, better movies. But apart from some genuinely stunning visuals (the design of the Land of Luck in particular is a beautiful piece of retrofuturism with a fantasy twist), "Luck" can't help but feeling like a Ghibli film processed through a Pixar formula. The gentle whimsy and imaginative world of Ghibli is there, as is the Pixar tendency to cleverly turn high-concept ideas into mundane bureaucratic structures. It doesn't help that its story and even some of its imagery is plainly inspired by Ghibli's "The Cat Returns," a 2002 fantasy film directed by Hiroyuki Morita that followed a teenage girl who finds herself invited to the fantastical land of cats. The funny thing is, Pixar has taken elements from Ghibli films before (Lasseter is a known fan of the Japanese animation studio), but recycled them in exciting and interesting ways – the "Spirited Away" influences in "Coco" and the ecstatic flight scene in "Toy Story" being just a couple. In "Luck," those nods only feel like a halfhearted way to capture the magic of both Ghibli and Pixar.
The premise of "Luck" — what if good and bad luck were engineered? — is too thin to make either element feel fulfilling. Instead, the film's most imaginative qualities feel flattened, while its attempts to lend a fresh, modern edge to these old-age concepts feel unsharpened and bland. The involvement (or lack of involvement) of John Lasseter ends up being a blessing and a curse to "Luck," which misses the mark on what gives Pixar films their souls and ends up feeling like a lamer, lesser rendition.
"Luck" feels destined to gather dust in Apple TV+'s library; it's a rare misstep for a streaming service that has found a niche in fresh, high-quality titles driven by creativity. "Luck" instead feels driven by nostalgia, an attempt to start anew with Pixar-level talent and Pixar-lite stories under a brand new animation studio. But if this is the inaugural film for Skydance Animation, I can't say I have high hopes.
/Film Rating: 5.5 out of 10