Community Cut A Joke That Would Have Completely Changed Shirley's Character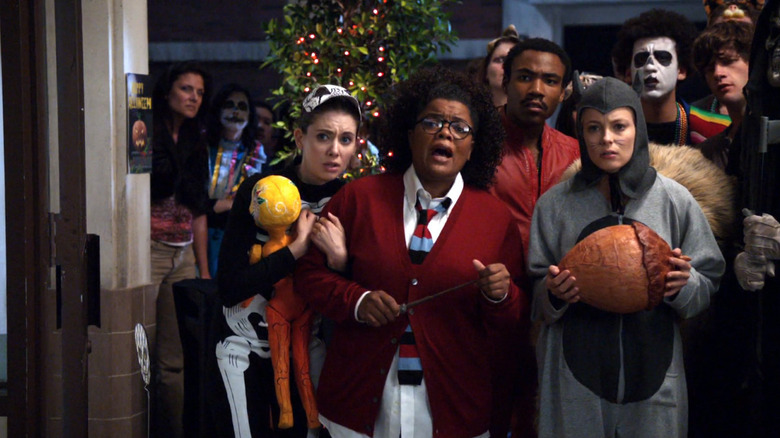 NBC
Dan Harmon's "Community" was a show that hid its clever interplay between characters behind the veil of a traditional NBC sitcom. Set in the fictional Greendale Community College, "Community" started as a show revolving around a study group for a Spanish class. This group of characters would eventually find other courses to take together and form a kinship that could only be formed in what is very well the most insane community college in this history of NBC sitcoms. 
The series' #sixseasonsandamovie mantra still goes strong to this day, with the turbulent history of the show always being a focal point of discussion. From many near-cancellations to clashes with studio heads, Dan Harmon and the team behind "Community" are filled with stories about the chaotic nature of its production.
The behind-the-scenes trouble on the show wasn't just with big network wigs. "Community" saw some disagreements with the direction certain characters should go, with one particular scene from a season one episode being changed from its original vision, which would have drastically changed audiences' perspective on one core study group member.
Critical character moments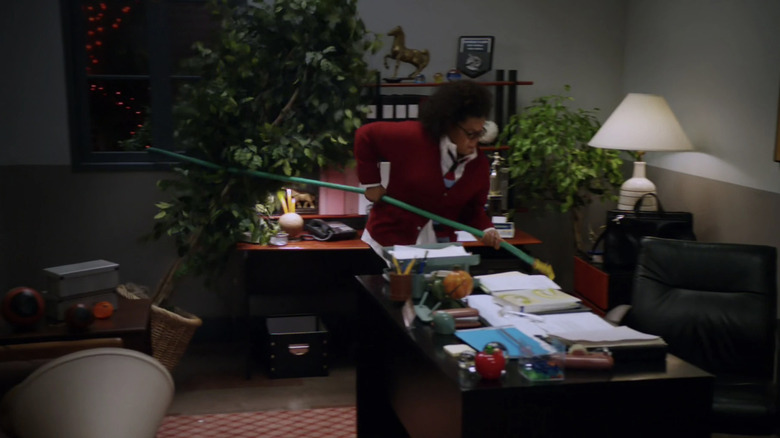 NBC
In a panel with Vulture called "In Conversation with the Cast of Community," Jesse David Fox brought up a critical scene from season one episode seven, "Introduction to Statistics," in which Shirley (Yvette Nicole Brown) projects her anger at her ex-husband towards Jeff's relationship with a statistics professor. In the episode, Shirley puts a water hose through a window to the professor's office, intending to leave it in a drawer to flood the office.
However, Yvette Nicole Brown revealed that her character was supposed to be something entirely different and a bit cruder:
"Okay, okay. So I've told this before, Dan knows I've told this story before. Shirley was supposed to take a s*** in the drawer... She was supposed to start dropping her pants and say, 'I'm gonna s*** in this drawer'"
Shirley, for the uninformed, is a conservative Christian mother of two, meant to be an elder voice of reason in the show that is a stark contrast to the more cynical and jaded study group members. Her sense of self-righteousness makes the action of pooping in a drawer a little out of character for her. Yvette Nicole Brown thought that anyways, as she did not believe that was something Shirley would do either:
"I felt, as a dignified Black woman, that no dignified Black woman would ever do that! And I remember I was so sad, like I was so sad that I had to go talk to my boss and try to explain."
Requesting a rewrite from Dan Harmon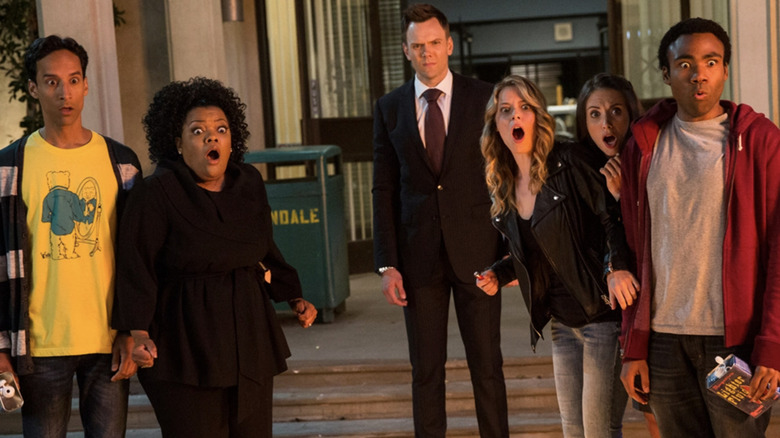 NBC
Yvette Nicole Brown strongly disagreed with the portrayal of her character in this scene. In fact, the actor felt so strongly about this she took it to Dan Harmon himself, explaining her thought process on the matter:
"So I went to Dan [Harmon] and I talked to Dan, and I said, you know, 'Listen. I know our show may not be for Christian Black women of a certain age, but you know if one or two is watching we're gonna lose them as soon as I drop my trow! They ain't never coming back! Never!'"
Brown felt her place on the show as the only black woman was much more important than toilet humor. Her place in "Community" was one more considerable part of a delicate balance between different characters. It should be kept in mind that this scene was from an episode very early on in the series. A moment like this could have critically changed the character of Shirley for the rest of the series. Her characters trajectory change was avoided, as Brown detailed a happy ending to the whole ordeal:
"You defile a Black woman once and she's out of there! So I said, you know, 'We should find something else, please sir,' and he was kind enough to come up with the hose in the drawer."
Shirley's character would stay true to the innate nature she was introduced with, avoiding a scene that would completely change her character.