The Studio's Plan To Rein In Billy Wilder Backfired Completely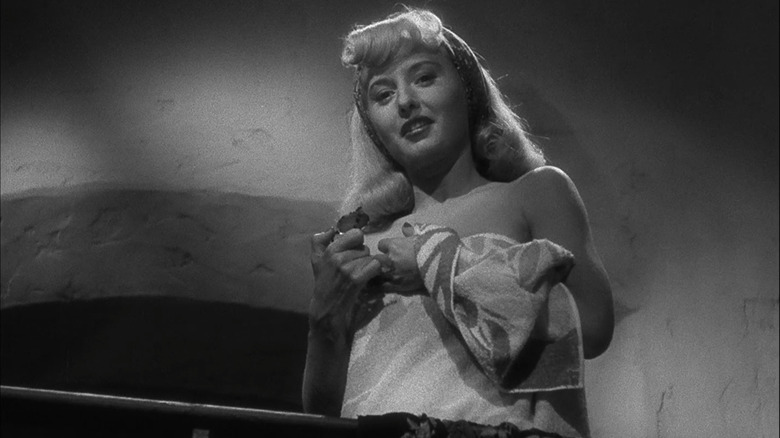 Paramount
No one annoys the heads of Hollywood movie studios like a screenwriter who has a lot of opinions. Writers have long been thought of as mere functionaries in the filmmaking process, a cog in the machine. They are brought in to slot things into a well-worn formula, inject it with some punchy dialogue, and hand it over to the director to never be heard from ever again. If a film works, the director and actors get credit. If it doesn't, the writer gets blamed. Writers who wanted to make a name for themselves based on their work or have more control over the story they are telling are better off going to the theatre or novels. Screenwriters need to be content to stay in the background.
The screenwriters who do get the recognition and control so rarely afforded them also happen to be the ones who direct the films themselves. Writer/directors get to shepherd the project from its initial inception to the final sound mix, getting to bring to life every detail they imagined when they start putting pen to paper (or fingers to keyboard). In the early days of Hollywood, writer-directors were exceptionally hard to find, as studios weren't too keen on giving one person that kind of control over a film. You had Preston Sturgess, John Huston, Orson Welles (briefly), and ... that was about it.
Well, there is one other name that fits this mold, and he is probably the greatest example of what a writer/director with a singular voice could do within the Hollywood studio system, and that is Billy Wilder. We think of Wilder as one of the greatest directors of all time now, but Hollywood was not too keen on succumbing to the "Some Like It Hot" filmmaker's highly opinionated mind before he rose to the director's chair.
Before Hollywood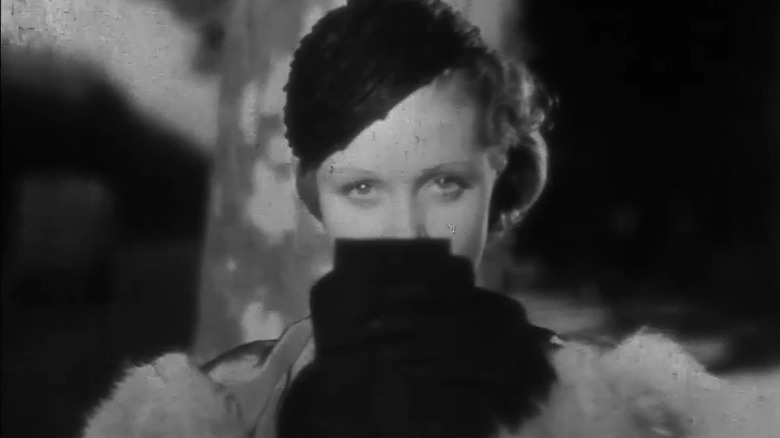 Pathé Consortium Cinéma
Billy Wilder was not born into the Hollywood system. He grew up in a part of the Austro-Hungarian Empire that is now Poland, and as a young man, he moved to Berlin. His writing career started off in journalism but somewhat quickly transitioned into movies. 1929 saw the release of "The Daredevil Reporter," which was his first crack at being a screenwriter. Over the course of the next five years, he ended up writing 14 different movies in the German film industry.
After all that work, he got to move up and direct his first feature film "Mauvaise Graine." However, this was not a film made in Germany. If you have figured out your timeline, Berlin in the early 1930s was not a great place to be if you were Jewish, which Wilder was. He would transplant to Paris to make his directorial debut with co-director Alexander Esway. Though Esway gets directorial credit, he seemed to not be actually the one doing the directing. Danielle Darrieux, the great French actor who starred in the picture, recalled in the biography "Nobody's Perfect: Billy Wilder, A Personal Biography":
"I remember Alexander Esway. He was a scenarist. I heard he helped for raising the money. He had his name with Billy Wilder as director, but I never saw him around the set when we were shooting. Billy Wilder was the person you noticed because of his personality. He was the only director working with us actors, with the script, with the sets, with the technical, everything. He was young, but he knew just what he wanted, and he was totally in control, like the other best directors I worked with."
Wilder was seemingly a born director, and you would expect "Mauvaise Graine" to be the thing that firmly places him as a director from then on out. Unfortunately, before the film was ever released, Wilder had to go off to America to flee the Nazis for good, who took the lives of many of his family members in the Holocaust.
Billy Wilder the screenwriter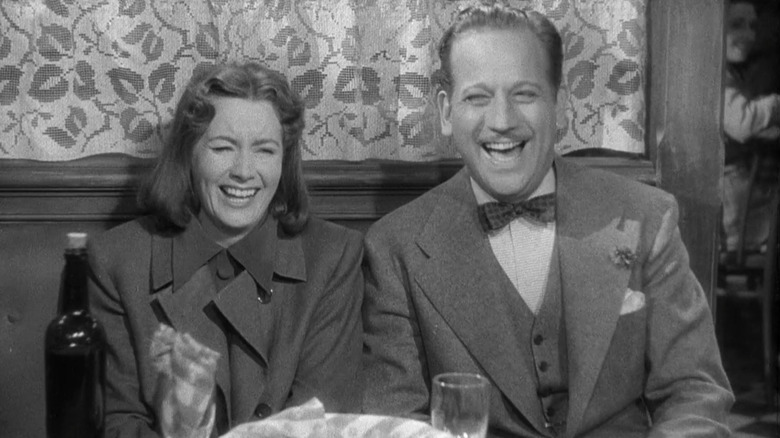 MGM
Wilder had made enough of a name for himself with his work in Europe to be able to start writing pictures in Hollywood. He started out with a couple of films at Fox but pretty quickly made his way over to Paramount, where he made his home. The thing about having been in the director's chair and then having to go back to being a lowly screenwriter is you never really lose that drive to make what you want, and Billy Wilder was not afraid to make his opinions known to anyone around within earshot, usually when they were not asked for. In an interview with Sight & Sound back in 1967, Wilder recalls how he drove the studio folks mad:
"I had made myself rather unpopular as a writer at Paramount because I would come on the set and they would chase me off it. I was always trying to put them right on misinterpretations. I was known as 'The Terror': they would say, 'Keep Wilder away from us, he's always raising hell, he wants everything done his way.'

The fact is that very few directors know how to 'read', how to interpret dialogue correctly, and they are too proud to ask if they don't understand a particular line. So lines tend to get thrown away."
While at Paramount, he met Charles Brackett, who would end up being Wilder's main co-writer for the first half of his Hollywood career, and the two were loaned out to MGM to work on "Ninotchka," which ended up earning Wilder his first Oscar nomination for Best Screenplay. Two years later, he would get two more nominations for two different movies at the same ceremony, Howard Hawks' hilarious "Ball of Fire" (also one of the five highest grossing films of the year) and the Charles Boyer/Olivia de Havilland romance "Hold Back the Dawn." He may have been opinionated, but he was doing work nobody could deny. Then ... the chance came.
Getting his shot in the director's chair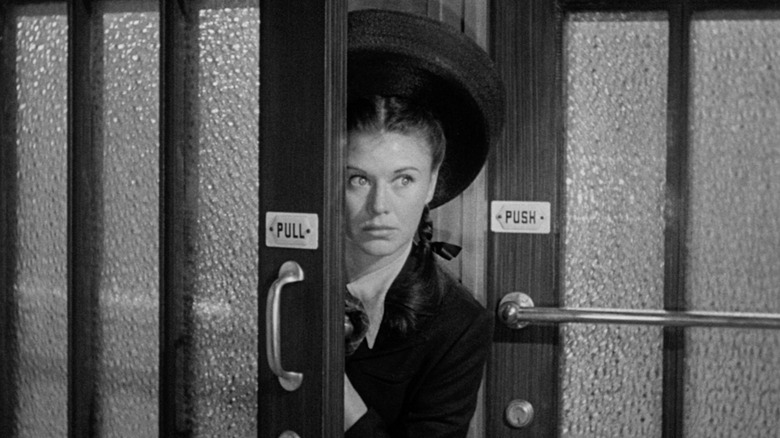 Paramount
If you want to make it in Hollywood, talent is rarely enough to get you to the top of the mountain. You are going to need a champion, and for Billy Wilder, that came in the form of Arthur Hornblow Jr., who had produced "Hold Back the Dawn" and two other films penned by Wilder and Brackett. In a sea of producers, executives, and directors irritated by Wilder's notes, Hornblow was the one who saw something in the Oscar nominee. Wilder says in that Sight & Sound interview that Hornblow actually, "saw my point and thought I had better direct my own scripts," and he gave him the opportunity by enlisting him to direct "The Major and the Minor."
Wilder believed that Paramount went along with Hornblow's suggestion hoping he would fail, saying, "I think the studio's attitude was, 'Let Wilder break his neck, he'll soon come back as a writer only, and be a good boy.'" Well, he most certainly didn't. "The Major and the Minor," the oddly premised romantic comedy about a young woman (Ginger Rodgers) pretending to be a 12-year-old girl to get a discounted train fare who falls for a soldier (Ray Milland) on board who treats her as the child she's pretending to be, was both a critical and financial success, establishing Wilder as a director who did in fact know exactly what he was doing. The studio had to admit defeat on that one, and from then on out, Billy Wilder was the one helming the picture, as well as writing it.
Quickly winning Best Picture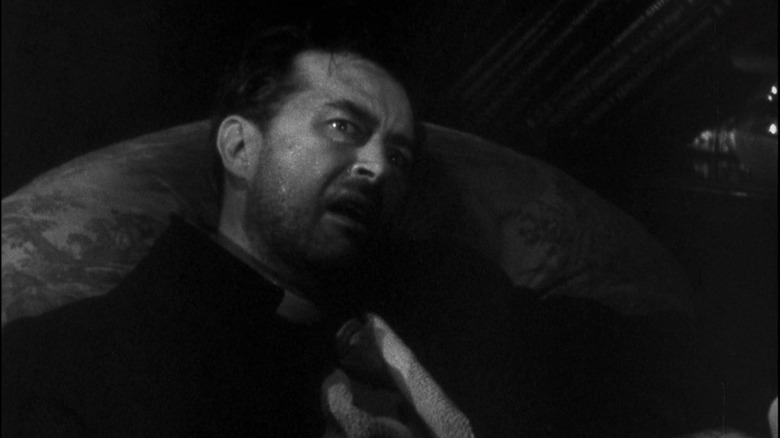 Paramount
Wilder's Hollywood sophomore feature is one of his finest, the film noir "Double Indemnity" starring Fred MacMurray, Barbara Stanwyck, and Edward G. Robinson. We know it to be one of the best examples of the genre of all time and serves as inspiration for nearly every noir to come after it, and even at the time, it was an unqualified success. "Double Indemnity" earned seven Academy Award nominations, including Best Picture and for Billy Wilder as both a director and a writer. "The Major and the Minor" was no longer a fluke the studio had to contend with. Wilder the director was a success story.
That success grew even grander just one year later with the release of "The Lost Weekend." This story about a self-destructive alcoholic, played by "The Major and the Minor" star Ray Milland, was one of the ten highest-grossing films of 1945. Beyond the financial success, "The Lost Weekend" was also nominated for seven Oscars, but unlike "Double Indemnity," they took home four wins: Best Picture, Best Director, Best Screenplay, and Best Actor. In just four years, Billy Wilder went from being "The Terror" to everyone at Paramount for having too many opinions about the films he was writing to winning them Best Picture.
"The Lost Weekend" marked an important milestone in other regards too. It was the first film to ever win Best Picture where the director also wrote the screenplay. Sure, plenty of directors did uncredited work on their screenplays, but this was the first time a proper writer/director was rewarded in this way. For perspective, the last time a Best Picture winner didn't have a writing credit from its director was 2013's "12 Years a Slave," though there was a lot of controversy about Steve McQueen not being credited for that work. Wilder was the exception that became the rule.
Wilder dominates the 1950s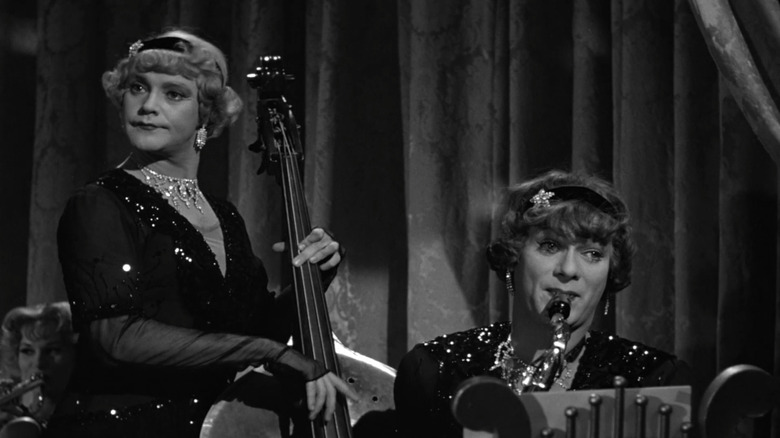 United Artists
After winning Best Picture, Billy Wilder seemingly had carte blanche to make whatever his heart desired, and you could make a strong argument that almost no director had as tremendous a decade as he did in the 1950s. He starts off in 1950 with a little movie called "Sunset Blvd.," which he first pitched to Paramount in the late 1930s. Now, he had the cache to pull that film out of the drawer and crafted another film noir masterpiece starring William Holden and the iconic Gloria Swanson as Norma Desmond. "All right, Mr. DeMille, I'm ready for my close-up," remains one of the most indelible lines in film history. He followed that up one year later with the pitch black satire of sensationalist media "Ace in the Hole," which was not a hit at the time but has become a must-watch staple of classic Hollywood.
Two years later, he directed "Stalag 17," which earned him another Best Director nomination and wins William Holden his only Oscar for Best Actor. Wilder directed "Sabrina" the next year, cementing Audrey Hepburn as the movie star she was destined to be after "Roman Holiday" (and earning even more nominations as a writer and director). That would mark the end of his tenure with Paramount, and he started to bounce around the studios for a bit. His first stop was at 20th Century Fox to make "The Seven Year Itch," which you probably know as the movie where Marilyn Monroe has her white dress blown up by a subway vent (pretty famous). He did have a bit of a hiccup in his next two films with the James Stewart-led Charles Lindbergh biopic "The Spirit of St. Louis" and the Audrey Hepburn/Gary Cooper romantic comedy "Love in the Afternoon," though the latter was favorably reviewed.
But he came back swinging with the incredible one-two punch of "Witness for the Prosecution," which was nominated for six Oscars, and then ending the 1950s with "Some Like It Hot," a movie that many people consider the greatest film comedy ever made. This is a decade run of films that would make just about any other director jealous. They stretch across so many genres and tones, yet they are undeniably Billy Wilder movies. It's a remarkable feat. And if the 1950s weren't enough, in 1960, he made "The Apartment," arguably my favorite film of all time.
One of the greatest to ever do it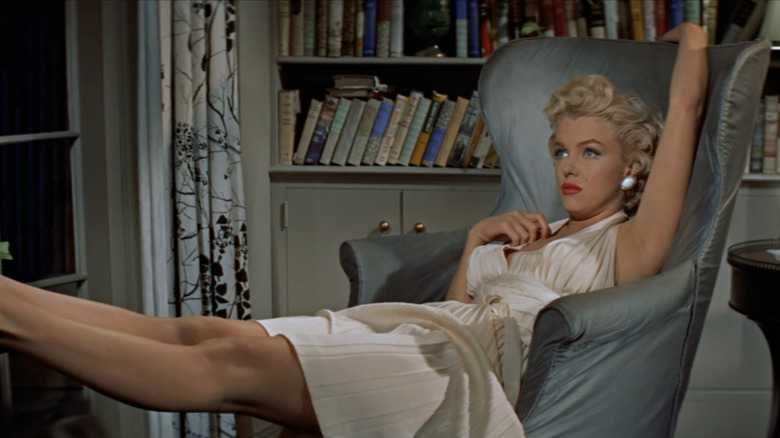 20th Century Fox
When I think of what I adore about the Golden Age of Hollywood and the studio system, I think about the films of Billy Wilder. He made movies filled with tremendous wit, never took the audience for granted, always tried to push boundaries whenever he could, and was able to do it all backed by movie studios ready to sign checks they would never sign today for these kinds of movies. He minted movie stars and created a litany of moments that will forever be played in montages that celebrate the history of the cinematic form. I cannot imagine the history of moviemaking without a writer/director like that blazing the trail he did. So many of your favorite filmmakers would not have been able to become the singular auteurs they have become if Wilder had not been given the opportunity to both write and direct his films at a time where that was almost unheard of.
Of course, being a nuisance in a work environment isn't pleasant for anybody, but being (reasonably) passionate about your work should be looked at as a positive when making art. Billy Wilder was putting the stories that meant a lot to him on the page, and he wanted them to be a specific way when they ended up on the screen. So, if you are someone in a position of power, do not outright dismiss someone incredibly driven that is coming to you with a bunch of ideas because you find them too eager or annoying. Maybe their ideas are actually great. Better than you could have ever imagined. Not all of them are going to be the next Billy Wilder, but they at least need the opportunity to try.