Scrooge: A Christmas Carol: Everything We Know So Far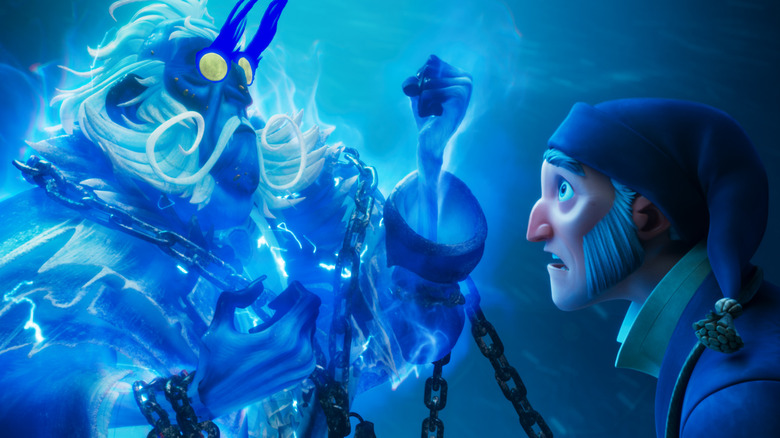 Netflix
Though this story is being written in July, with many countries breaking heat records, and San Diego Comic-Con in full swing, it doesn't stop us from giving you all the information about the upcoming animated Netflix film "Scrooge: A Christmas Carol." As you sit in front of a fan with an ice pack on your neck, you can dream of the holiday season, with snow, and ice, and a certain very cold-hearted miser who is about to get a few ghostly visitors. The animated film stars the voice of Luke Evans, someone who is still far too young to play a live version of Ebenezer Scrooge, the Christmas-hating curmudgeon. 
It's interesting that the Charles Dickens novel this and so many, many other films are based on is one that doesn't immediately have people freaking out about yet another remake. This story sort of lends itself to that very thing, and there are so many good ones, from "Scrooged" to "The Muppet Christmas Carol." I'm ready for some snow and hot chocolate right now, though we'll have to wait until December when the film is released on Netflix. 
What we think Scrooge: A Christmas Carol will be about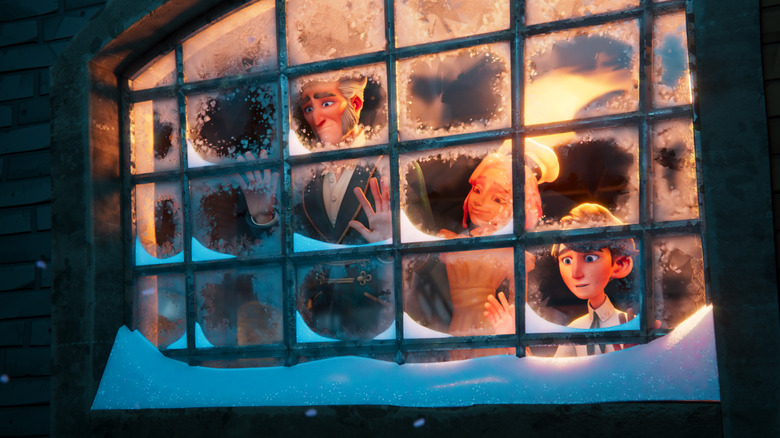 Netflix
Most Westerners know the story of "A Christmas Carol," but just in case you don't, here's a nutshell. It's about a grumpy old man who only cares about money. One night he's visited by the ghost of his former colleague who warns him about his miserliness, and tells him he'll be visited by three spirits. Those unearthly beings do a number on him and change what he values. Here is the official synopsis for the Netflix film that comes to us from Timeless Films:
Charles Dickens' ageless legend is reborn in this supernatural, time-travelling, musical adaptation of the definitive Christmas story. With his very soul on the line, Scrooge has but one Christmas Eve left to face his past and build a better future. Featuring re-imagined songs from the legendary and two-time Academy Award winner Leslie Bricusse OBE, Scrooge: A Christmas Carol is one for a new generation to sing.
Yes, this is a musical version of the story that we all know and love. Director Stephen Donnelly said of the project: 
"It's been a fascinating challenge to adapt such a beloved and often-told story. I think this version will give those who know A Christmas Carol all the things they expect, but not as they've experienced them before. There are more than enough psychedelic, time-travelling and musical surprises to keep those familiar with the story on the edge of their seats, while the authentic essence of Dickens has been retained for those coming completely fresh to the classic tale. I can't wait to share this new version of A Christmas Carol with the world and sincerely hope audiences embrace it this year and for many to come."
What we know about the cast and crew of Scrooge: A Christmas Carol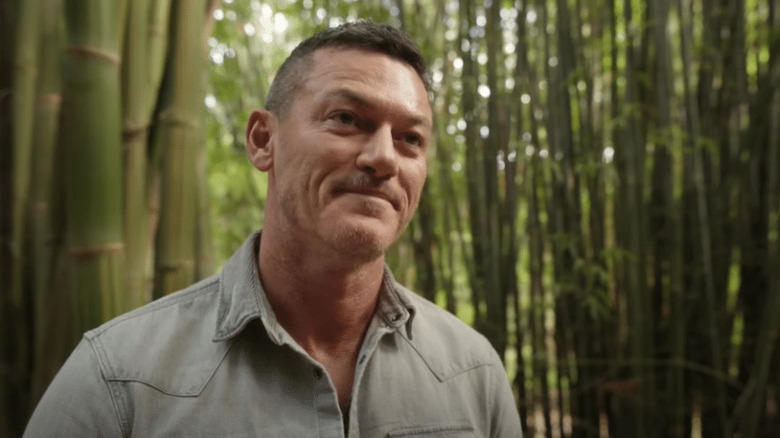 Hulu
In addition to Luke Evans ("Nine Perfect Strangers") as Ebenezer Scrooge, the cast includes the voices of Olivia Colman ("The Favourite") as Past, Jessie Buckley ("The Lost Daughter") as Isabel Fezziwig, Johnny Flynn ("Clouds of Sils Maria") as Bob Cratchit, Fra Fee ("Hawkeye") as Harry Huffam, Giles Terera ("London Boulevard") as Tom Jenkins, Trevor Dion Nicholas ("The Americans") as Present, James Cosmos ("Braveheart") as Mr. Fezziwig, and Jonathan Pryce ("The Two Popes") as Jacob Marley.
The animated film is directed by Stephen Donnelly ("Lost in Oz"). It's produced by Ralph Ramp, Leslie Bricusse, and Andrew Pearce. It is co-produced by Rebecca Kamp and Gareth Kamp. The music and lyrics come to us from Academy and Grammy Award-winner Leslie Bricusse. The songs are arranged and produced by Jeremy Holland-Smith who also provides the score. 
Now back to your regularly scheduled summer melting.