Mike Trailer: Trevante Rhodes Channels Mike Tyson In Hulu Limited Series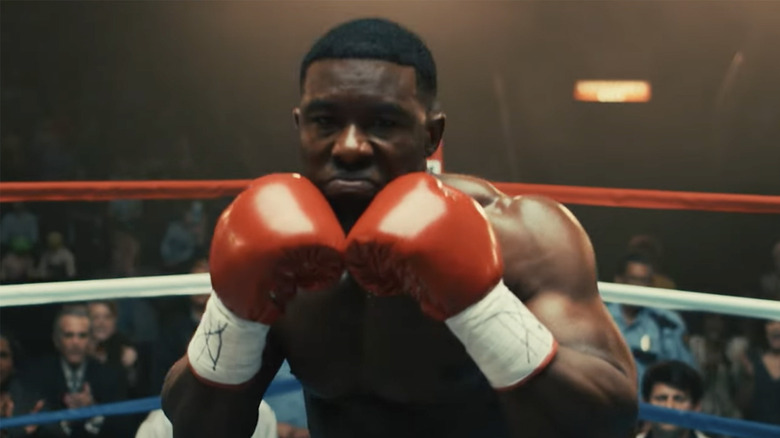 Hulu
Trevante Rhodes ("Moonlight) is ready to throw some punches inside the ring as Mike Tyson in Hulu's upcoming limited series, "Mike." A trailer for the series has dropped, which features Tyson's arc as a boxer and his gradual rise to stardom amidst troubled waters. In the trailer, we see Tyson being bullied as a child and then turning to a life of crime, which of inevitably seeps into his career as a boxing champion.
Rhodes is best known for his nuanced, multilayered performance in Barry Jenkins' "Moonlight," and his acting chops are on full display even in the brief trailer for "Mike," in which he oscillates between ferocious confidence and touching vulnerability. Keitel assumes the role of tough-as-nails D'Amato with great flourish, pushing Tyson to perennially display his strength in flamboyant ways in front of the world. While the exact tone and direction of the limited series remain to be seen, the trailer for "Mike" paints a pretty dramatic, emotionally-driven picture of Tyson's personal and professional landscape, paying close attention to the details of his eventful life.
However, as promising as this new limited series looks, Tyson himself is not associated with it in any capacity, and he's even previously spoken out against it, calling it "unfortunate" and "unauthorized." In a now-deleted Instagram post from February 2021, Tyson emphasized that "Hulu stealing a black athlete's story during Black History month couldn't be more inappropriate or tone deaf." While Hulu has not made an official comment so far, "Mike" is being advertised as an "unauthorized and no-holds-barred look at the life of Mike Tyson."
Watch the Mike trailer
The "Mike" trailer recreates some aspects of Tyson's professional and personal life, such as the presence of his trainer Cus D'Amato (Harvey Keitel) and the emotional turmoil he underwent during his rise to fame. The limited series also dramatizes Tyson's six-year imprisonment after he was convicted of rape in 1992, as well as his eventual comeback in 1996, which led him to regain the WBA (World Boxing Association) and WBC (World Boxing Council) titles. And of course, there's a glimpse at Russell Hornsy as the infamous boxing promoter Don King.
The cast for "Mike" also includes Laura Harrier, Li Eubanks, Olunike Adeliyi, and B.J. Minor. Steven Rogers is acting as series creator/screenwriter, who is best known for penning the script of the acclaimed biopic, "I, Tonya." Karin Gist is serving as executive producer, along with Craig Gillespie, Bryan Unkeless, Scott Morgan, and Tom Ackerley and Margot Robbie.
Here's the official synopsis for "Mike:"
"'Mike' explores the dynamic and controversial story of Mike Tyson. The eight-episode limited series explores the tumultuous ups and downs of Tyson's boxing career and personal life – from being a beloved global athlete to a pariah and back again. Focusing the lens on Mike Tyson, the series examines class in America, race in America, fame and the power of media, misogyny, the wealth divide, the promise of the American Dream, and ultimately our own role in shaping Mike's story."
The first two episodes of "Mike" will premiere August 25, 2022 on Hulu, and two episodes will be dropping on the platform weekly  after that.