The Russo Brothers Credit Community For Their MCU Careers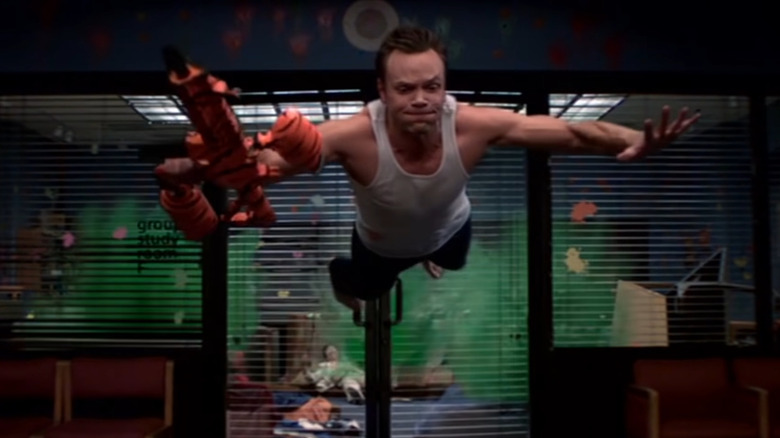 NBC
"Community" is the show that keeps on giving. The show initially ran for five seasons on NBC before being canceled by the network as fans fervently fought for and supported the show. Eventually, "Community" found a home on the streaming service "Yahoo! Screen" (yeah, that was a thing) for its sixth and final season. Even after ending in 2015, fans of the show continue to champion it. The hashtag #sixseasonsandamovie is still going strong to this day, with fans hoping Dan Harmon and company stay true to the hashtag and cap the series with a feature film. "Community" gave in more ways than one, as a certain directing duo found their footing in their work on "Community" that would lead to bigger opportunities — namely, in the Marvel Cinematic Universe.
Long before "Avengers: Endgame," Anthony and Joe Russo were some of the key creative voices behind the beloved NBC sitcom. The filmmakers were heavily involved in the show's first three seasons, with Joe later returning to direct an episode in season 5. "Community" was always a meta, subversive take on the situational comedy genre, and it provided a great platform for the Russos to get the attention of the folks at Marvel Studios.
Experimenting with genres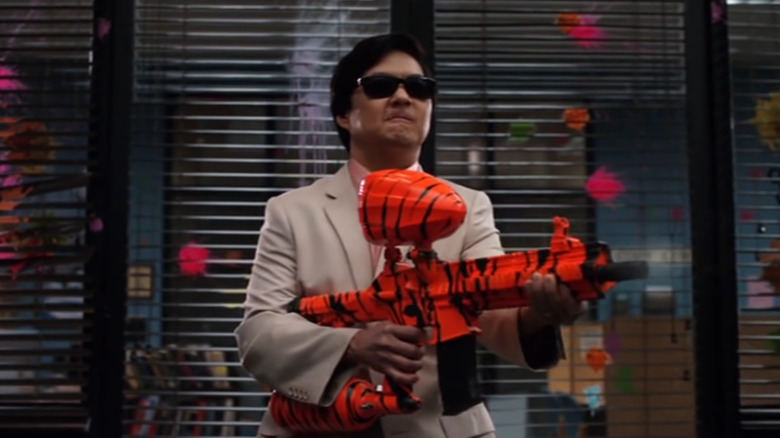 NBC
In a video for GQ, the Russos broke down some of their work in movies and television. When it came time to talk about "Community," the directors went into detail about how the traditional sitcom format would have weighed on their creative process, and how they maneuvered around it by experimenting with different genres. Joe explained:
"So when we started working on television, the format became predictive very quickly. And you're like, 'Well, f**k. What are we gonna do with 24 of these stories, right?' It's, like, basically the same story every week. But we sat down with [creator] Dan [Harmon] and discussed, like, what happens to the show from here? What if we started applying genre on a weekly basis to the show, to make it fresh?"
"Community" is a show famous for its homages to film and television of the past. From the "Goodfellas"-inspired episode "Contemporary American Poultry" to its homage to Sergio Leone movies with "A Fistful of Paintballs," the series always tried to push the envelope with its pop culture references while simultaneously exploring the dynamics of the core study group. Joe continued:
"I think it was also Dan's frustration with having to write that [Jeff and Annie] story. He was like, 'This is too predictive.' And so we started experimenting with genre, which is great for us, because we were pop-culture junkies growing up, and this was a really interesting playground. You know, it was a fun sandbox for us to play in."
From NBC to MCU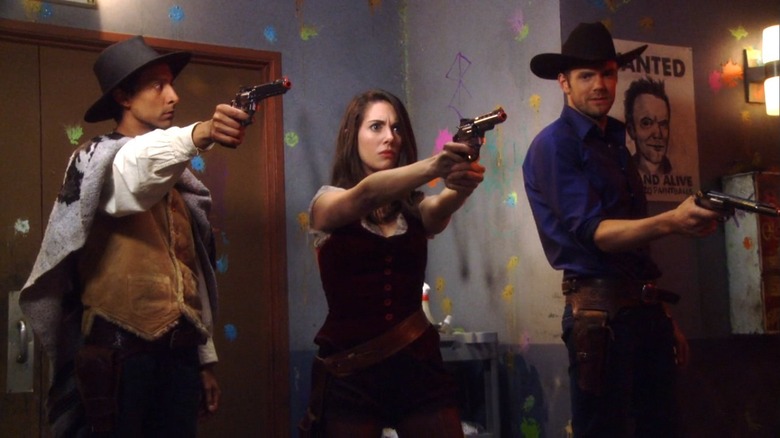 NBC
That genre experimentation would eventually catch the eye of MCU head honcho Kevin Feige. In the same interview, Joe Russo detailed how the brothers' work on "Community" would become a point of interest for Feige. The producer shared a similar passion for pop culture, specifically "Star Wars," which the Russos also did an homage to on "Community" in an epic two-part paintball episode they directed.
"[Anthony] and I did the second series of those [Paintball episodes], it was a two-parter. One was a spoof on Leone, which was a favorite filmmaker of ours growing up. And the other was a spoof on Star Wars. Kevin [Feige], who was a similar pop-culture junkie, was feeding off that energy from Community, that 'different genre a week' concept. And then when he got to those episodes, obviously Star Wars being so important to him, I think he adored those two back-to-back paintball episodes. And he reached out and asked us if we had any interest in comic books. And we did, and now we're here."
The Russos work on season 2 of "Community" provided some of the most entertaining episodes of the series. The action-oriented finale of season 2 would set the stage for their MCU debut, "Captain America: The Winter Soldier," which would also be praised for its action. However, the Russos wouldn't forget their time on "Community" — they brought some familiar faces with them to pop up in their MCU projects.
Familiar faces from Greendale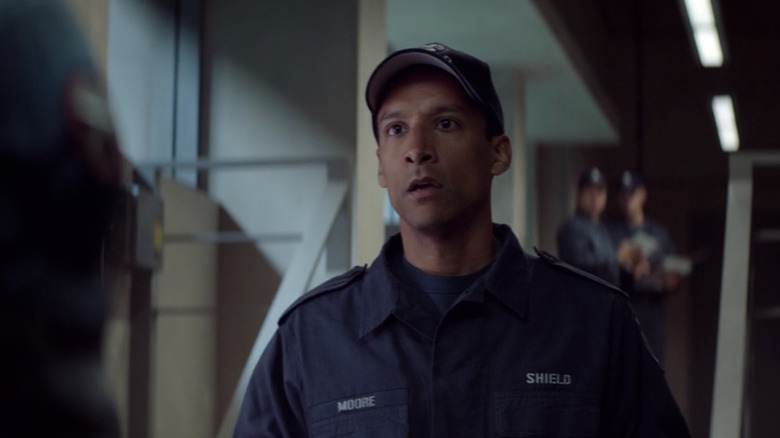 Marvel Studios
The Russos would pull from the "Community" cast, placing them in bit roles in their films. Danny Pudi (Abed on "Community") played a S.H.I.E.L.D. agent in "The Winter Soldier," while Jim Rash (who played Dean Pelton) become a dean once again — only this time, at the more prestigious M.I.T. in "Captain America: Civil War." Yvette Nicole Brown (Shirley) would also get a role as a S.H.I.E.L.D. agent in the '70s, suspicious of Steve and Tony in "Avengers: Endgame." Even Ken Jeong (Señor Ben Chang) acted as a security guard in "Avengers: Endgame."
The Russo Brothers have always tried to incorporate their love for the pop culture and iconic films from their childhood in their work. Their passion for movies fueled their genre experimentation in "Community," with their time on the show being an integral step in their journey to joining the MCU. The rest is history, as the Russos would finish the "Captain America" trilogy and cap off "The Infinity Saga" with back-to-back "Avengers" films that would be two of the highest-grossing movies of all time. They've come a long way from community college paintball.