The Bear's Writers Were Working With A Specific Adam Sandler Movie In Mind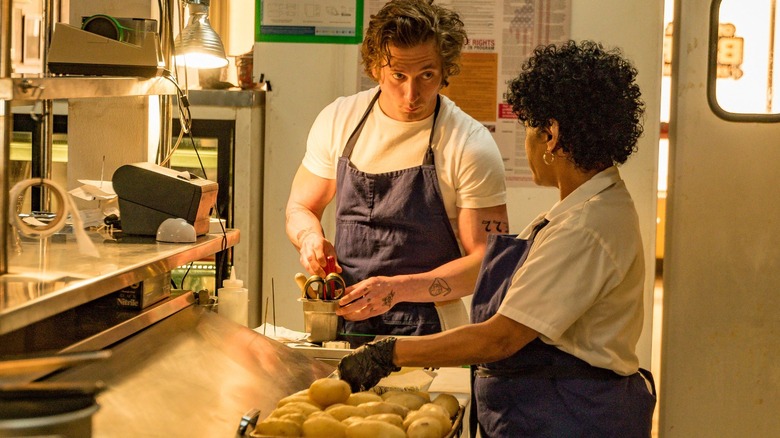 FX/Hulu
If you've seen FX and Hulu's new series "The Bear," you know that it feels a little bit like a heart attack spread across four hours. The series about a busy and disorganized Chicago restaurant — and the silently grieving perfectionist chef (Jeremy Allen White) who runs it — is one of the best shows on TV this year, and a lot of its excellence comes from its ability to pull off a breakneck pace. The series isn't always so tense, but when it shows its characters in the kitchen, headed up by Carmy (White) and young sous chef Sydney (Ayo Edebiri), the episodes become so breathlessly fast-paced that they feel about 10 minutes long instead of 30.
Not only was this feeling of near-constant tension created on purpose, but according to White, it was partly inspired by a movie that's known for cultivating a similar pressure cooker environment. In an interview with Uproxx, the actor revealed that Josh and Ben Safdie's 2019 thriller "Uncut Gems" was used as a reference point in the lead-up to making the series. The successful A24 film stars Adam Sandler as a gambling addict who has to track down a rare gem in New York City when bookies start threatening to collect his debts with a pound of flesh.
White said that series creator, writer, and co-showrunner Chris Storer spoke with him about the film during prep for the series. "We wanted to kind of feel that anxiety throughout," White said. "The energy [is] really, really high." The Safdie brothers' films, particularly "Uncut Gems" and its predecessor, the Robert Pattinson-led thriller "Good Time," have a sense of almost unbearable urgency about them that's certainly reflected in the high-anxiety kitchen scenes of "The Bear."
Two stories with a breakneck pace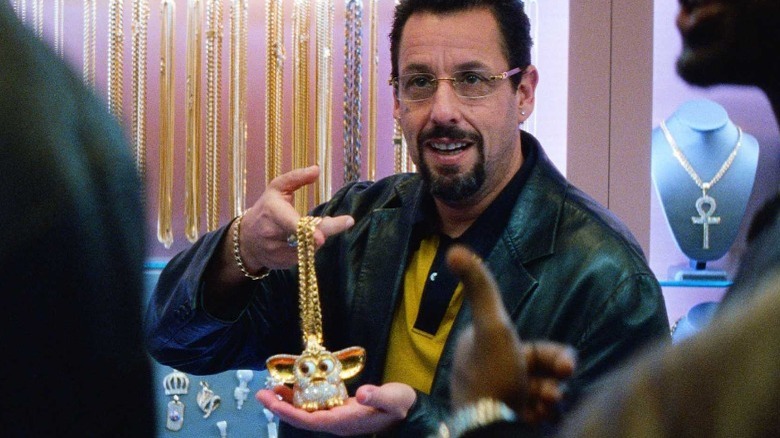 A24
White also explained that the series achieved that Safdie-esque feeling with a shoot that was, schedule-wise, reflective of the fictional restaurant's own level of frenzy. "The pilot was exhausting and we also did it very quickly over six or seven days," White said. "But I think that kind of intensity and speed lent itself to the show."
While fans of "Uncut Gems" would probably enjoy "The Bear" and vice versa, the show has a flavor of its own despite the Safdie comparison. While Sandler's performance as Howard Ratner is excellent, his character is very external, constantly making a pitch to save his own skin, whereas Carmy seems to hold his feelings inside until they threaten to combust like a kitchen fire. Yet "The Bear" channels the Safdies especially clearly in episode seven, a glimpse into an especially dysfunctional day at the restaurant delivered via one long camera shot.
White told Uproxx that filming the episode in long takes made the performance, which includes a climactic explosion, all the more intense. "It felt like a tight rope walk for me shooting it because I knew there was a lot at stake and one mistake could throw away a really amazing take for everybody else," he explained. That type of on-set experience may sound familiar: "Uncut Gems" camera assistant Olga Abramson once told Input that when filming for that movie, "every shot was hair-raising," adding, "my memories of working on that movie are memories of my heart pounding in my chest."
High-octane filming environments don't always translate to white-knuckle viewing experiences, but in these two cases, the exhilarating intensity certainly comes through in the final product. All episodes of "The Bear" season one are now on Hulu.