Will Apple TV's Loot With Maya Rudolph Get A Season 2?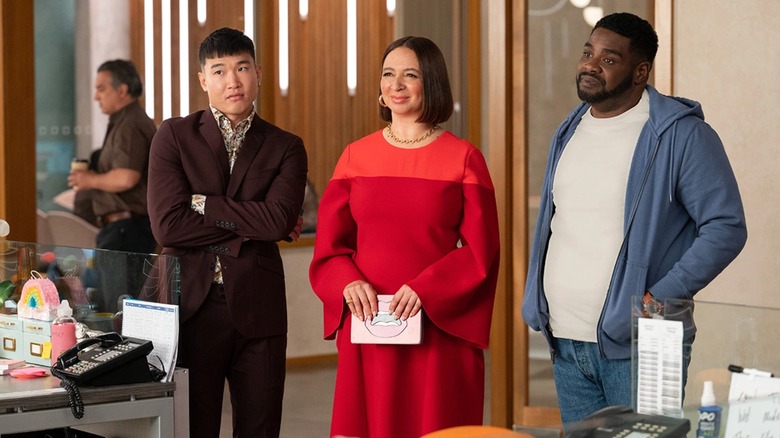 Apple TV+
Everything's always a little bit brighter when Maya Rudolph is on our TV screens: the "Saturday Night Live" comedian and actress is winning and funny in every single project she chooses. That now includes the Apple TV+ comedy series "Loot," which is currently airing its first season.
The show follows Molly (Rudolph), an inordinately wealthy billionaire who must figure out what to do with her time and money after she splits with her tech inventor husband (Adam Scott). Upon learning that she has a charity organization she never knew about, Molly decides to get more involved in its day-to-day upkeep, working alongside no-nonsense leader Sofia (Michaela Jaé Rodriguez), doting assistant Nicholas (Joel Kim Booster), sweet geek Arthur (Nat Faxon), and her own cousin Howard (Ron Fuches), Molly starts to recognize her privilege and try to make the world a better place.
The premise of "Loot" is a tricky one to pull off, but it is funny and heartfelt and Rudolph carries the complicated lead role effortlessly. /Film's Barry Levitt reviewed the show positively back in June, saying, "'Loot' could have easily felt cloying and tone-deaf, but thanks to some clever scripting and Rudolph's undeniable charisma, you actually manage to be invested in Molly's journey." It also helps that the show has "Master of None" co-creator Alan Yang and "30 Rock" writer Matt Hubbard at the helm.
'We can't wait for season two'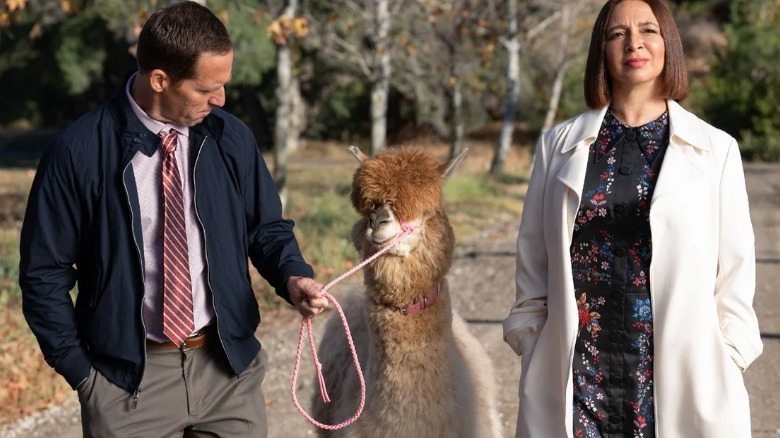 Apple TV+
In addition to being a charmer, "Loot" is also apparently a success for the streamer. Apple TV+ renewed "Loot" this week, adding the show to an increasingly impressive lineup of returning comedies that also includes "Ted Lasso" and "Mythic Quest." The 10-episode first season is set to run until August 12, 2022, while it's still too soon to tell when the second season will debut.
Matt Cherniss, head of programming for Apple TV+, celebrated the renewal in a statement:
"Thanks to Maya, Alan, Matt, and the entire incredibly talented 'Loot' cast and creative team who have created a show filled with captivating and endearing characters, and hilarious and heartwarming moments throughout each episode. This show has captured the hearts of global audiences, and we can't wait for season two."
The news also comes soon after the producing team behind the show, Rudolph, Natasha Lyonne, and Danielle Renfrew Behrens' Animal Pictures, signed on to a first-look deal with Apple TV+. This means we may see more projects from this very funny group on the streamer in the future. Animal Pictures is also responsible for Netflix's trippy metaphysical hit "Russian Doll," the upcoming Rian Johnson mystery "Poker Face" (which will also star Lyonne), and Hulu's recent teen rom-com "Crush."
With a June premiere, "Loot" just missed this year's Emmys consideration cutoff, but it's still in good company on a streamer that's poised to earn big at this year's awards. Apple TV+ launched in 2019, yet has already established itself as a home for award-winning content, taking the top prize at the Oscars for the movie "CODA" and earning an impressive 52 total Emmy nominations this year for shows like "Ted Lasso" and "Severance.