Clark Gable's Hollywood Career Got Off To A Rocky Start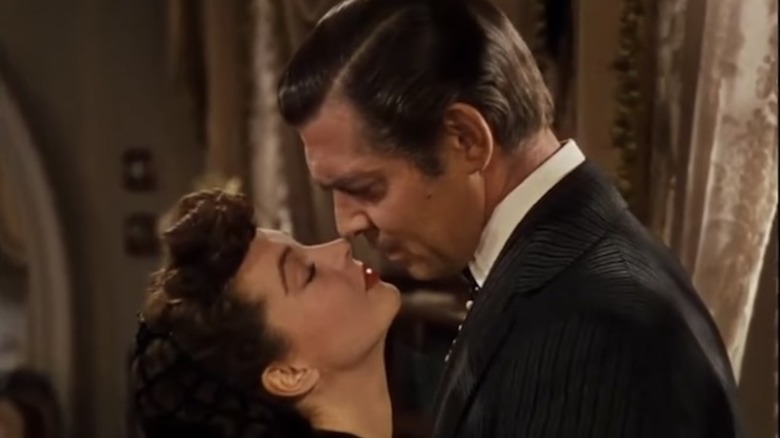 MGM
Clark Gable was once dubbed "the king of Hollywood." With his easy, roguish smile and slick, debonair hair, he made women swoon and men envious. One would imagine that a man of such stature and style simply walked onto the silver screen. But while Gable's onscreen persona looked effortless, he ground through a string of minor roles and an entire makeover to become the legendary actor we know him as today.
The image most moviegoers associate with Clark Gable is a picture of rough masculinity: Rhett Butler grabbing Scarlett O'Hara in a stolen kiss. Butler is a villain in "Gone with the Wind," a charming and wealthy smuggler for the South who uses his physical dominance to violate his wife. In real life, Gable was far from the alpha male. From the start of his career, he played a role more suited to Scarlett: someone who used their youth and sexuality to swindle other people into helping them.
Gable would wind his way through Hollywood on the arm of several powerful and famous women. He would get there in the first place with the help of Josephine Dillon, an older woman and a theater manager in Oregon. Gable took private acting lessons from Dillon and the two married in 1924 (via Commentary).
He is my creation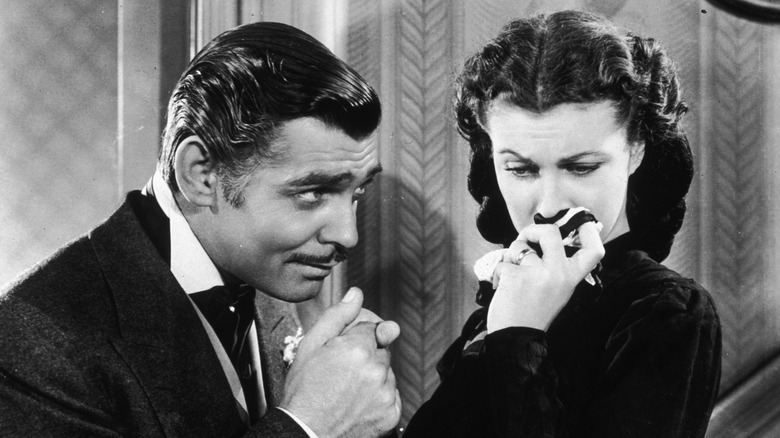 Hulton Archive/Getty Images
Dillon fancied herself a modern-day Henry Higgins who molded Bill Clark Gable from Ohio into Clark Gable the actor. She went so far as to call herself his "dramatic coach" and declared of him, "He is my creation." Before the studios took one look at Gable, Dillon had given her younger husband a full makeover (via Far Out Magazine).
"She paid money out of her own purse for Gable to have his teeth as well as his hairstyle properly fixed. Dillon also trained him in body language and helped him lower his naturally high-pitched voice. Under her guidance, Gable improved his posture and speaking habits while also working on his facial expressions. When Dillon finally decided that Gable was ready to take the world by storm, they packed their bags and moved to Hollywood in 1924 as his manager and wife."
After Gable failed to earn any major film roles, the couple moved to New York where he could try his hand on Broadway. According to Dillon, Gable found both success and a new wife. When they returned to L.A. in 1930, Gable earned supporting roles at Warner Bros and signed a contract with MGM. By 1931, he divorced his svengali and married a wealthy Texan, Rhea Langham.
A lucky slob from Ohio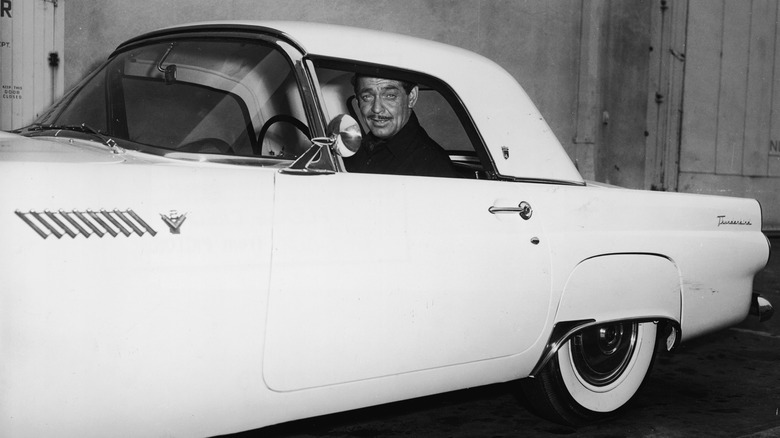 Hulton Archive/Getty Images
Gable himself would attribute his rapid rise in Hollywood to pure luck (via Variety).
"I'm just a lucky slob from Ohio. I eat and sleep and go to the bathroom just like everybody else. There's no special light that shines inside me and makes me a star."
It would appear that once he inked his deal with MGM, it was smooth sailing for Gable. Yet even with the lessons and physical transformation that Dillon had started, the studios were convinced there was more work to be done. It wasn't enough for Gable to look like a leading man on screen, he had to personify what it meant to be a real man in his everyday life. Audiences would come to know Gable for his masculine pursuits like hunting and fishing. Unknown to them was that these seemingly relatable, all-American extracurriculars were manufactured by the studios. It was MGM who taught Gable how to fish and switched his beat-up pickup trucks for suave sports cars (via Ozy).
The trick to succeeding in Hollywood is to make one's success look easy. It plays into the narrative of the American dream to believe that all it takes is a dream and some gumption to make it big. Knowing that Clark Gable's looks, mannerisms, and masculinity were the result of careful manipulation by countless women and studio heads strips off that varnish and shows us that there's no such thing as a lucky slob from Ohio.