Cool Stuff: We're Giving Away An Awesome Thor: Love And Thunder Collectible Bust – Here's How You Can Win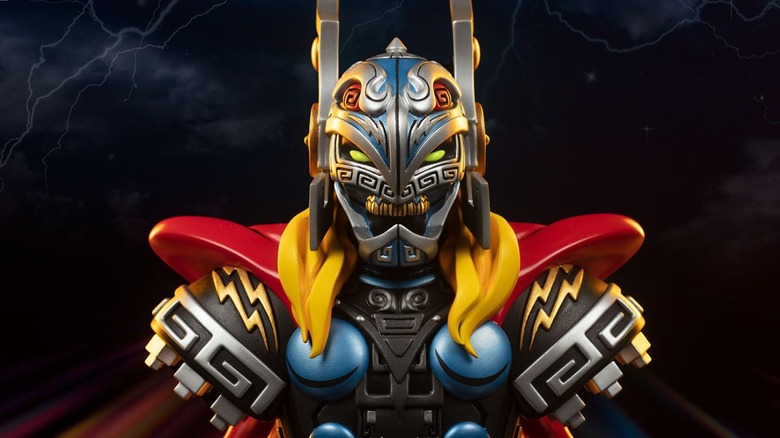 Unruly Industries/Sideshow
With the release of "Thor: Love and Thunder" days away, Marvel has already started the process of getting a great deal of cool tie-in merch on shelves and online for fans to scoop up. Sure, there will be plenty of action figures and shirts at big box chain stores, and some of those may very well be worth picking up ... but wouldn't it be much cooler to have a more original piece? Namely a Thor statue designed with Aztec and Mayan influences, making for something totally distinctive? What if I also told you that very thing could possibly be yours for the very attractive price of free? We here at /Film are going to give you that chance, dear reader.
We have teamed up with Unruly Industries and Sideshow Collectibles to give away one of their new Thor Designer Collectible Busts. So, how does one go about getting their hands on this prize worthy of the gods? It's very easy and costs you nothing but a tiny bit of time on Twitter.
Here are the contest details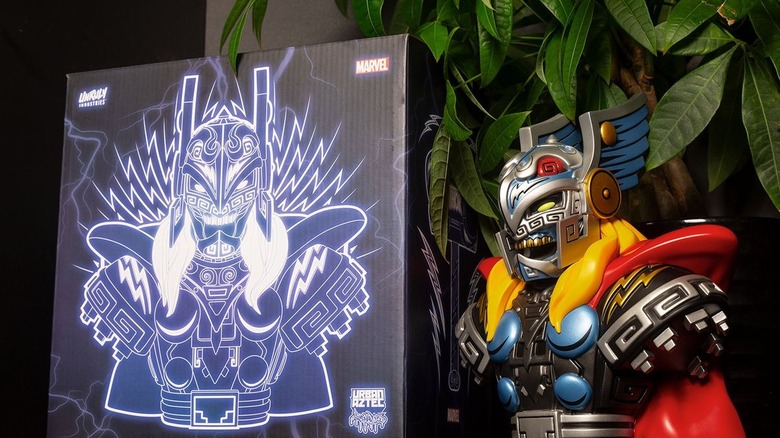 Unruly Industries/Sideshow
Those who consider themselves worthy of getting their hands on this bust must do the following: first, follow both /Film and our sister site Looper on Twitter. After that has been accomplished, all you need to do is give the following tweet related to our little contest a retweet from your personal Twitter account. Simple as that!
We're giving away one #Thor Designer Collectible Bust by @UrbanAztec from @collectsideshow & @UnrulyInd to celebrate #ThorLoveAndThunder! ⚡️ Make sure you follow BOTH @slashfilm & our partner @looper & RT by 11:59pm ET July 8th for a chance to win. ✨ (Open to US & Canada only) pic.twitter.com/5mtN5t7Mpo

— /Film (@slashfilm) July 5, 2022
As for the details of the piece, the bust itself stands at 8.25 inches tall and was crafted by artist Jesse Hernandez. Born and raised in the San Francisco Bay area, his style has been dubbed "Urban Aztec," which is a combination of graffiti art and ancient indigenous culture. Outside of Marvel, his talents have been employed by everyone from Rockstar Energy Drink to the San Jose Sharks. Hernandez had this to say about this particular piece:
"It was epic getting to mash up my favorite Marvel characters with Aztec and Mayan influences. The God of Thunder meets Eagle Warrior style continuing the line of Urban Aztec x Marvel mashups. An aggressive new armor covered with ancient symbols to create the #ThunderingEagle."
So there we have it, folks! Simple as that. If you want to get in on the action, simply follow our accounts and retweet that tweet by 11:59 p.m. ET on Friday, July 8.
"Thor: Love and Thunder" hits theaters Friday.