Mr. Malcolm's List Review: A Colorblind Period Romance That Swoons But Doesn't Seduce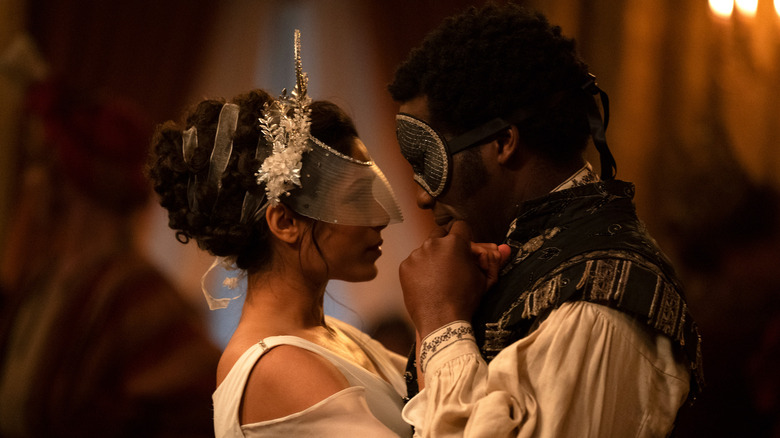 Bleecker Street
It is a truth universally acknowledged that if you're going to make a period romance these days, you have to do something new. Audiences can no longer be satisfied with stuffy costume dramas or long extended scenes of white people promenading around sun-dappled gardens — you've got to mix things up a bit.
The latest period drama remix du jour is colorblind casting — not necessarily a new invention, considering the wonderfully diverse and delightfully camp Brandy-led "Cinderella" in 1997, but one that is starting to pick up traction, with shows like "Bridgerton," Broadway hits like "Hamilton," and so on. And now, we have "Mr. Malcolm's List," a Jane Austen-inspired Regency-era romance directed by Emma Holly Jones and written by Suzanne Allain, based on her novel of the same name.
The romantic comedy centers around the titular Mr. Jeremiah Malcolm (Sopé Dìrísù) and the string of heartbroken ladies he leaves in his wake as he searches for his ideal wife. But this woman may be impossible to find, at least as she exists in a secret list of qualifications by which Mr. Malcolm judges all women. When Malcolm's most recent spurned lady, Julia Thistlewaite (a hilarious Zawe Ashton), learns of the existence of this list from her cousin Lord Cassidy (Oliver Jackson-Cohen, having a ball playing the bumbling sidekick), she swears revenge. So she writes to her beloved, but less well-off, friend Selina Dalton (a lovely Freida Pinto), inviting her from the country to stay with her in London. When Selina arrives, Julia hatches a scheme: they'll mold Selina into the perfect woman for Malcolm's list, and after he's fallen in love, Selina will humiliate him with a list of her own.
Wearing the costume of Austen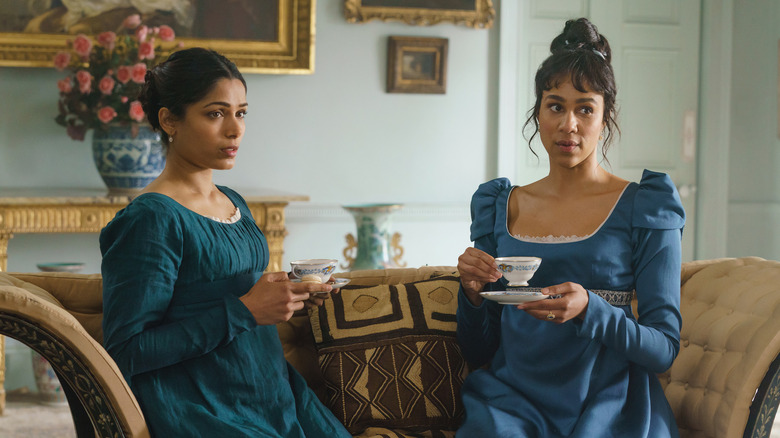 Bleecker Street
The plot and twists of "Mr. Malcolm's List" feel thoroughly modern — take out the Empire waist dresses and 1800s setting, and you've got a Julia Stiles rom-com from the early aughts — which makes sense, considering Allain's novel was published in 2009. There's a certain frothiness inherent in most contemporary Regency romance novels, with the period setting working to provide a layer of "class" to what are essentially redressed contemporary rom-coms. And for that reason — no matter the familiarity the writer has with the time period, no matter how much research they put in — there's always a feeling of the "costume." As if the story itself is playing dress-up in Austen's clothes.
The 2019 short film adaptation of the same book, which acted as a sort of test run for the feature, had that "costume" feeling, with its entire appeal hanging around its casting of diverse actors in the leading parts (most of whom would reprise their roles in the film). But while the novelty of its colorblind casting has faded a little, the feature version of "Mr. Malcolm's List" is a much more confident, thoroughly charming film that feels like it's finally fitting in its clothes.
Much of the credit goes to its incredibly charismatic cast. Pinto and Dìrísù are sweet and alluring together — if sometimes a little bland — and they deliver when it comes to the swooning, heart-fluttering moments that you come to expect with these period romances. But it's the supporting leads who are the scene-stealers. Ashton and Jackson-Cohen are the ones who look like they're having the most fun here, and perhaps it's because they are the ones knowingly playing into the film's more modern aspects: the cattiness, the silliness, the pratfalls. There's only so much that colorblind casting can do to inject newness into a period romance, and Ashton and Jackson-Cohen — and to an extent, Theo James' slightly smarmy romantic rival Captain Henry Ossory — know this, occasionally stepping outside of the lines of the stiff costume drama and throwing in a tiny bit of camp.
To swoon, for a period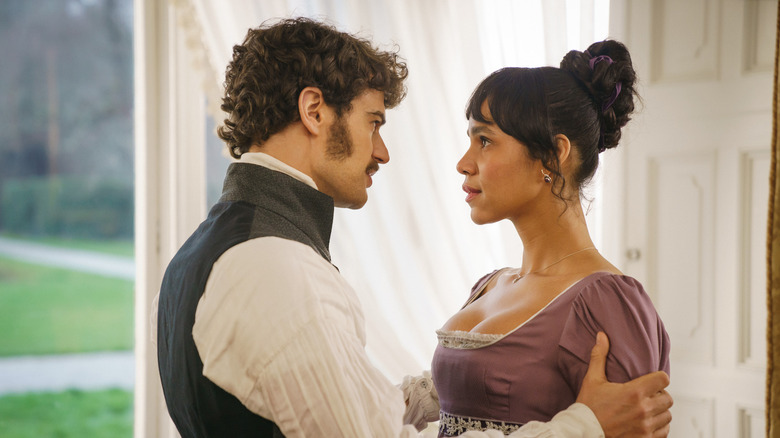 Bleecker Street
Though not that much camp. Allain's script is nakedly sincere, lovingly paying tribute to the period romances that inspired it and not feeling a need to update them for modern sensibilities. This is one choice that leaves the film with an interesting dilemma: the question of the "perfect woman." This is a concept that has plagued many a classic play or piece of literature ("The Taming of the Shrew," "Pygmalion," etc.), making them difficult to modernize, and it's one element that "Mr. Malcolm's List" doesn't really grapple with. Instead, Pinto is so lovely, so charitable, so perfect, that you are willing to forgive "Mr. Malcolm's List" and its titular list for being so rigid in its view of women.
Once the colorblind casting loses its shine, there isn't much on the mind of "Mr. Malcolm's List." Emma Holly Jones' direction is similarly pleasant if predictable, effectively tapping into the romantic sensations that we desire in a period romance. The film hits all the right romantic pleasure centers of the brain — making us blush, making us giggle, making us swoon. And while you can feel yourself playing right into the hands of "Mr. Malcolm's List," that's honestly not a bad thing. It's romantic escapism at its finest, a brief diversion from our grim reality that is just novel enough to make it worth our time.
/Film Rating: 7 out of 10