Daniel Craig Put His Foot Down, And The Result Was Casino Royale's Most Powerful Moment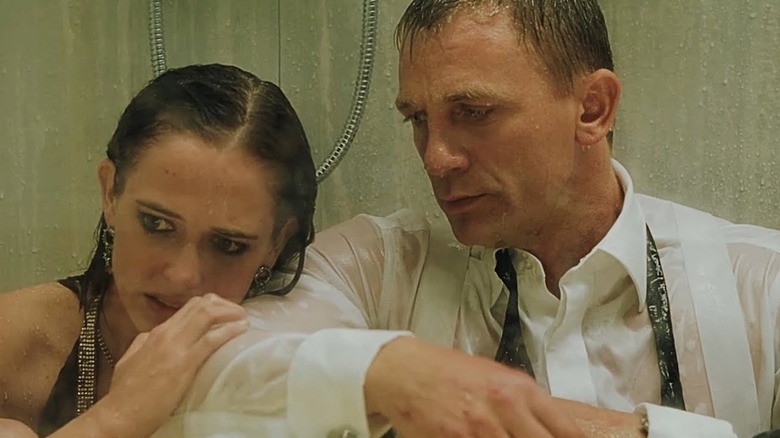 MGM
The James Bond franchise was in dire need of a reboot after the creative failure of 2002's "Die Another Day." Pierce Brosnan's fourth go-round as 007 was a box-office hit, but the silly, gadget-happy formula he'd inherited from Roger Moore's iteration of the character had hit a nadir with the introduction of an invisible car. Was it more ridiculous than much of "Moonraker" or "A View to a Kill?" Perhaps not. But the series' unrelenting disconnect from reality and anything approaching genuine human emotion had left the character with nowhere to go but bust.
Hardcore Bond fans were enthusiastic about returning 007 to his remorseless, Ian Fleming roots (something Timothy Dalton's late-'80s run had half-heartedly attempted), but, on the surface, it appeared that "Casino Royale" director Martin Campbell's big idea was to embrace the parkour foot chases of Pierre Morel's cult action sensation, "District 13." This smacked of desperation. If Campbell, who'd kicked off the Brosnan era with "Goldeneye," was resorting to gimmickry rather than going back to the character's cold-hearted basics, maybe it was best to let Bond go altogether. It had been a mostly sweet 44-year run. The future belonged to the frenetic, hand-held set pieces of Paul Greengrass's "Bourne" movies.
A surprisingly somber and unsexy shower scene
"Casino Royale" hooked moviegoers with a dazzlingly deluxe parkour pursuit led by French freerunner Sébastian Foucan, but the true triumph of the film is that, for the first time since "License to Kill," people bought into Bond as more than a debonair superspy. Craig's 007 comes on as a straight-up killer, but as his mission to smoke out criminal banker Le Chiffre (Mads Mikkelsen) goes sideways, he finds himself falling hard for his contact, Vesper Lynd (Eva Green). Unlike most Bond movies, this isn't a frivolous case of intermingling business with pleasure. Bond goes from needing Lynd's assistance to caring about her mental well-being. They're kindred, messed-up spirits, and their relationship reaches a deeply moving climax when Bond finds a traumatized, fully-clothed Lynd balled up in her hotel shower. It's an unusually affecting sequence for James Bond movie, and it only went before cameras because Daniel Craig insisted on it.
According to producer Barbara Broccoli in the retrospective documentary "Being James Bond," the shower scene was supposed to be a stereotypically sexy sequence featuring Lynd and 007 hooking up in the shower in their underwear. Per Broccoli, "Daniel said, 'No, they don't get undressed. They are in their clothes.'" Producer Michael G. Wilson adds: 
"[I]t was just sort of hinted at in the script. I was about this thing that if we're going to go with the violence, if we're going to go with the reality of it... it's still a James Bond movie. But I wanted to see what happens. I wanted to see the effect it has on people. She's in shock, so she's sitting in the shower in her clothes. It made complete sense to me."
James Bond: reformed, rescued and ready for another reboot?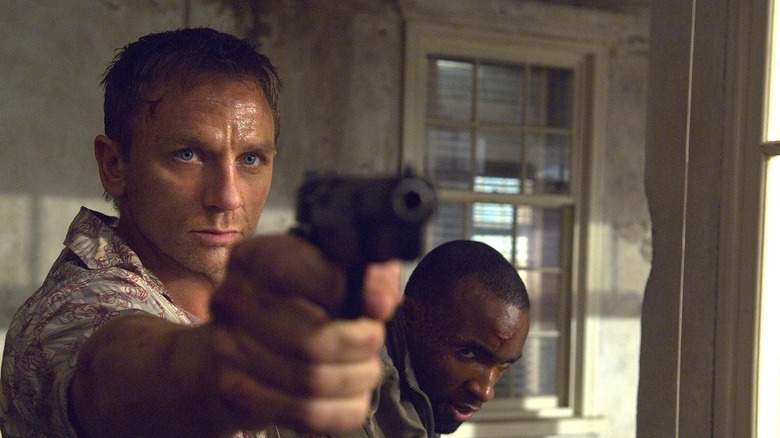 MGM
This is a shockingly tender scene for a Bond movie, harkening back to the vulnerability of George Lazenby and Diana Rigg in another atypical 007 adventure, "On Her Majesty's Secret Service." As Broccoli notes, it's the moment Lynd and Bond fall in love. It's why audiences reinvested in the character, and basically set the stage for the five-film arc that brought us to the heartbreaking, if controversial, conclusion of "No Time to Die." 
The path to this final film was anything but direct and often unsatisfying ("Quantum of Solace" plays like a protracted denouement to "Casino Royale," while "Spectre" is bizarrely misconceived on just about every level), yet the series acquired a narrative velocity that had never been present in previous entries. None of this would've happened without Craig's sensitivity to the needs of his co-star. This scene changed the James Bond franchise forever. Whether they'll continue to follow Craig's lead going forward remains to be seen.