Brad Pitt Built His War Machine Role On A Bizarre Mix Of Impressions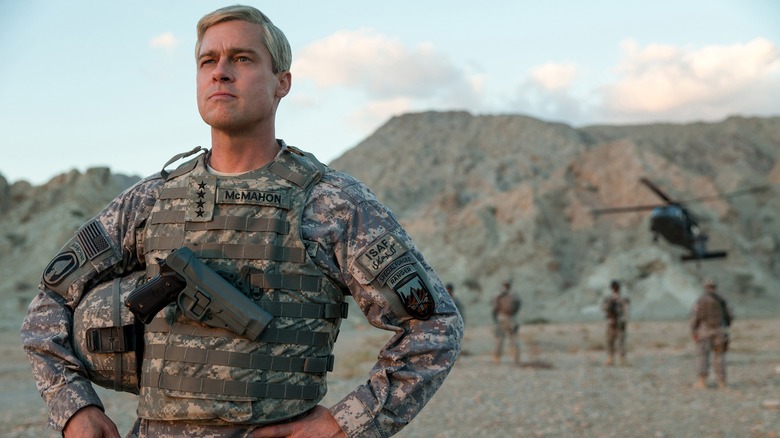 Netflix
We may receive a commission on purchases made from links.
David Michôd's military satire "War Machine" is only five years old, but it already feels like a relic. It hails from what appears to be a bygone era when Netflix opened up the checkbook for pricey productions with uncertain commercial appeal. The upside to picking up Michôd's project, which had stalled when New Regency Productions balked at the $60 million budget, was its star and producer, Brad Pitt. This was a golden opportunity to develop a relationship with the leading man's thriving Plan B Entertainment. "War Machine" didn't have to be good. It just had to get made.
Based on Michael Hastings' rollicking "The Operators," a non-fiction profile of General Stanley McChrystal's tumultuous run as the United States' top man in Afghanistan, "War Machine" is a compelling, if tonally uneven black comedy about a horrendously mismanaged occupation (which recently came to a horrendously abrupt end). It's playing in the same satiric sandbox as classics like "M*A*S*H" and "Three Kings," but the target proves slippery, primarily because he's also the film's protagonist and unreliable narrator. Is this guy a genius or a pompous buffoon? The film isn't sure, and neither is Pitt. And that comes through in his tick-laden performance, which, according to the actor, was a confluence of disparate influences.
Walk stiffly and speak with a strange voice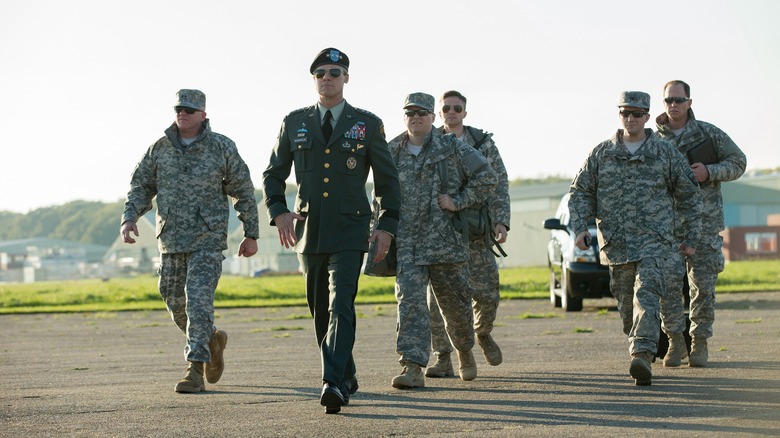 Netflix
Pitt's General Glen McMahon (all of the names have been changed in the film for obvious legal reasons) comes on strong. That's his shtick. He walks with a stiff gait that doesn't loosen up an iota when he runs. You can't imagine a self-infatuated man allowing himself to look like such a dork, but you can easily imagine everyone in his orbit being too afraid to shatter what Pitt, in an interview with GQ's Michael Paterniti, calls a "facade of grandeur."
McMahon's physicality might seem out of whack, but it's a model of normalcy compared to his voice. Pitt acknowledges there's a touch of General George S. Patton in there (it actually feels more like a college kid's inebriated impersonation of George C. Scott's "Patton"), but he stresses the importance of cantankerous actor Sterling Hayden. A leading man in the 1950s via iconic turns in John Huston's "The Asphalt Jungle," Nicholas Ray's "Johnny Guitar" and Stanley Kubrick's "The Killing," Hayden was always a tad too emphatic in the projection of toughness. Many of his characters seemed to be overcompensating. Pitt was probably drawing more from those roles than Hayden's 1970s malevolence in Francis Ford Coppola "The Godfather" or bitter drunkenness in Robert Altman's "The Long Goodbye."
Wrapping up McMahon's vocal DNA: Kiefer Sutherland's portrayal of hard-case General W.R. Monger in "Monsters vs. Aliens" and, uh, Chris Farley.
A clown at the murder factory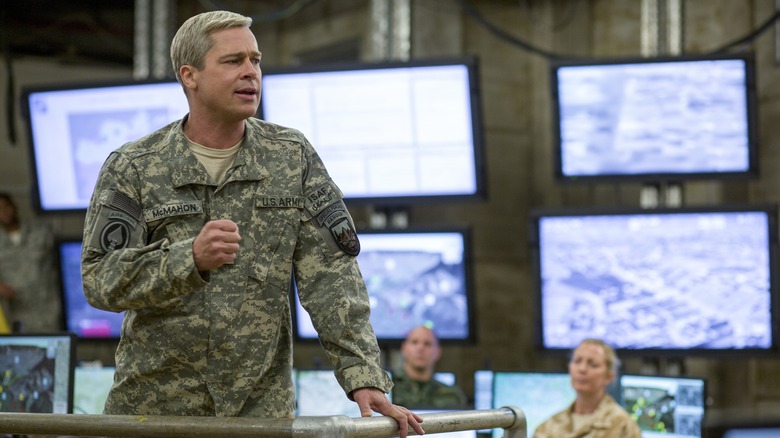 Netflix
"War Machine" is funny and infuriating in equal measure, and you get the sense that this is how the film was built to land. Ultimately, you feel confused. War is a thriving industry in post-9/11 America, and Pitt's McMahon is more opportunist than true believer. He is a perfectly ridiculous man for a ludicrously wasteful business. As depicted in Michôd's film, this is neither funny nor frightening. It just is. That everyone around McMahon is recognizably human in their callousness makes McMahon strangely sympathetic. He's the monster you know, the bringer of death you'd like to have a beer with. Strange there wasn't a studio in Hollywood outside of Netflix that wanted to touch this.
For those keeping industry score, Plan B signed a first-look film deal with Warner Bros in 2020, and an overall TV deal with Amazon Studios the same year.