Jim Carrey Wasn't 'Famous Enough' For A Role In Toy Story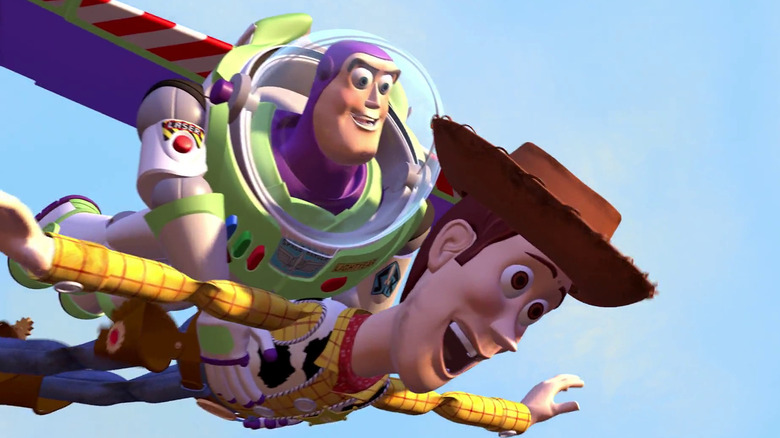 Walt Disney Pictures/Pixar
Some people went a little nuts on the web when it was announced that Chris Evans would replace Tim Allen as the voice of everyone's favorite space ranger in "Lightyear." Some delved into conspiracy theories about Disney canceling the "Galaxy Quest" star due to his politics (subsequently debunked), while Patricia Heaton of "Everyone Loves Raymond" fame ranted that the casting choice "castrated" the beloved "Toy Story" character (get a grip).
I'm not a huge fan of Allen in general, but he made the role of Buzz Lightyear completely his own in the original film and its sequels, TV spinoffs, and video games. His voice work is every bit as memorable as Tom Hanks as Woody, his bluff everyman persona neatly contrasting with the highly strung toy cowboy. While Buzz provides plenty of laughs, Allen played him pretty straight, totally believable as the action figure who thought he really was a space hero, carrying the bravado into the sequels after he learns the truth.
I haven't watched "Lightyear" yet, but from the clips I've seen, Evans makes some smart choices with how he voices the character. "Lightyear" is supposed to be the live-action movie in the "Toy Story" universe that might have made young Andy want a Buzz Lightyear toy in the first place, and Evans emulates Allen's vocal performances while keeping it low key. It makes sense that the cut-rate actor subsequently providing sound bites for the toy might ham it up to appeal to kids (not all actors voice the merch based on their characters).
Allen was so good in the role that it's difficult to imagine anyone else playing the deluded hunk of plastic. But that wasn't always the case.
Many other actors were in the frame to voice Buzz Lightyear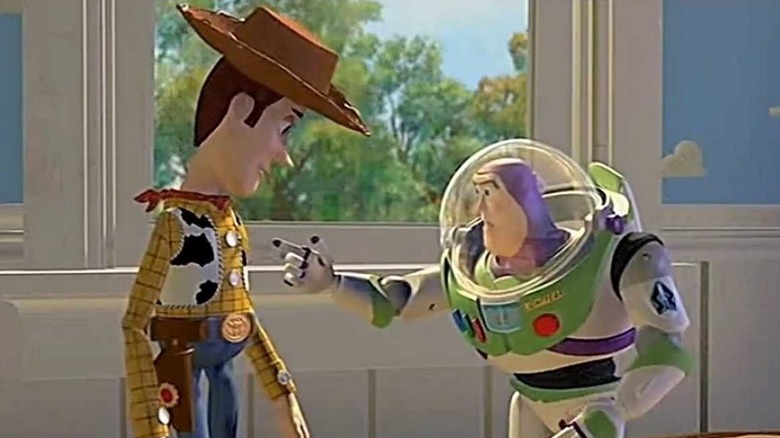 Walt Disney Pictures/Pixar
Billy Crystal was one of Pixar's first picks to play Buzz, and you can check out some test footage online. He walked away because he wasn't convinced the revolutionary animation would be a success — a whole movie generated by computers? Wild stuff, right?! He later said he regretted the decision and made amends by playing an eyeball on legs in "Monsters Inc.," which was better suited to his style of delivery anyway. 
Another big name in the frame was Bill Murray, but he also turned it down. I'm glad he did, because casting him might have made Buzz a completely different character. Murray's performances always have an element of ironic self-awareness, which wouldn't have worked for a character with a complete lack of self-awareness like Buzz.
Plenty of other interesting names out there were linked to the role at one stage or another, including Chevy Chase, Michael J. Fox, Dennis Quaid, Kurt Russell, Adam Sandler, Bill Paxton, Wayne Knight, and David Hasselhoff. I don't know where all the names come from, but let's just take a moment to consider the majesty of an alternative-casting universe where The Hoff plays Buzz Lightyear. I actually think that could have worked rather well!
Another actor definitely in consideration for the role at the time was an up-and-coming live wire named Jim Carrey, who almost certainly would have brought a different approach to Buzz during the wild-and-crazy stage of his early film career. But what stopped him taking the role?
Why Jim Carrey turned down Buzz Lightyear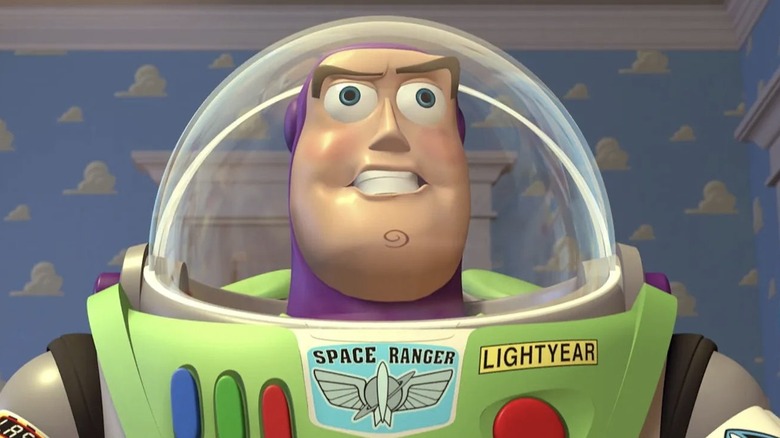 Walt Disney Pictures/Pixar
This is where you get conflicting stories. Many sources cite Jim Carrey's high salary as the reason he didn't take the role, and that might check out despite him being a fairly unknown quantity when the "Toy Story" script was approved in early 1993. He was reportedly paid $450,000 for "Ace Ventura: Pet Detective" (via Variety), one of the triple-whammy of movies released in 1994 that made him a major superstar (along with "Dumb and Dumber" and "The Mask"). Meanwhile, Tom Hanks was only paid a relatively tiny $50,000 to play Woody, so it is possible Carrey blew off the project even at that early stage of his career.
Joss Whedon, who came in as script doctor, suggests another reason. He claimed the problem was that Carrey just wasn't a big enough star yet (via David Lavery's "Joss Whedon: Conversations"):
"We were still casting. Disney put the kibosh on the person they wanted for Buzz Lightyear because he wasn't famous enough, so we couldn't use Jim Carrey."
Whatever the real reason, not-Jim-Carrey Buzz Lightyear is probably a dodged laser bolt. We now know he is capable of great nuance, but at that stage of his career? I think a wacky Buzz would have overbalanced the film, and I just can't imagine the dynamic between him and Woody working as well with Carrey in the role. In came Tim Allen instead, arguably the weakest actor out of all the names mentioned above, with the possible exception of The Hoff. Yet like his "Home Improvement" character, Allen absolutely nailed it.