Does Lightyear Have An End Credits Scene? A Spoiler-Free Guide
Disney/Pixar
"Lightyear" — the new Pixar movie confusing everyone because no one seems able to grasp that this isn't Buzz Lightyear the toy, this is the origin story of the human Buzz Lightyear that the toy is based on — is rocketing into theaters this weekend. And when it arrives, the film will have everyone asking one question: "Is this Buzz Lightyear the toy?" No, damn it! We've been over this! 
Anyway, once that question is cleared up, another question might arise. Namely: does "Lightyear," which stars Chris Evans as the titular spaceman, have a credits scene? Believe it or not, there was a period when this sort of question never came up. When audiences weren't constantly wondering if every single dang movie had a post-credits moment. But the folks at Marvel have changed that. Because every MCU movie has a post-credits scene (and sometimes more than one!), moviegoers have assumed that every movie should have a credits scene. Folks, that simply isn't true!
Except in this case.
Does Lightyear have an end credits scene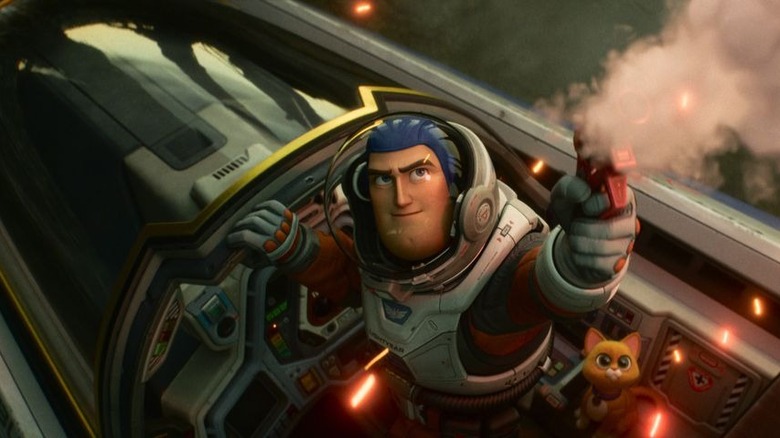 Disney/Pixar
Yes, that's right: "Lightyear" has a credits scene. And since this is a spoiler-free guide, I'm not going to tell you anything else about that scene. You'll just have to sit in the theater as the end credits roll, clutching your empty bucket of popcorn, waiting for the big reveal. But here's what I can tell you about "Lightyear," in the form of a synopsis: 
A sci-fi action adventure and the definitive origin story of Buzz Lightyear, the hero who inspired the toy, "Lightyear" follows the legendary Space Ranger after he's marooned on a hostile planet 4.2 million light-years from Earth alongside his commander and their crew. As Buzz tries to find a way back home through space and time, he's joined by a group of ambitious recruits and his charming robot companion cat, Sox. Complicating matters and threatening the mission is the arrival of Zurg, an imposing presence with an army of ruthless robots and a mysterious agenda.
Our own Hoai-Tran Bui reviewed "Lightyear," and called the film a "perfectly fun time," adding: 
"Lightyear" may not reach the heights of the great sci-fi movies that it pays tribute to, or even the "Toy Story" movies themselves. But it's a visually impressive, escapist riff on the sci-fi epic that, at the very least, might become the favorite movie of some kid, somewhere.
"Lightyear" goes to infinity, and beyond (and movie theaters) on June 17, 2022.