What's The Fate Of Moon Knight's Arthur Harrow? Ethan Hawke Has An Answer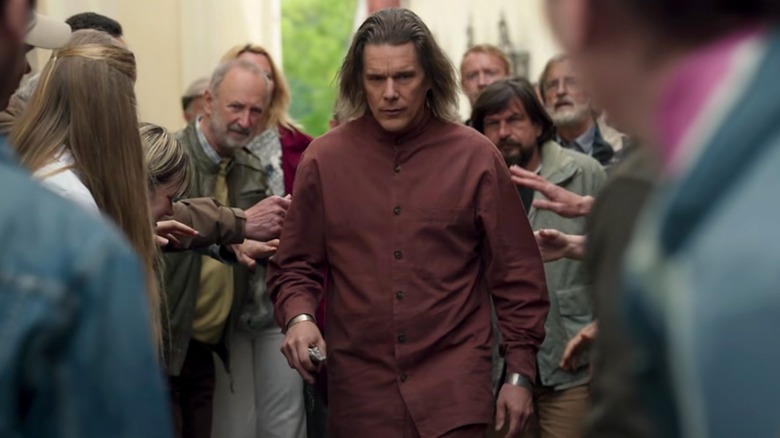 Disney+
Ethan Hawke shook up the Marvel TV universe this spring with his devilish turn as cult leader Arthur Harrow in "Moon Knight." The show's finale saw the unnerving villain seemingly dispatched by another alter of Marc Spector's, murderous Jake Lockley. But apparently, Hawke isn't 100% convinced his character is dead.
In an interview with ComicBook.com, the actor was mostly mum on Arthur's fate, but offered a potential teaser by saying that the character "sure doesn't seem dead to me." Back in March, Hawke also told IGN that he was open to returning if the show earned a second season, saying that the show "lives and breathes on its own merits" as a standalone, but that "if people are engaged and excited by it then it could be the origin story of a larger thing."
This isn't the first time a Marvel TV villain who appeared to be killed off in a season finale has teased their return. Vincent D'Onofrio, who reprised his role as Kingpin (originally from Netflix's "Daredevil" series) in "Hawkeye" last winter, expressed interest in continuing the character despite him apparently being shot in the face in the show's finale. But while an alternate fate for Kingpin is laid out in a pre-existing Daredevil comic arc, Arthur Harrow's plot doesn't seem to be following his comic book counterpart's very closely.
Arthur seems pretty dead ... or does he?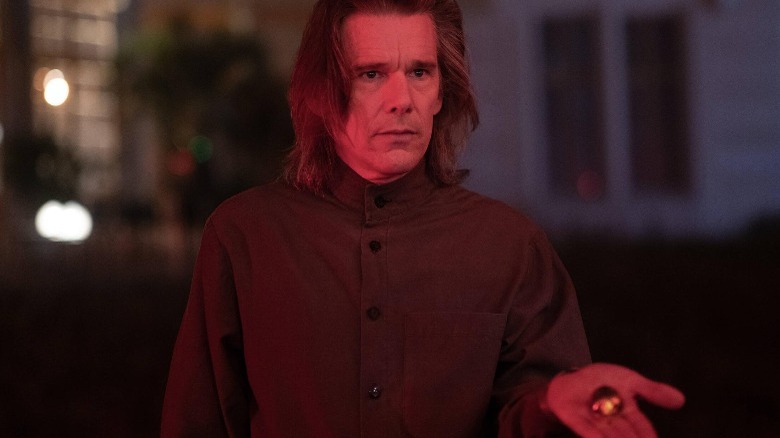 Disney+
In a 1985 "Moon Knight" comic arc written by Alan Zelenetz, Arthur appears as a scientist whose animal experiments turned out to have Nazi ties. At the end of the volume two of the comics, he was still alive but in hiding. Hawke's version of Harrow is a much different character, a man who puts crushed glass in his shoes and worships the crocodile-faced god Ammit. The two bear little more than a passing resemblance, and Hawke's version has already had more time in the spotlight than his comic counterpart. This means that, if the MCU does decide to further its "Moon Knight" plot, it's not beholden to any comic book lore regarding the villain.
While we hate to disagree with Hawke here, the fact remains that the last time we saw Arthur, he seemed pretty dang dead. In the post-credits scene at the end of "Moon Knight," we see Arthur in a debilitated — and possibly drugged — state at Sienkiewicz Psychiatric Hospital. Jake Lockley wheels him out of the facility, past the body of a dispatched staff member. He puts Arthur in a white limo, where he comes face to face with the god Khonshu. "You can't hurt us," Arthur says, but Khonshu begs to differ. Jake rolls down the partition, then fires at least three shots into the backseat despite Arthur's protests.
Despite the clear assassination scene, there are still some indications that Arthur could be alive. After all, we don't see a body. Plus, why would a skilled assassin kill someone in a limo in a public parking lot? There are better ways to do that, right? If it is a fakeout, we may have to wait a while to find out. It's unclear at this point whether "Moon Knight" will have a second season, or where these Phase IV characters will pop up next.