All Of Us Are Dead Season 2 Officially Coming To Netflix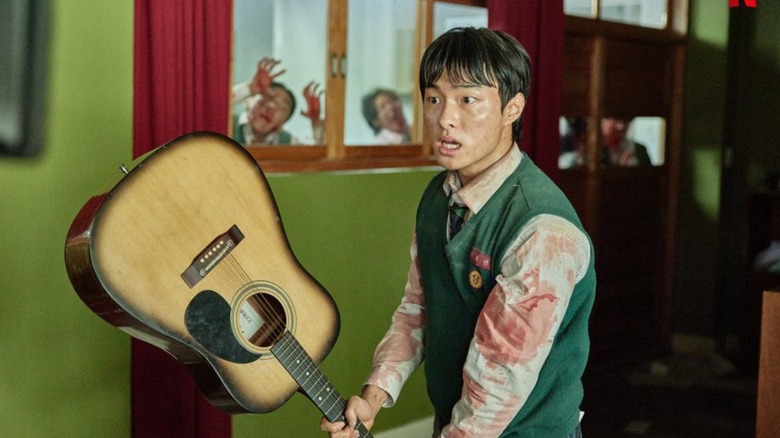 Netflix
Okay, maybe not all of them are dead. The popular Korean zombie drama "All Of Us Are Dead" will be back for a second speed-run through the apocalypse. The new season was announced at Netflix's Geeked Week today, along with a teaser featuring a horde of the undead.
"All Of Us Are Dead" premiered this January with a simple premise: What if an average high school suddenly became ground zero for the zombie apocalypse? The result is an action-packed series full of resilient (and, in some unfortunate cases, not so resilient) characters, including class president Choi Nam-ra (Cho Yi-hyun), school bully Yoon Gwi-nam (Yoo In-Soo), and the band of survivors' heroic leader, Lee Cheong-san (Yoon Chan-young).
Barely anyone made it out of the show's first season alive, meaning the second season will likely look radically different. In the first season finale, six surviving students make it out of the fray and end up in a quarantine camp. In a twist on a familiar genre, the show also introduced the concept of "halfbies," zombie-human hybrids who have some level of control over their murderous urges.
It's 'Train to Busan!'
The renewal announcement teaser is only 17 seconds, but it's interesting nonetheless. The camera starts zoomed in on a black-and-white crowd that, if we didn't know better, would look like it was full of raving partiers. Their arms are up and mouths are open as they move, almost as if they're in sync with some rhythm. But the camera doesn't linger. Just when viewers might begin to recognize fan favorite characters among the horde, it pans out rapidly to reveal that the moshing teens are actually a massive crowd of hungry zombies.
If the prospect of a Korean fast-moving zombie story reminds you of something, you're not alone. The series, which is written by "Your Honor" screenwriter Chun Sung-il, addresses the comparisons to the awesome 2016 horror movie "Train to Busan" from the jump. "It's 'Train to Busan!'" Lee Cheong-san declares after the school's science teacher's experiment kick-starts a zombie plague.
"All Of Us Are Dead" has also garnered comparisons to "Squid Game," but those are probably thanks to its timing — it was released just months after the smash hit Korean series broke records for Netflix — more than any actual similarities. What's On Netflix reports that "All Of Us Are Dead" earned over 362 million hours watched in its first 30 days on the streamer.
"All Of Us Are Dead" season 2 does not yet have a release date, but will stream exclusively on Netflix.