Why The Scrubs' Writers Room Let Neil Flynn Improv So Much On The Show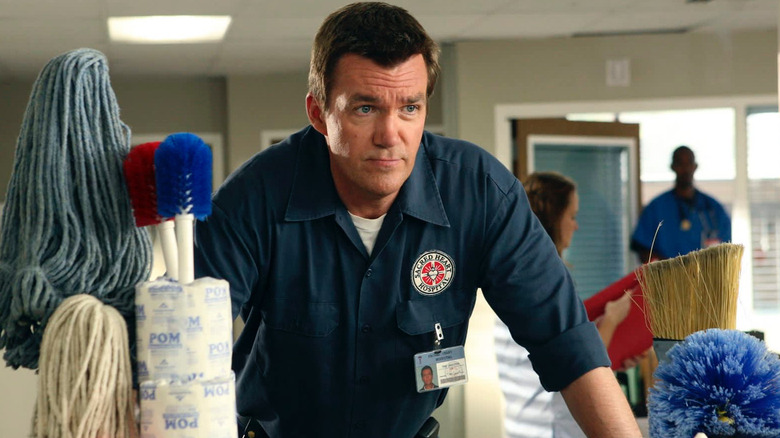 NBC
One could argue the key to "Scrubs" and its wide appeal is that it offers viewers their pick of three different leads to latch onto: J.D. (Zach Braff), Elliot (Sarah Chalke), and Turk (Donald Faison). But if you're like me, the character who really keeps you looking back fondly on Bill Lawrence's beloved medical dramedy is Neil Flynn's Janitor. J.D., Elliot, and Turk are the anchors that prevent the show's brew of slapstick and tear-jerking drama from bubbling over the sides. The Janitor, on the other hand, is a lovable gremlin who delights in sowing chaos in the lives of Sacred Heart Hospital's various employees, especially his day-dreaming arch-nemesis J.D.
Like many recurring characters on "Scrubs" (okay, maybe not "The Todd"), the Janitor took on greater dimensions as the show went on. Yet, even as he did, Flynn's eccentric custodian never lost his knack for spouting non-sequiturs or off-the-cuff nonsense while speaking to others, many of which the actor made up off the top of his head. This also sets "Scrubs" apart from other 2000s sitcoms; where the real "punchlines" on a show like "The Office" tend to be the awkward silences between characters or their reactions to someone else's antics, it's whatever random thing comes out of the Janitor's mouth that's meant to make you laugh.
Speaking to Daily Actor in 2010, Flynn talked about all the improv work he did on "Scrubs" and how it compares to the cringe comedy on shows like "The Office." When asked if he feels it's "cheating" for the humor on a sitcom to come from an actor's stunned reaction and not the line they're responding to, Flynn disagreed.
Whatever Neil says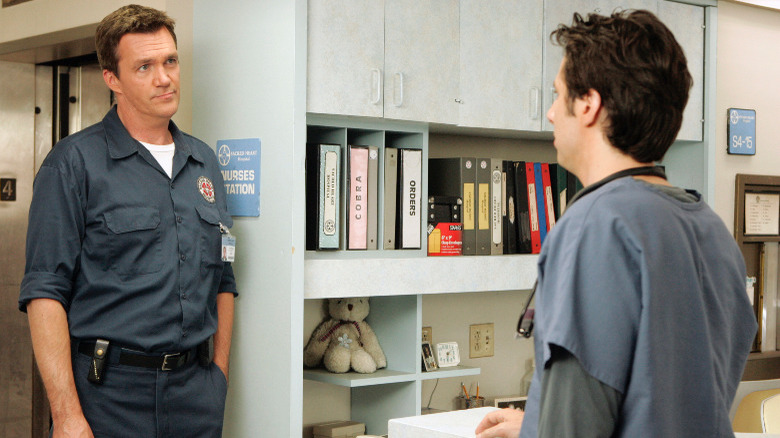 NBC
Neil Flynn elaborated on his reasoning, explaining:
"No, I don't think so. I like it. It did not really occur to me that it was based on awkward or discomfort until I read it somewhere and I agree with that. I guess that is true. I don't classify it as comedy based on awkwardness or anything. It's just a particular sense of humor. I like it though."
That said, the fact that Bill Lawrence and his writing staff would allow Flynn to improvise as much as they did is a testament to their faith in his ability to come up with ridiculous lines that are funny in and of themselves. As "Scrubs" went on, there were even times when the series' writers would type "Whatever Neil says" in their scripts when it was the Janitor's turn to say something, rather than racking their brains trying to come up with something great. Said Flynn:
"That happened just twice I think. Knowing that the scene was open-ended and being on the show as long as we had, they knew that we'd be able to come up with something on the set. Especially scenes I had with Zach Braff. Very early on, we were comfortable altering the dialogue a little bit. Bill Lawrence, the creator, was all for it. He joked that if it was funnier, he'd get the credit."
Again, J.D., Elliot, Turk, and their closest relationships form the heart and soul of "Scrubs" across the show's eight seasons (like Bruno, we don't talk about season 9, aka "Scrubs: Med School"). But the secret ingredient that makes the whole recipe come together? That's the Janitor, a wonderful weirdo who reliably does his part to keep Sacred Heart Hospital running as topsy-turvy yet steady as ever.