Chris Elliott's Favorite Harold Ramis Memory Happened During The Groundhog Day Shoot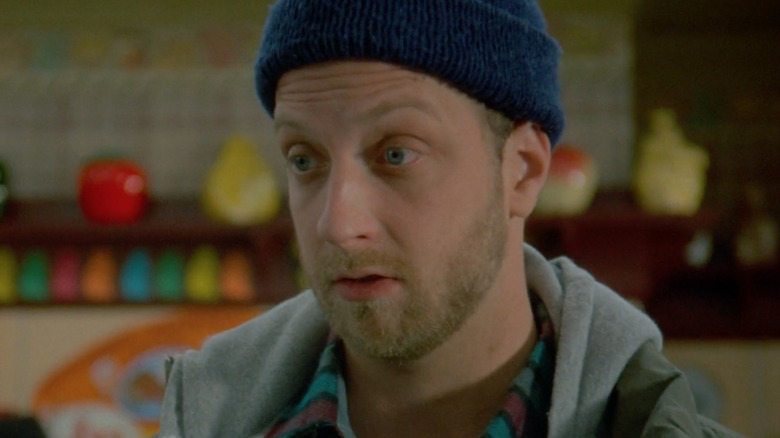 Columbia Pictures
1993's "Groundhog Day" is one of those films you can watch over and over again. It's the story of a jerk of a reporter named Phil Connors (Bill Murray), who is sent to cover the Groundhog Day festival in Punxsutawney, Pennsylvania, where Punxsutawney Phil the groundhog is taken out of his hole to see if there will be six more weeks of winter or not. Phil (the reporter, not the groundhog) hates being there, he hates his producer, Rita Hanson (Andie MacDowell); his cameraman, Larry (Chris Elliott); and the entire town. 
He wakes up the morning after the festival to find that it's not the morning after the festival. It's the very same day. Every day going forward he wakes up to the same song and the same radio broadcast, the same event, and the same people. So, what do you do if you have all the time in the world? If you've never watched, make an occasion to do so, because it's a classic. The film was directed, co-written, and produced by the legendary Harold Ramis, who passed away in 2014. He played Egon Spengler in the "Ghostbusters" films and directed "Caddyshack," "National Lampoon's Vacation," "Analyze This," and more.
Although the film caused a rift between Murray and Ramis, it's remembered very fondly by audiences, and definitely by Elliott ("Get a Life," "Cabin Boy"), who was a writer on "Saturday Night Live" when he was shooting "Groundhog Day." 
'This is an art form!'
Chris Elliott joined Entertainment Weekly for a sit-down video interview where he talked about shooting the film, and his favorite memory of Harold Ramis. He said that one night during shooting, Ramis took him out to dinner. Elliott spoke to him about how much he looked up to the show "Saturday Night Live," and how cool he thought it was. Of course, at the time, Elliott was a writer on "Late Night with David Letterman," and appeared fairly frequently in sketches on the show. 
Ramis told Elliott that the "Saturday Night Live" writers actually thought that "Late Night with David Letterman" as the cool show, and it made a huge impression on Elliott. He said of Ramis and "Groundhog Day":
"He was such a kind and also kind of a George Harrison-type personality. You know, just a real peaceful kind of guy. It's a great movie, still holds up."
It absolutely does. It's one of those films that just sticks in your memory. It reminds us that no matter what sort of person you are, and where you are in your life, with time (though we never do find out exactly how long Phil is stuck on the same day) and desire, you can change. Not a bad lesson to learn.