Evil Season 3 Trailer: Demons, Ellipticals, And Ted Lasso, Oh My!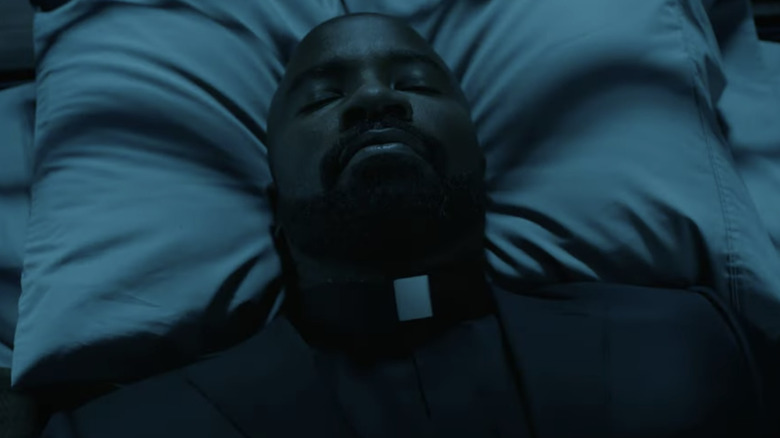 Paramount+
Just in case you've forgotten how uniquely terrifying the world can be, "Evil" has returned with all sorts of ghastly tidings, like a sleep paralysis demon in the nighttime. Since premiering on CBS and then making the move to Paramount+, "Evil" has gone vastly under-appreciated, but make no mistake, it's proven to be one of the cleverest and most unsettling shows on TV. For those still uninitiated into this particular world of hauntings and horrors, "Evil" explores the line between science and religion, with skeptical forensic psychologist Dr. Kristen Bouchard (Katja Herbers) and Catholic seminarian David Acosta (Mike Colter). Teaming up with tech expert Ben Shakir (Aasif Mandvi), they investigate supposedly supernatural ongoings all while dealing with life's most unavoidable horror: Inner demons.
Not unlike "The X-Files," the series is a mix of monster-of-the-week madness and an overall grand plot that sees them facing off against Leland Townsend (Michael Emerson). Who's to say if he's a walking vessel for Satan or just a regular ol' psychopath? Either way, he's dangerous, ridiculously irritating, and, unfortunately, back for season 3. Not many shows can get away with a two-minute trailer featuring multiple exorcisms, a demon on an elliptical, a potential stabbing, and a hilarious allusion to "Ted Lasso," but "Evil" is the perfect mix of horror and absurdity to pull it off. You can check out the new trailer below.
Evil returns for season 3
The third season appears to pick up right where the bombshell finale to season 2 left us: Kristin has confessed to the newly ordained David that she murdered serial killer Orson LeRoux. The revelation was capped off by the duo sharing a kiss — something that's haunting them in the most literal sense of the word. Their nightmares are often plagued by eerie visions, but this time around, there's a romantic twist. When speaking to Entertainment Weekly about the upcoming season, series creators Robert King and Michelle King confirmed that the steamy tension between the two will continue to ripple across the series with even more complications:
"I think we had the same issue coming out of season 1 into season 2, where you sort of paint yourself into a corner. Kristen has killed a man, so how do you get out of that? We felt the same coming from 2 to 3, where the confession was accepted that settled all the issues of season 2 ... but literally five seconds later, the issue of season 3 is introduced, which is: What do you do with this attraction now that he's a priest, and she's married? That's what excited us, getting deeper into what these two characters will do together — especially given that Katja and Mike have such great chemistry."
The third season of "Evil" premieres on June 12, 2022, exclusively on Paramount+. The 10-episode season will roll out weekly on Sundays.