Firestarter's Young Star Already Had A Stephen King Pedigree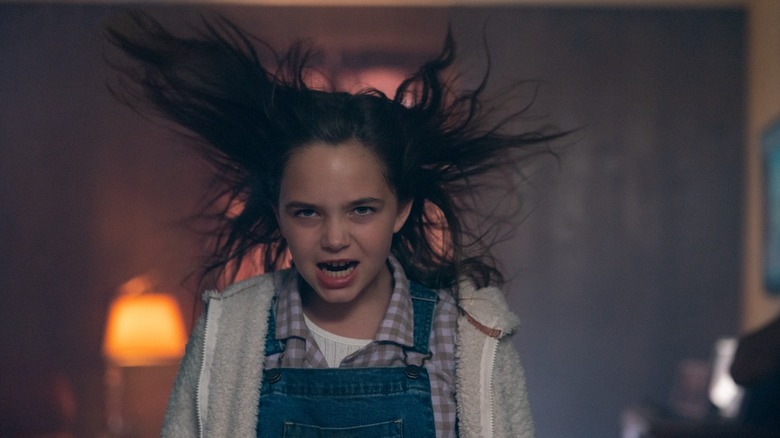 Universal Pictures
Stephen King's "Firestarter" is getting a new shot at life in Hollywood as Universal Pictures and Blumhouse Productions have delivered a brand new adaptation of the famed author's 1980 novel. As horror fans will surely recall, the book was previously adapted in 1984 (an adaptation King is not fond of) with Mark L. Lester in the director's chair and a young Drew Barrymore in the lead as Charlie, the young girl with pyrokinetic powers that causes a whole lot of trouble whilst making a whole bunch of fire. But there's a new Charlie in town with Ryan Kierra Armstrong playing the part in this latest adaptation, alongside Zac Efron, Sydney Lemmon, and the legendary Kurtwood Smith.
As it just so happens, despite the fact that she's not even a teenager yet, Armstrong has already built up quite the acting resume. And on that resume is another King adaptation, meaning this isn't her first rodeo.
Our new Charlie had already been in a Stephen King movie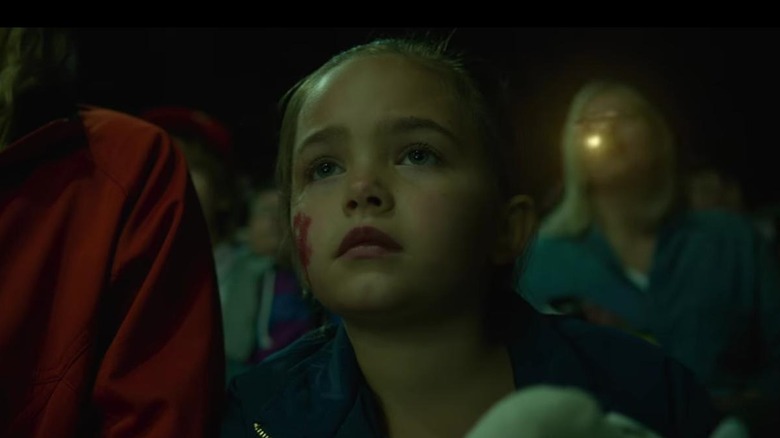 Warner Bros.
Director Keith Thomas, known for "The Vigil," is behind this new interpretation of "Firestarter," which was written by Scott Teems of "Halloween Kills" fame. During a recent conversation with The AU Review, Thomas discussed the casting of Armstrong in the lead role, revealing that he recognized her during her audition — and for good reason.
"Ryan's been acting since she was like 5. It's interesting, when she did her audition I was like 'I know this girl. I've seen her!' and it's because she was in It: Chapter 2, so she's already in a Stephen King movie. But she has not only this type of innate presence in front of the camera and this comfort on set working with everybody, but she's able to just embody the type of turmoil a child who's going through puberty and dealing with the stress of being a kid, as well as being able to melt people's faces off...that's intense. Ryan was able to turn it on and off between takes amazingly. We all felt it. The minute we saw her we knew 'She can do this.'"
Armstrong played the role of Victoria Fuller in 2019's "It Chapter Two," aka the young girl with the birthmark on her face who is tragically lured to her death by Pennywise while at a sporting event with her parents. Even though the young actress was familiar with the horrors of Stephen King, having tangled with Bill Skarsgard's Pennywise in the flesh, the filmmakers still made sure that she was comfortable while filming.
"It's one of those things where her dad is on set. She's read the script so she knows what's being described and what's going to happen. In the instances where there's scenes of particular horror, damage to a human body, let's say, we'd get the prosthetics ready and I'd show her them. She'd touch them, she'd meet the actor, she'd know and be comfortable with it. She'd be like "That's gross!" When it's in broad daylight it looks completely different to what it does in post-production. If she had any questions or felt uncomfortable about anything, we'd explain what we were doing. It was protecting her to a certain extent, but she loved that stuff. She was into all the effects."
A scream queen in the making?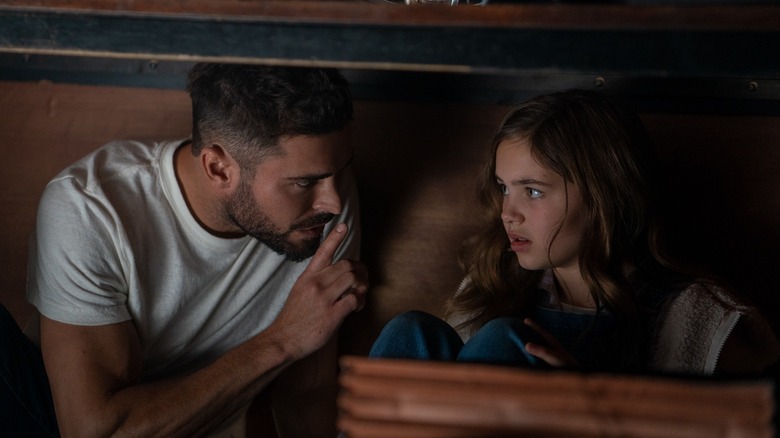 Universal Pictures
Even though her career is only just getting underway, Armstrong is already becoming pretty comfortable in the genre space. Not only does she have "It Chapter Two" and "Firestarter" under her belt, but she also appeared in "American Horror Story" as well as "The Tomorrow War" which, even though it was more of an action/sci-fi flick, definitely had some horror elements to it. Plus, she's set to star in the upcoming murder mystery series "Career Opportunities in Murder & Mayhem." So, it looks like we may well have the makings of a new scream queen.
"Firestarter" arrives in theaters and on Peacock this Friday.
In a new adaptation of Stephen King's classic thriller from the producers of The Invisible Man, a girl with extraordinary pyrokinetic powers fights to protect her family and herself from sinister forces that seek to capture and control her.