Jessica Chastain And Anne Hathaway To Co-Star In Psychological Thriller Mothers' Instinct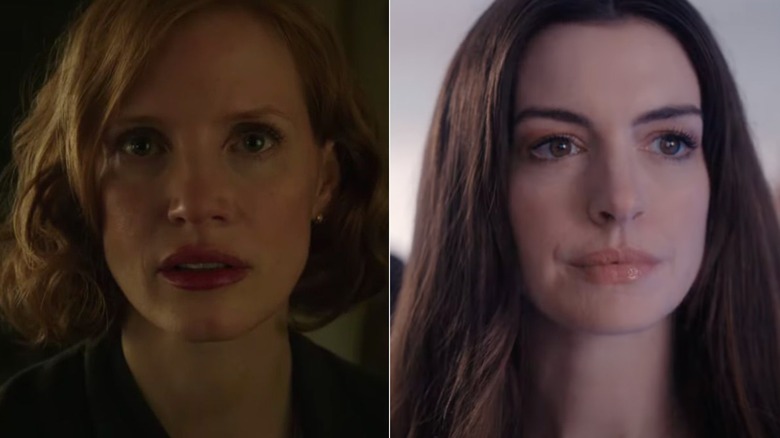 Warner Bros / Apple TV+
Guilt, suspicion, and paranoia are key elements in the upcoming psychological thriller "Mothers' Instinct," which flashes back to the idyllic suburbs of the 1960s. Manicured lawns and happy-go-lucky nuclear families aren't enough to keep the darkness away in this tale, which sees two mothers locked in a battle of wills — and who better to captivate audiences in a stand-off than two actresses so acclaimed, they each have Academy Awards on display? Jessica Chastain and Anne Hathaway are set to star in the upcoming film, which Variety reports has been acquired by Neon.
This won't be their first time sharing the screen — Chastain and Hathaway previously starred in "Interstellar," but this time they'll be together at the center of the action for the movie's duration. The duo star as best friends and neighbors whose relationship is drastically altered after tragedy strikes their community. Belgium director Olivier Masset-Depasse helms "Mother' Instinct," which is a remake of his 2018 film "Duelles." Here's the official synopsis:
"Set in the early '60s, best friends and neighbors Alice (Chastain) and Celine (Hathaway) both live an idyllic traditional lifestyle with manicured lawns, successful husbands, and sons of the same age. Life's perfect harmony is suddenly shattered after a tragic accident. Guilt, suspicion, and paranoia combine to unravel their sisterly bond, and a psychological battle of wills begins as the maternal instinct reveals its darker side."
Hathaway and Chastain both serve as producers on the film, along with Chastain's producing partner Kelly Carmichael. In a statement, Chastain and Carmichael said:
"Neon is a true filmmaker's haven. Their unique vision and distinctive campaigns are a reflection of their mission to bring the best and most diverse cinematic experience to U.S. audiences."
A perfect addition to Neon's upcoming slate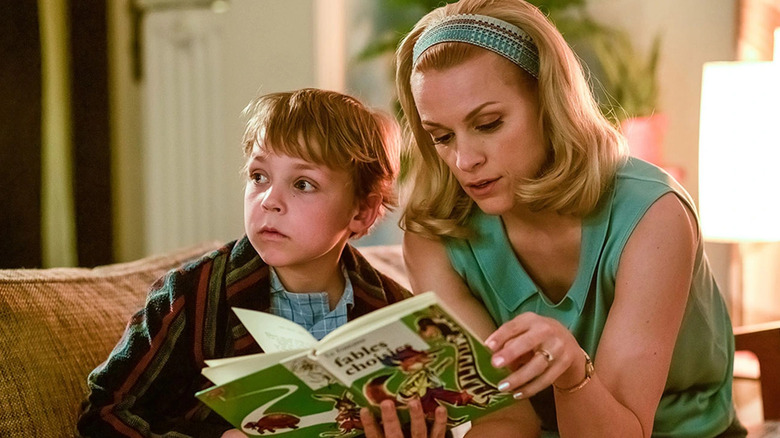 O'Brother Distribution
Neon is continuing its acquisition hot streak with "Mothers' Instinct." The distributor is credited with picking up the US distribution rights to Bong Joon-ho's 2019 masterpiece "Parasite," ushering the film to its history-making sweep at the 2020 Academy Awards. Since then, Neon has acquired gems like "Palm Springs," "Pig" and "Titane." Recently released was Ninja Thyberg's debut feature film "Pleasure," an unrelenting journey into the Los Angeles porn industry that previously made a mark at the 2021 Sundance Film Festival. Neon's upcoming slate also boasts heavy-hitter, including "Fire of Love," a film festival gem about the work and stunning love story of two volcanologists, and "Crimes of the Future," David Cronenberg's return to the director's seat after eight years. Based on screening reactions and the director's comments the highly-anticipated film is a return to his body horror roots likely to inspire some strong reactions from its audience.
Though little has been revealed about the remake, "Mothers' Instinct" makes for a fitting addition to Neon's upcoming slate. "Duelles" was screened as a special presentation at the 2018 Toronto International Film Festival and became a critical hit in Belgium, where it swept the Margritte Awards, winning nine honors that included best film and best director. With Masset-Depasse himself adapting the film, the elements of psychological horror and tongue-in-cheek humor that won it such acclaim are sure to make a return. "Mothers' Instinct" is set to begin production in late May 2022.