Why Vera Farmiga Compares Working On The Conjuring To Eating Caviar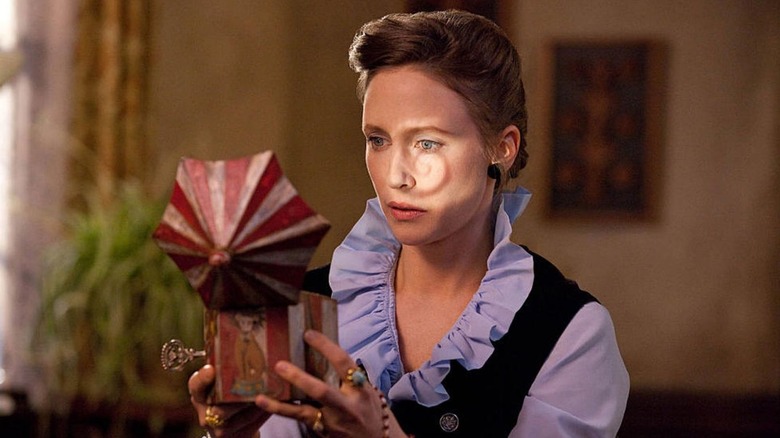 Warner Bros. Pictures
When "The Conjuring" was released in 2013, viewers loved how it combined the subgenres of demonic possession and the good old haunted house, to tell a story of Ed and Lorraine Warren, a controversial real-life couple who were famous for being paranormal investigators. "The Conjuring" has a rain-soaked, atmospheric color scheme that makes it a terrific setting for jump scares, and deserves praise for painting a stellar portrait of how faith (in a higher power and a person) can dismiss even the most frightening demons. Ed and Lorraine's relationship asserts that love and the power of goodness always triumph over evil, and Patrick Wilson and Vera Farmiga's on-screen chemistry — along with the film's terrorizing demons — make it a horror movie that is worthy of your time.
Since its release, "The Conjuring" has spanned into a whole cinematic universe of movies, with James Wan returning at the helm, and Patrick Wilson and Vera Farmiga returning to star. There's a new horror chapter to experience every other year, which is exciting for fans — but also for the film's star cast. In fact, Vera Farmiga is so attached to her on-screen role as the clairvoyant Lorraine Warren that she looks forward to reprising her role. To Farmiga, being able to return to work in the familiar setting of "The Conjuring" films is an experience she likens to eating caviar. She doesn't need to do it all the time — but every few years, an opportunity arises, and she grabs it with both hands.
'The Conjuring is like caviar to me ...'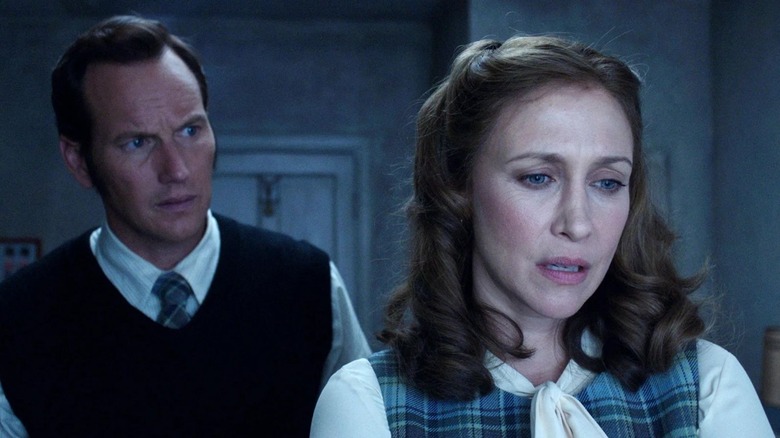 Warner Bros. Pictures
In 2021, Vera Farmiga and Patrick Wilson returned for their third outing as on-screen paranormal investigators Ed and Lorraine Warren for "The Conjuring: The Devil Made Me Do It." The film is inspired by the murder trial of Arne Cheyenne Johnson that took place in Connecticut in 1981. It's famous for being the first case in the US in which the defendant denied personal responsibility for first-degree manslaughter, and sought to prove their innocence by claiming demonic possession. Ahead of the film's release, Farmiga gushed over her experience returning to "The Conjuring" universe for the third time, and how it made her feel, in a video interview with NME.
The actress was thrilled to play Lorraine again, and she went as far as comparing her experience to eating caviar — something you don't want to do everyday, but undeniably appealing for special occasions:
"Conjuring is like caviar to me ... comes every couple of years. I get it; I want more. You don't need it [caviar] every day, but when it comes, you just ... you want more." 
The "Hawkeye" actor respects the work done by the real-life Ed and Lorraine Warren — Farmiga gushed over the prominent clairvoyant, noting she was an approved psychic who worked on over 10,000 cases with her husband. The Warrens left behind a genuine legacy with their investigative work, which the actress believed was something special. 
The Conjuring is different from its spin-offs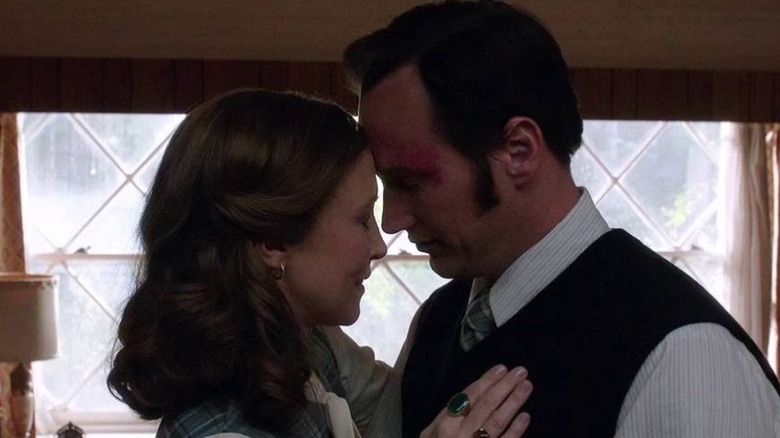 Warner Bros. Pictures
Vera Farmiga also stated how different "The Conjuring" movies were when compared to its spin-offs. "Annabelle" and "The Nun" films featured two of the franchise's biggest evils — the haunted doll and the demon nun Valak. These movies were about the villains. What made "The Conjuring" different from the other films is that it made viewers root for the heroes — Ed and Lorraine instead:
"The thing that separates us from the offshoot of 'The Conjuring' films, like people wilting into 'The Nun' or 'Annabelle' to keep up with the villain, whereas in our franchise, they [fans] do root for the superhero and the heroine."
"The Conjuring" will always be a memorable horror franchise because, beyond its raggedy haunted dolls, effective jump scares, and frightening demonic possessions, it tells the story of a romance that transcends everything. Love is the franchise's secret weapon, and it binds Ed and Lorraine together so intimately that you'll always watch these movies (and their many, many sequels) not necessarily because you want a good scare — but because Farmiga and Wilson's chemistry is devastatingly good, and you know everything will be okay in the end. And if you're lucky, Wilson might belt out an Elvis Presley song.