Patrick Stewart Had No Idea Who Sting Was While Working On David Lynch's Dune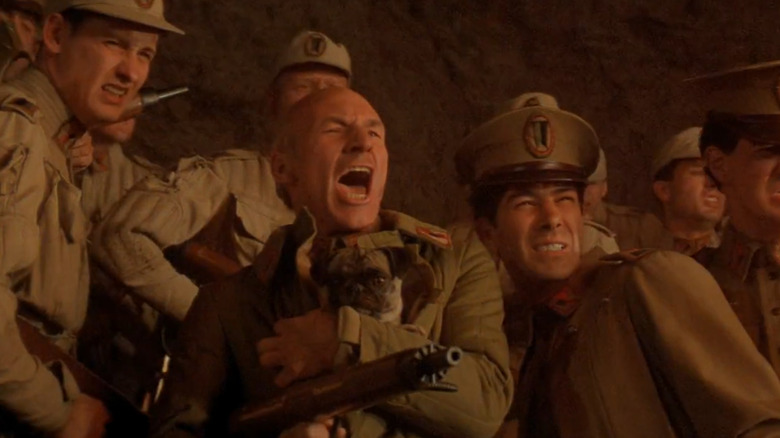 Universal
In 1984, Sting was practically a household name. His band, The Police, had released their last studio album titled Synchronicity a year earlier in 1983, and that album included such chart-topping singles as "Wrapped Around Your Finger," "King of Pain," and the immortal "Every Breath You Take," with the video for the latter in heavy rotation on MTV.
The man also known as Gordon Sumner was no stranger to the cinema screen, either — beginning his acting career in 1979's "Quadrophenia," he appeared in movies like "Radio On" and "Brimstone & Treacle" before producer Dino De Laurentiis became interested in casting the music megastar and budding thespian in his screen adaptation of Frank Herbert's "Dune."
"Dune" director David Lynch had no problem putting Sting in the pivotal role of Feyd-Rautha Harkonnen, the heir to the evil Harkonnen empire who is destined to duel to the death with the Atreides heir and leader of the Fremen, Paul (Kyle McLachlan). After Lynch had such a success working in London on 1980's "The Elephant Man" with theatrically trained British actors, he cast a number of stage performers in supporting roles. One of those actors happened to be Patrick Stewart, a performer who had just recently left the Royal Shakespeare Company in 1982 after working there for 16 years. Although he'd made a handful of feature films prior to "Dune," Stewart was still a novice when it came to music; prior to their sharing the screen, he'd never heard of Sting before!
Stewart finds he can't tell a baliset from a bass guitar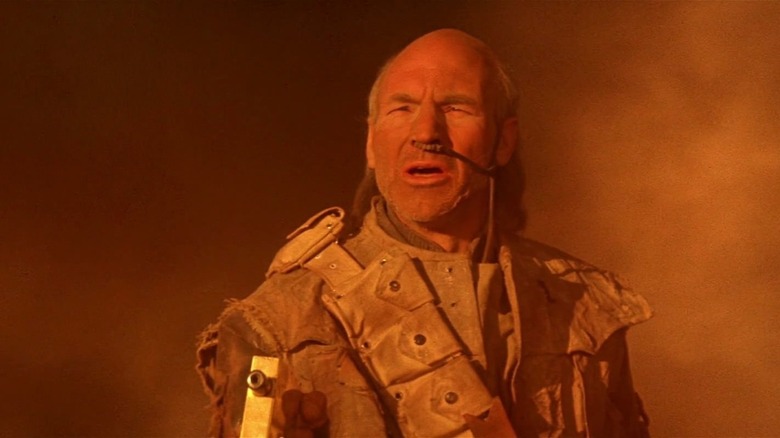 Universal
Cast in the role of Atreides warrior and musician Gurney Halleck, Stewart had to pretend to play Gurney's baliset (a fictional stringed instrument invented for the book by Herbert) for a scene that ultimately was deleted from the film which appeared in the later, infamous TV version. In addition to not being a musician, Stewart was already thrown off by his casting — as he recalled in a live appearance at 2013's Emerald City Comic Con (by way of The Hollywood Reporter), "the fact is David Lynch thought he had cast somebody else." Though Stewart didn't elaborate beyond that, he clearly was feeling a little lost while making the gigantic production down in Mexico where the film shot.
Perhaps that helps explain his confusion upon meeting Sting, as Stewart couldn't fathom why people around him on set were in awe of the young musician. As Stewart explained, "music, at least popular music, has never played a big part in my life ... I had never heard of Sting. That's how isolated I was from the music world." Eventually, Stewart "heard he was a musician," and one day on set the actor chatted up the Police frontman, asking him what instrument he played, to which Sting replied "bass." Stewart attempted to play it cool, remarking how he'd "often wondered what it is like carrying that huge thing around wherever you go."
Sting, who understood Stewart's confusion, tried to clarify: "He said, 'No, bass guitar,'" explaining to Stewart that he was "in a band." When Stewart asked, "What kind of band?" Sting replied that he was in The Police. To which Stewart made the hilariously befuddled follow-up inquiry: "You play in a police band?" Obviously, the two were eventually able to get on the same page, but not before Stewart had proven his cluelessness regarding the music world several times over.
Sting continues acting, and Stewart ... sings?!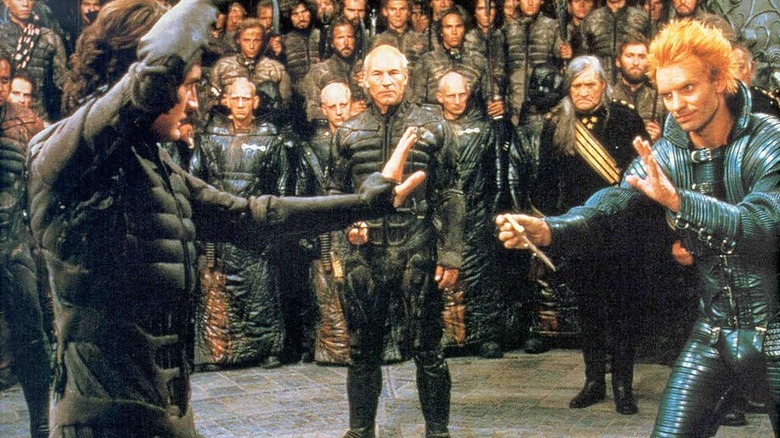 Universal
Despite its disappointing performance at the box office and with critics in December of 1984, "Dune" did not mark the end for the careers of either Sting or Patrick Stewart. As Sting continued to record hit after hit in the music industry as a solo artist, he kept his acting career going as well. Though the majority of his screen credits see him playing himself, he still snuck in a few character turns, including the menacing JD in director Guy Ritchie's 1998 breakout film "Lock, Stock and Two Smoking Barrels."
For his part, after "Dune," Stewart was cast as the lead in TV's "Star Trek: The Next Generation," portraying Captain Jean-Luc Picard. While that role caused Stewart to become his own household name and led to a huge number of further roles on TV and film, it also provided him with the rare opportunity to showcase his chops as a musician, singing a rousing drinking song in the episode "Allegiance." Stewart even cut his very own album in 2016, PStew's Cowboy Classics, filming an infomercial parody to accompany it. Though the album was expressly a joke EP intended to help raise money for the International Rescue Committee, it still qualifies the actor as a recording artist, meaning that he and his "Dune" castmate Sting ended up finally finding some common ground.