Here's Why Three Famous Directors Are Thanked In The Northman's Credits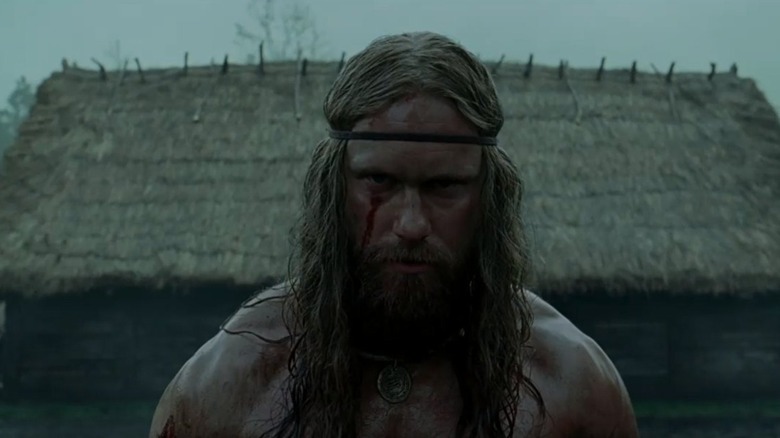 Focus Features
Director Robert Eggers has managed to make quite the name for himself in a relatively short period of time (as far as moviemaking goes) with his first two movies, "The Witch" and "The Lighthouse," putting him on the map with lovers of cinema in a big, bad way. Now, Eggers is looking to make himself known to a much wider audience with his latest effort, the bloody Viking revenge tale "The Northman." Interestingly enough, several other huge filmmakers get thanked in the credits of the film. So, why did the guys behind "Midsommar," "Home Alone," and "Gravity" all get thanked by Eggers?
A murderer's row of thank you's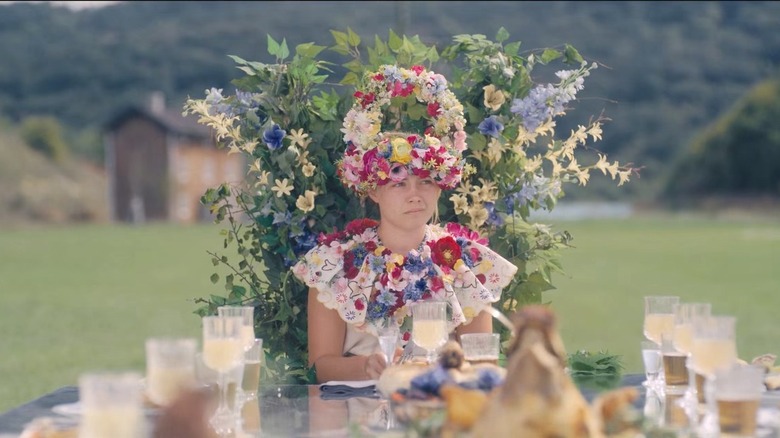 A24
Fear not, we will not be getting into spoilers for "The Northman" here but during the film's credits, Ari Aster ("Hereditary"), Chris Columbus ("Harry Potter and the Sorcerer's Stone"), and Alfonso Cuaron ("Children of Men") are all thanked. So, how did that come about and why is it that these three very different, very talented fellow filmmakers were singled out by Eggers? Speaking to Collider the man himself had a pretty straightforward but enlightening answer.
"They all saw the film at some point and gave me notes and support."
It is not at all uncommon for filmmakers to watch another director's work during the editing process and offer support in the form of notes. In this case, it seems Eggers got some pretty heavy-hitters to take a look at what he cooked up, and the support they offered was substantial enough that it warranted a pretty big thank you in the credits. The idea that these directors, who all have such differing and unique sensibilities, helped Eggers, a man with his own very distinct style, shape his biggest movie to date is fascinating. To be a fly on the wall for those conversations.
A brutal process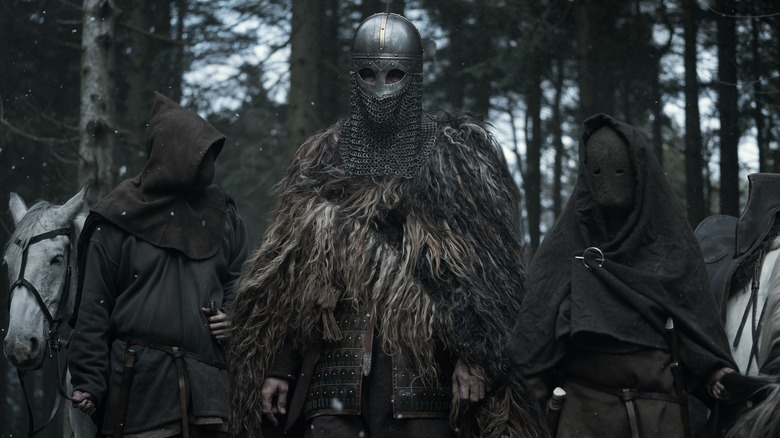 Focus Features
One thing that has been made clear is that Eggers certainly could use the help. "The Northman," which boasts an A-list cast led by Alexander Skarsgård, carries a very steep $90 million budget and that means this movie has to appeal to the widest possible audience. Aster, Columbus, and Cuaron have all managed to get to levels of mass appeal in their own ways. Focus Features and Regency, the studios behind the movie, knew they needed an entertaining final product and that meant the editing process was a brutal one. In the same interview, Eggers said the following:
"Before I gave this script to the studio, I knew that it was going to be so big that I was not going to have final cut. I knew that was going to happen. And it was a risk that I was willing to take. And the studio was really great in pushing this movie forward and staying with it all through COVID when a lot of movies died. But the editing process was incredibly difficult because I promised them the most entertaining Robert Eggers movie I could possibly make. But entertainment is not my first instinct. So, the editing process was really painful for me because of the studio pressure. But I needed that pressure to deliver this movie."
The cast also includes Willem Dafoe ("The Lighthouse"), Nicole Kidman ("Big Little Lies"), Claes Bang ("The Square"), Anya Taylor-Joy ("The Queen's Gambit"), Ethan Hawke ("Moon Knight"), and Icelandic musician Björk.
"The Northman" hits theaters on April 22, 2022.