We Own This City Series Review: An Uncompromising And Grim Look At The Modern American Police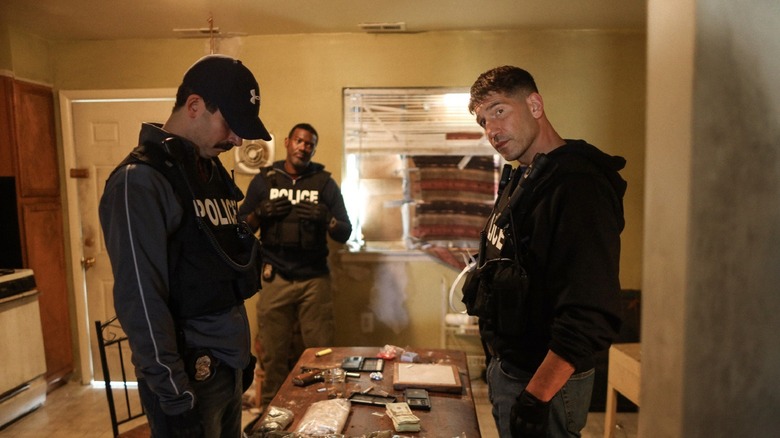 HBO
The words "We own this city" are uttered eventually in the six-episode HBO miniseries of the same name, by a crooked cop leading a special task force ostensibly on the streets to take in guns and drugs in the city of Baltimore. But it's arguably a line that doesn't need to be spoken, because of the vast and existentially bleak sense of a corrupt and rotting system beyond fixing that's depicted from the first minute of this uncompromising series. Here is a massive, all-encompassing series that functions almost like visual journalism in carefully, methodically, and fiercely depicting the many ways in which Baltimore has failed its citizens through its politicians and police. Here is, in other words, a new David Simon project. Coming from the ex-journalist who proceeded to create HBO's "The Wire", aka one of the very best drama series ever made, "We Own This City" arrives with understandably high expectations. And broadly speaking, it is a successful, unflinching, depressing tragedy of American proportions — though perhaps a bit less so than Simon's other works.
"We Own This City" is based on a recent true story, as documented by journalist Justin Fenton in his book of the same name, about immense corruption at the hands of the Gun Trace Task Force of the Baltimore Police Department. The task force was led primarily by Wayne Jenkins (Jon Bernthal), a cop who we see moving up the ranks of the BPD throughout the 21st century before his eventual downfall in a federal racketeering case. He and a handful of other selfish, cruel, and hypocritical officers — portrayed by, among others, Josh Charles, McKinley Belcher III, and Darrell Britt-Gibson — are caught after a time, tracked for years by some careful FBI agents even as their behavior is condoned in everything but name only by everyone up to and including the current BPD Commissioner (Delaney Williams). 
Now, fair is fair: you may find it something of a spoiler to come right out and admit that Jenkins and his fellow officers were arrested for their crimes (even though, again, history is only so much of a spoiler when it comes to fictionalized adaptations). But Simon and co-developer/writer George Pelecanos employ an intriguing if not entirely successful creative gambit throughout each of the six episodes, jumping back and forth through time between 2003 and 2017. And within the various time jumps, we follow a handful of characters. Aside from the single-minded and horrific Jenkins, there's also Nicole Steele (Wunmi Mosaku), a civil rights attorney with the U.S. government trying to enforce better policing rules at the tail end of the Obama Administration; Sean Suiter (Jamie Hector), a Baltimore detective who gets involved with Jenkins and his task force; Erika Jensen (Dagmara Dominczyk), the lead FBI agent interrogating the various arrested cops; and those cops themselves, who each get time to share parts of their stories.
Modern visual journalism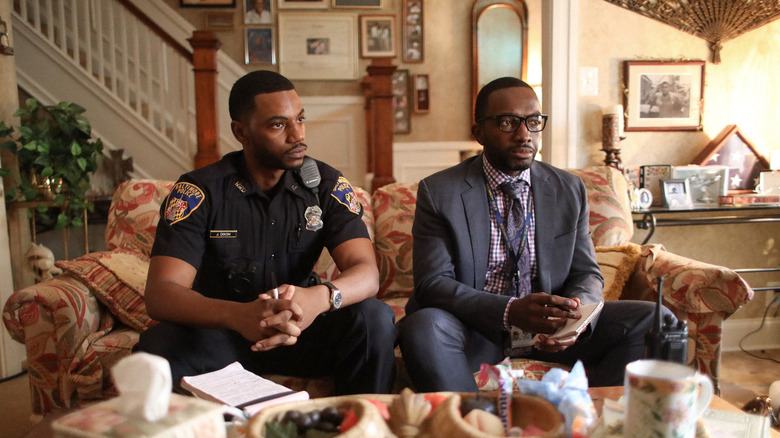 HBO
The sprawling focus of "We Own This City" is such that each of the six hour-long episodes is trying to serve a number of creative masters, and not always successfully. The most compelling angle within the six episodes is that of its most recognizable actor. Bernthal has worked with Simon before, on the 2015 miniseries "Show Me A Hero" (itself another real-life dramatization of big-city corruption), but he has rarely played someone as nasty and as viscerally charismatic. In a career of strong performances, this is very close to the best work Jon Bernthal has ever done, even though he's bringing to life a cop whose ability to compartmentalize everything from his personal life (cooing over his newborn baby with his wife one second, getting a lap-dance from a stripper the next) to the right and wrong way to be a cop (using racial profiling to shake down innocent people while also planting drugs and money to raise his arrest records, and also stealing some money on the side whenever he can). Wayne Jenkins' inability to see how his own actions are so odious is startling — though we see his arrest very early on in the series, most of the scenes Bernthal gets are from before the cop is in handcuffs. But Bernthal's ability to bring this crooked cop to life is staggering in the best way.
A close second to Bernthal is Jamie Hector, delivering a much more restrained but no less powerful performance. His Detective Suiter is a seemingly more of a strait-laced cop than Jenkins and the rest of his Gun Trace Task Force. (The opening-credits sequence features, among others, a quote from the city's real-life police commissioner comparing them to old-school gangsters, a comparison they more than live up to throughout the miniseries.) In the first couple of installments, it's not quite clear where or how Suiter will fit into the larger framework of this story, precisely because he's less intimidating and less venal than the other cops. But just as in "The Wire" (where Hector portrayed Marlo Stanfield), the slow, gradual clarity with which his character connects to these toughs only makes for a more heartbreaking ending.
"The Wire" and its influence does hover pretty heavily over "We Own This City" throughout its six episodes. Here is David Simon returning to his home (both creatively and literally) for another bleak drama of modern corruption as it expands across the entirety of one of America's major metropolitan areas. And "We Own This City" reunites a number of recognizable names and faces from "The Wire." In front of the camera, aside from Hector, there's also Britt-Gibson, who played O-Dog; Williams, who played Sergeant Jay Landsman; Domenick Lombardozzi, as a police union rep here after playing Herc on the earlier show. And Pelecanos, already a beloved novelist, wrote on "The Wire" with Simon for many years. And last, yet not least, there is the general focus and the rising yet no less noticeable anger of capturing this story. While many facets of "We Own This City" represent the kind of fiction that lines up with modern visual journalism that was present in "The Wire" and "Treme" and "Show Me A Hero," there is a seething (and extremely understandable) fury as the show reaches its conclusion.
Moving back and forth in time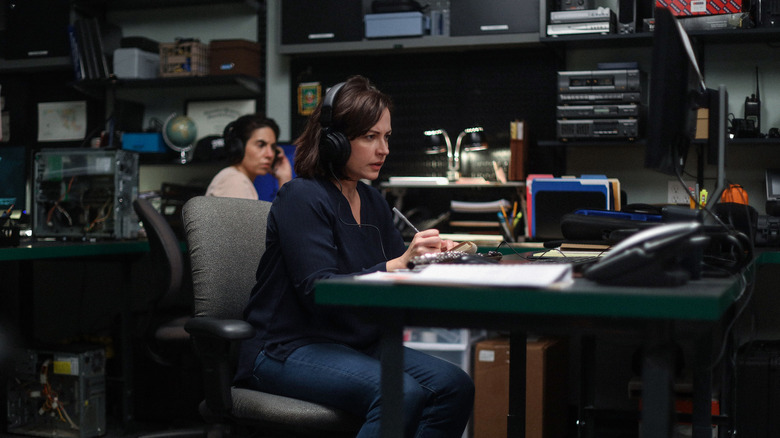 HBO
For those of us who haven't read Fenton's book, it's easy to wonder if the source material also moves back and forth in time, flitting between its major players. As much as series director Reinaldo Marcus Green (fresh off his work as director of "King Richard") does his best to bounce between timelines — every time we jump to Jenkins' ascent, it's reflected via computerized status updates from his day-to-day on the force —  there end up being just one or two too many balls to juggle. The jagged focus on characters and timelines ends up being more complicated than necessary, especially considering that the material itself is understandably rigorously explained.
To encapsulate all of the various characters within the TV version, though, "We Own This City" does end up leaning less heavily on a few characters, thus making their presence by the end a bit less impactful. One of the most interesting casting choices, for example, feels less powerful as the show rolls on; some viewers will see Josh Charles, from "Sports Night" and "The Good Wife," and be duly shocked and impressed at how easily he slips into the role of Daniel Hersl, a particularly cruel BPD cop who moves into the task force after he proves his bona fides as a nasty piece of work. But though Charles is among the most familiar in the ensemble, he's got a lot less to do outside of the first two installments. (A shame, if only because he's quite good in his odious role.) Then there's Mosaku, who some viewers may recognize from her recent supporting work in the MCU show "Loki," as an attorney swept up in the waves of modern American history as she attempts to help figure out the root causes of the BPD's immense corruption. (In the first episode, a new hire in her office laughs at the notion that Donald Trump could ever get a nomination for President, and ... well ... yeah.) 
Mosaku, like the rest of the ensemble, is quite good in her role, but especially in the back half of the miniseries, her character Nicole Steele feels like she represents a break in the action as opposed to a necessary part of the story. "We Own This City" understandably wants to — by the simple act of depicting their behaviors — excoriate these Baltimore cops for what they did to innocent civilians, but even in the more measured style of writing from Simon and Pelecanos, it's easy to see why the show is most alive when they're front and center on camera. 
"We Own This City" is, if it is not already painfully clear, not exactly an upbeat romp. (But then, it's a David Simon show, so what did you expect?) Like many great HBO dramas, especially those from the creator of "The Wire," it boasts an incredibly deep ensemble of richly talented performers all doing phenomenal work. Jon Bernthal, reuniting with both Green and Simon (having been on "Show Me a Hero" for the latter), is delivering a career-best performance in particular. If there's anything wrong with "We Own This City," it's that it bites off a bit more than it can chew in presenting a city past the brink of disaster. But overambitious as it may be, this show is as dark, as effective, and as unsparing as David Simon's other work.
/Film Rating: 7.5 out of 10
"We Own This City" premieres on HBO on April 25, 2022.