Zoe Bell Will Direct An Action Comedy Based On Her Viral Boss B**** Fight Challenge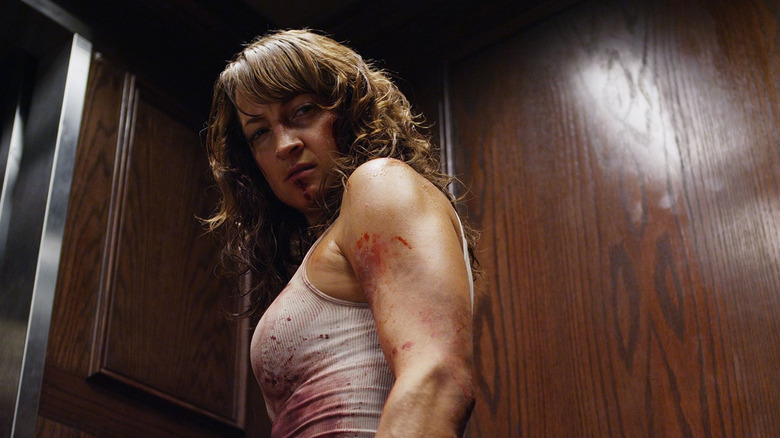 Sabay MVP
Even the worst circumstances can inspire great art — or so Hollywood has spent the past year trying to prove with various filmed-in or inspired-by the pandemic. For better or worse, we'll be enduring stories about people trapped in isolation for many years to come, but on the brighter side, we also get to spend more time with the creativity that was born during quarantine. Sans a couple of "Imagine"-esque stinkers, being trapped inside worked wonders on some folks' imagination, including the likes of Zoë Bell, the stuntwoman and actress known for three decades of work. While the rest of us were getting really into sourdough and long walks through the neighborhood, Bell was putting together a thrilling and increasingly violent challenge: the Boss Bitch Fight Challenge.
The culmination was a video dropped to Instagram that played like a violently virtual version of telephone. With famous faces including Halle Berry, Scarlet Johansson, Margot Robbie, Sophia DiMartino, and many more, the video features various celebrities and stuntwomen kicking some virtual ass by violently attacking their cameras (you can check it out here). With Daryl Hannah channeling her Kill Bill character's penchant for needlework, Robbie whipping out a bat a la Harley Quinn, and even Lucy Lawless showing up with her Xena charms, the video rivaled "Avengers: Endgame" for the greatest crossover event of the century. So naturally, a Hollywood studio swooped in with the only possible response to this virality — turn it into a movie!
Boss B***** Fight Challenge... The Movie!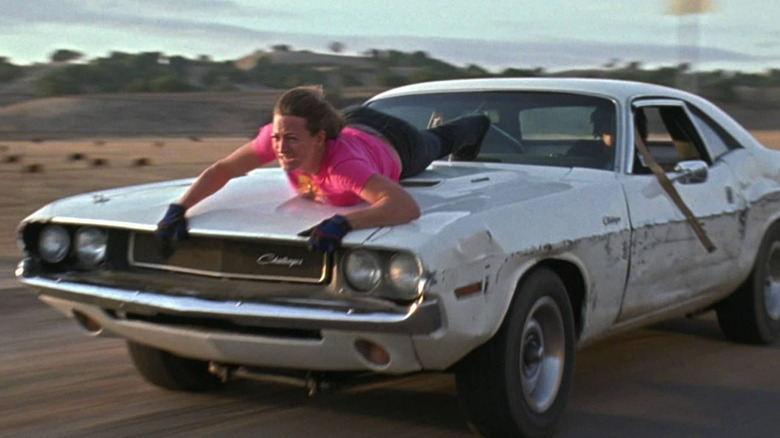 Dimension Films
Per Deadline, Lionsgate has picked up an action-comedy pitch from Kirsten "Kiwi" Smith and Mamrie Hart, and tapped Zoë Bell to direct the movie based on her quarantine short film. An industry trailblazer, Bell has been in stuntwork since 1992, eventually going on to forge a decades-long relationship with Quentin Tarantino as a stuntwoman and actress in his film including "Death Proof," "Kill Bill," and most recently, "Once Upon a Time in Hollywood." With a prolific filmography and years of experience, who better knows the ins and outs of action-packed filmmaking? This marks Bell's directorial debut, a promising prospect given her career thus far. Speaking on Lionsgate's excitement for the project, president of production Erin Westerman said:
"Zoë has built up a huge fan base over the years – which is no surprise, because she's a bona fide icon who kicks ass and takes names in a part of the industry still dominated by men. Her legend only grew with the 'Boss Bitch' video that everyone loved during quarantine. After a long and storied career of taking the hits, she'll now be calling the shots."
A writer on the project, Smith is best known for working on some of the funniest studio comedies of the late '90s and early aughts including, "Legally Blonde," "10 Things I Hate About You," and "She's the Man." If the name Mamrie Hart doesn't trigger some very specific memories from the 2010s YouTuber era, then just know that the comedian and actress has a dedicated following of over 3 million followers across social media, and is also the writer behind comedies, "Camp Takota" and "Dirty 30."
There's no word yet on plot specifics or casting, but fingers crossed that some of the featured friends from the original short film will make their grand return for even more badassery.