Sebastian Stan Likes To Venture Out Of His Comfort Zone With His Roles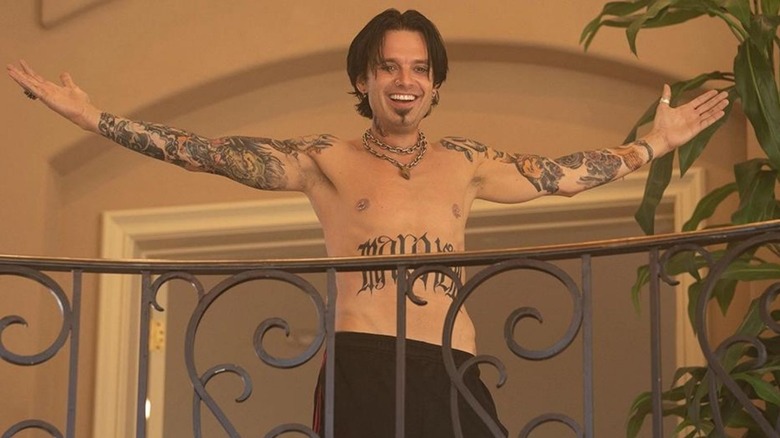 Hulu
Mainstream movie fans know Sebastian Stan as the MCU's Winter Soldier, aka Bucky Barnes — World War II veteran, Avenger, Captain America's best friend, and ex-HYDRA prisoner. Stan has had a longstanding role in the Marvel Cinematic Universe. He has made multiple appearances in films, his most recent being a starring role in Marvel's Disney+ series "The Falcon and the Winter Soldier." The actor has had a memorable stint in the world of superhero films, but his current work displays how versatile he is as an actor.
Stan had a busy beginning to 2022. The actor stars in Hulu's critically acclaimed series "Pam & Tommy" alongside Lily James, where he plays Mötley Crüe drummer Tommy Lee. In "Fresh," a thriller that depicts the horrors of modern dating, Stan delivers his scariest performance yet alongside Daisy Edgar Jones. With his new body of work, the actor is clearly sending us a message: He wants to get out of his comfort zone with his roles and do something different with every project.
The actor doesn't want to get comfortable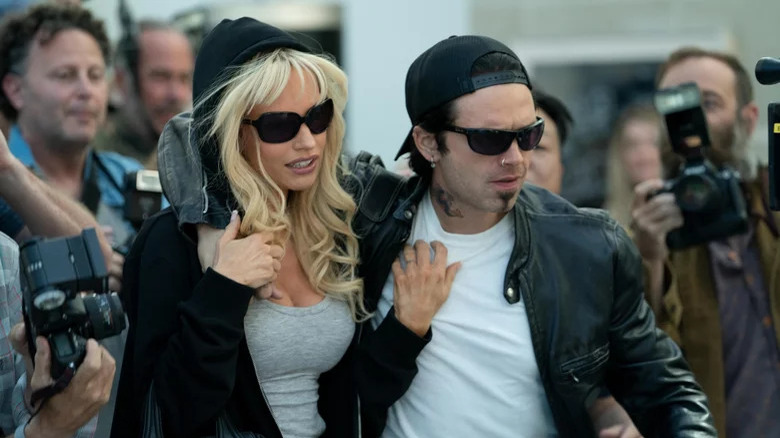 Hulu
In an interview with IndieWire, Sebastian Stan shared that he gravitates toward roles that "freak him out." He believes fear to be a good indicator of something he should do and doesn't like to listen to the inner voice that tells him to play it safe:
"More and more as I've gotten older, when I read something that really kind of freaks me out a little bit and I get the voice that's like, 'Don't ever go near this,' then I'm more drawn to it as a result ... I find usually that fear is a good indicator of something that I have to sort of step into perhaps to understand better."
Stan also revealed that he feels anxious about his future projects. As a performer, he doesn't want to get comfortable at work. The actor wants to explore challenging roles that will test his limits as an entertainer. Stan's recent projects prove that the star is straying away from anything that would exude comfort:
"I feel like I'm just as anxious now about what do I do next as I was a few years ago ... I don't know if that's ever going to change, and I don't know if I'm ever going to want it to change. I hate comfort. I don't like to feel comfortable, work-wise. I feel it's easy to get comfortable. I think it's easy to get sort of trapped as an actor and to just do things."
'We have to keep bringing light to things'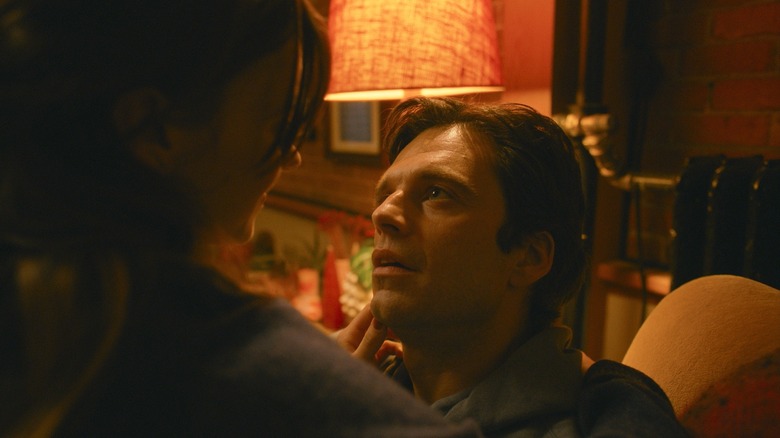 Hulu
As Tommy Lee, Sebastian Stan had to undergo an unrecognizable physical transformation — his role demanded him to wear tattoos and learn what it was like to be a rock star. As Steve in "Fresh," Stan played a creepy cannibal on a date gone horribly wrong. His character's obsessions drive the story, and Stan delivers his most terrifying, outlandish performance yet. The actor is not afraid to explore darker roles, and he feels a responsibility to bring something new to the table.
Stan added that movies weren't always about escapism, and he was a firm believer in bringing light to things — however uncomfortable they may be:
"We have to keep trying to stay open in educating ourselves and understand as long as the intentions are right, that perhaps we can learn something from it ... It's not always escapism. It's not always just to be tossed around for pure entertainment's sake. There's a place for that too. At the end of the day, it's about learning about each other and one's self, and I'm a firm believer that sometimes that includes difficult things. We cannot pretend that certain things don't exist. That is not the way that those things will be handled. We have to keep bringing light to things, even the things that are uncomfortable, the things that we don't want to."
Stan will be seen next in "The Brutalist," which is described as an epic saga and an unconventional love story following an artist and his wife who flee post-war Europe. The actor will also appear in the A24 comedy thriller film "Sharper," helmed by award-winning director Benjamin Caron.
Both "Pam & Tommy" and "Fresh" are now streaming on Hulu.