Anne Hathaway's First Meeting For The Dark Knight Rises Didn't Go As Planned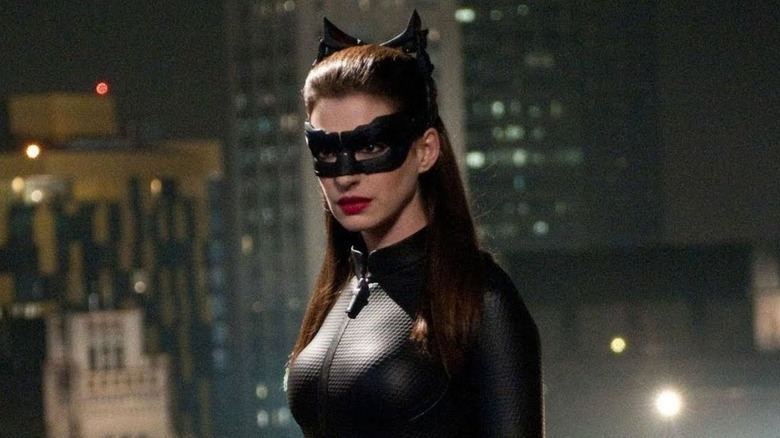 Warner Bros. Pictures
Catwoman is one of the most fascinating female supervillains in the DC Universe. She's impulsive and whip-smart, a devious, high-profile burglar skilled in espionage. Several actresses have portrayed Batman's purring nemesis from the comic books on the silver screen. From Michelle Pfeiffer's defining role in "Batman Returns" to Zoe Kravitz's fully realized version of Selina Kyle in "The Batman," Batman fans have been treated to numerous interpretations of the femme fatale. And then there's Anne Hathaway, who with "The Dark Knight Rises," brought a much-needed seriousness to the role and depicted the character with incredible intensity and grace. 
Hathaway's rendition of Selina Kyle fits the "Dark Knight" universe, and although she appears flawless in the role, her first meeting with Christopher Nolan didn't go as planned. Hathaway had assumed she was auditioning for a different character entirely.
Anne Hathaway dressed to impress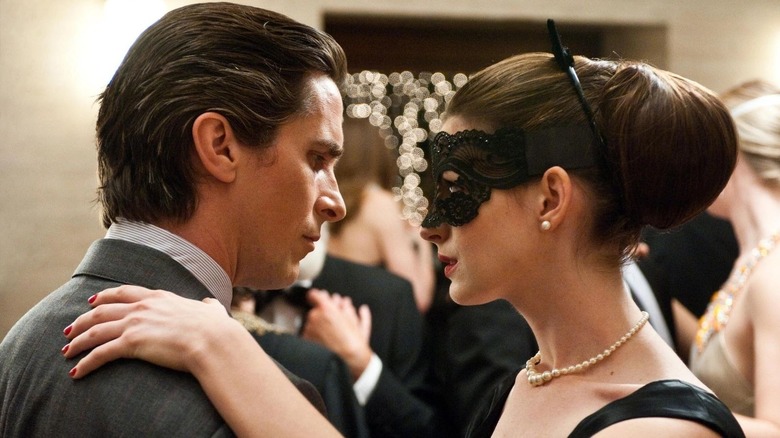 Warner Bros. Pictures
In a 2020 interview with BBC Radio 1, Anne Hathaway revealed she was well-prepared for her "The Dark Knight Rises" meeting with director Christopher Nolan. Just not for the correct part. The Oscar-winning actress was under the impression that Nolan wanted her to play Harley Quinn in the film, so the actress dressed up in an outfit that paid tribute to the Joker, along with shoes that were giving major Clown Prince of Crime vibes. To add to that, she employed some of Quinn's mannerisms during her meeting, because it never occurred to her that the filmmaker wanted her to play the DC Universe's remarkable cat burglar. She told BBC Radio 1:
"That was the initial meet, and I came in, and I had this lovely Vivienne Westwood, you know, beautiful but kind-of-mad tailoring top with stripes going everywhere, and I wore these flat kind of Joker-y looking shoes, and I was just kind of trying to give Chris these crazy little smiles."
The actor's campaigning for the role became evident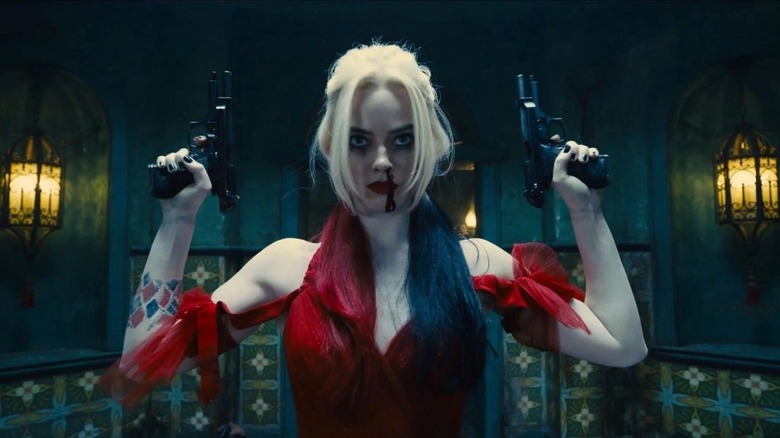 Warner Bros. Pictures
Anne Hathaway's campaigning for the role of Harley Quinn appears to have become evident to Christopher Nolan, who then iterated that she had been brought in for the role of Catwoman. Hathaway continued to BBC Radio 1:
"And then about an hour into the meeting he goes, 'Well I'm sure I don't have to tell you this, but it's Catwoman.' And I was like, 'Shifting into a different gear, right now! We're slinking, I'm more slinky, I hate my shirt, I love my shirt but not right now, we're slinky."
Harley Quinn didn't have her big-screen debut until four years later, with Margot Robbie taking on the role in David Ayer's "Suicide Squad." The character has since been seen in a spinoff solo film, "Birds of Prey," and James Gunn's "The Suicide Squad," a sequel to Ayer's movie.
I don't doubt that Anne Hathaway would've been a fantastic Harley Quinn because there's nothing she can't do, but she truly shined as Catwoman, bringing some of the character's best characteristics to the movies. This version was poised in her methodology. Hathaway portrayed Catwoman's wickedness and classy personality with splendid ease. Tell me, how many people can own a character after simply muttering, "Oooops"?