How Meryl Streep's Star Power Saved The Devil Wears Prada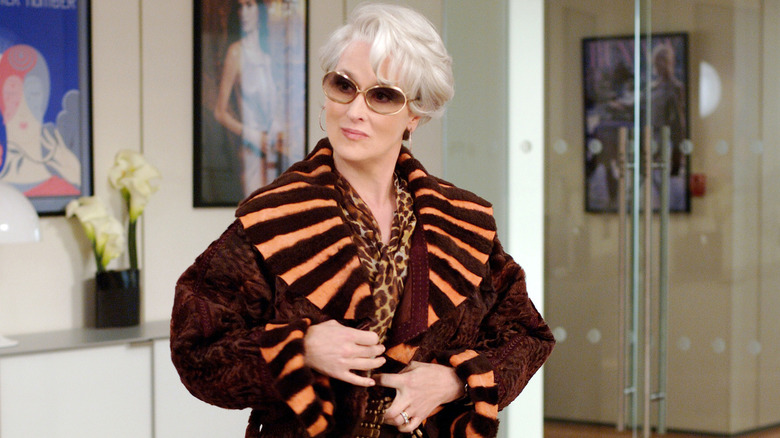 20th Century Fox
It's hard to imagine a world without "The Devil Wears Prada." Okay, maybe it isn't, but why would anyone want to live in a world without the tasty pop culture tidbits the movie spawned, like the many quotable lines and Miranda's (Meryl Streep) iconic schooling of Andy (Anne Hathaway) on just how much "this stuff" has everything to do with her "lumpy blue sweater"?
As it turns out, there was a very real potential for us to experience a horrifying alternate reality in which "The Devil Wears Prada" never made it beyond the preproduction stage — or at least didn't exist in the way viewers have come to know and love. The reason for this was due to the fact that the film was based off the novel by the same name, and the novel was based off of author Lauren Weisberger's experiences working as Anna Wintour's personal assistant. For those unaware, the legendary Anna Wintour has served as the editor-in-Chief of American "Vogue" since 1988. Like the fictional Miranda Priestly, she is extremely influential and holds a reputation for being intimidating and unapproachable. Unsurprisingly, she is who the Miranda Priestly character is based on, which spelled trouble when it came to making "The Devil Wears Prada."
Fear and fashion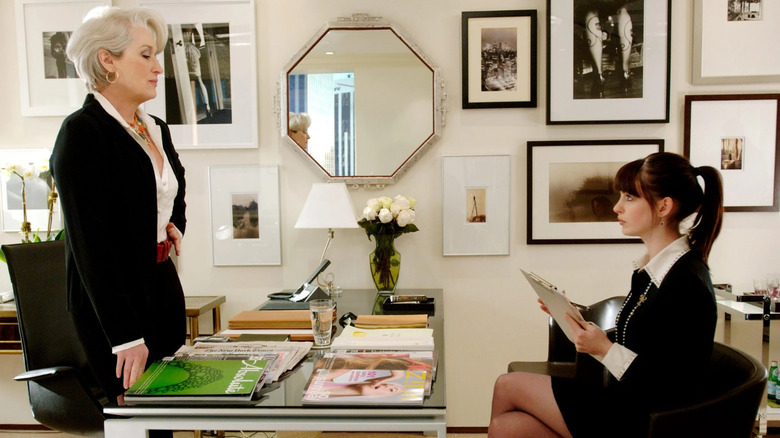 20th Century Fox
According to "The Devil Wears Prada" screenwriter Aline Brosh McKenna, it was difficult to find fashion industry experts who were willing to assist with making sure the script was realistic and informed due to Wintour's immense power in the fashion industry. McKenna opened up about this struggle in a 2021 interview with Entertainment Weekly:
"I had enormous trouble finding anyone in the fashion world who'd talk to me, because people were afraid of Anna and Vogue, not wanting to be blackballed. There was one person who spoke to me, whose name I will never divulge, who read it and said, "The people in this movie are too nice. No one in that world is too nice. They don't have to be, and they don't have time to be." After that, I did a pass to make everyone a bit busier and meaner.
The fear that offering any sort of assistance to help with creating "The Devil Wears Prada" would result in retribution from Wintour was not entirely unreasonable, as even those close to Wintour have gone on record about the way her emotionally distant and enigmatic persona is nothing short of anxiety inducing. In fact, one such friend, conservative journalist Barbara Amiel, wrote about the effect Wintour has on people in a 2006 essay entitled "The 'Devil' I Know" penned shortly after attending an early screening of the now iconic film. "Anna happens to be a friend of mine, a fact which is of absolutely no help in coping with the cold panic that grips me whenever we meet. [...] Just why one gets into a cold sweat — and I am not alone in this reaction among her friends and acquaintances — is something of a mystery."
Meryl Streep to the rescue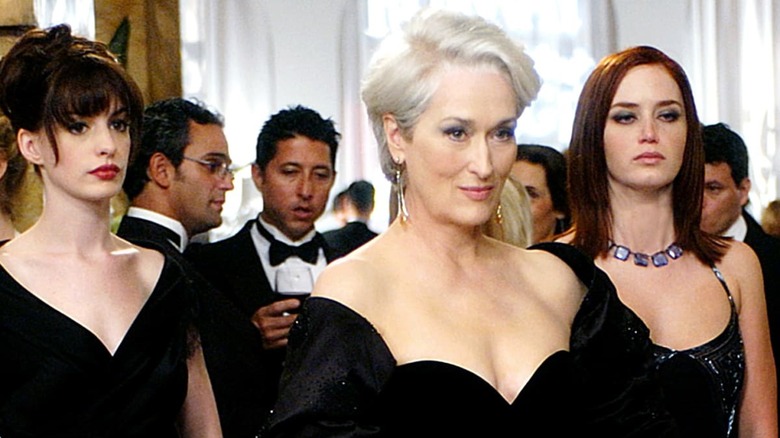 20th Century Fox
Additionally, those who have worked with Wintour have stated that the general rule of thumb is not to initiate interaction with her, which is not unlike the way those who work with her fictional counterpart in "The Devil Wears Prada" go about staying out of Miranda's way in order to avoid getting on her bad side. With all of the panic-inducing mystique surrounding Anna Wintour, just how did "The Devil Wears Prada" manage to be made at all, let alone become such a cornerstone of pop culture?
In that same interview that screenwriter McKenna revealed the struggles of working around Wintour's influence, former Fox 2000 president Elizabeth Gabler goes on to state that it wasn't just the reluctance of fashion industry workers that nearly threatened to put a halt to "The Devil Wears Prada" — Wintour's influence stretched into Hollywood as well. Luckily, it was Meryl Streep's willingness to do the movie that saved production.
"There were also people working within the Hollywood agency system that had loyalties to her that felt we were doing something that was detrimental or insulting to her. I never had any direct conversations with people, it was always getting back to me. We just worked around it. The fact is that Meryl Streep wanted to do the movie. That put that discussion at rest, because she was so admired and respected that for people to say Meryl is doing this role, she was going to do her own version of this role, she wasn't going to play a parody of anybody."
Even the most notoriously critical and aloof figures would probably have been honored to have an esteemed thespian like Meryl Streep portraying them — or a character inspired by them — on the big screen. In fact, it turns out that Anna Wintour herself even attended a screening of the film — wearing Prada, of course. I can't help wondering if she worked a pair of Chanel boots into her ensemble.